5 Things: USC 45, Fresno State 17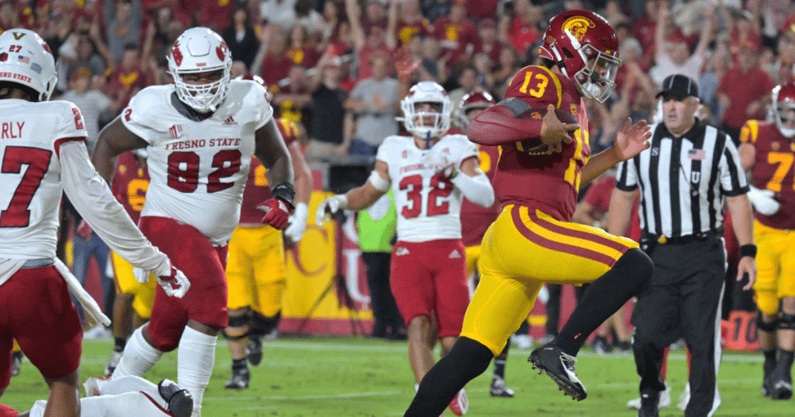 USC moved to 3-0 on the season with a decisive 45-17 win against Fresno State under the Coliseum lights on Saturday night. WeAreSC's Erik McKinney, Greg Katz and Marc Kulkin review the game by giving their 5 Things from the Trojans win.
Player of the Game
A defensive standout and a pair of offensive standouts at the same position are mentioned. None of the three were on this USC roster last season and all look like they'll be significant contributors moving forward.
Play of the Game
A thundering touchdown run, a significant defensive team effort and one of USC's two forced turnovers were chosen as plays of the game. As always, more could have been chosen. Tight end Malcolm Epps pulled off a rare double with an interception and a touchdown reception in the same game. Quarterback Caleb Williams had a nifty touchdown run when he left a defender in the dust while cutting inside him. And running back Austin Jones authored more than a few standout plays, with a long 44-yard run, a touchdown called back when his helmet was ripped off, and a sweet spin move to gain extra yards.
Expectation Met
The WeAreSC squad expected solid fan turnout, a dominant win and another impressive offensive showing. All of that came true on Saturday night. The announced attendance was 67,226. The Trojans ran out to a 14-0 lead and Fresno State never got closer than 11 points the rest of the night. And USC scored more than 40 points for the third time this season.
Surprise
USC quarterback Caleb Williams threw for 284 yards and two touchdowns against Fresno State. But not everything in the passing game felt flawless. And the Trojans' run defense saw more moments of struggle.
Biggest Takeaway
Things are looking up for the Trojans as they move into a week that definitely registers as one of the significant tests remaining. Oregon State will bring an offense capable of putting points on the board against USC. But these don't appear to be last year's Trojans.