5 Things: USC 48, UCLA 45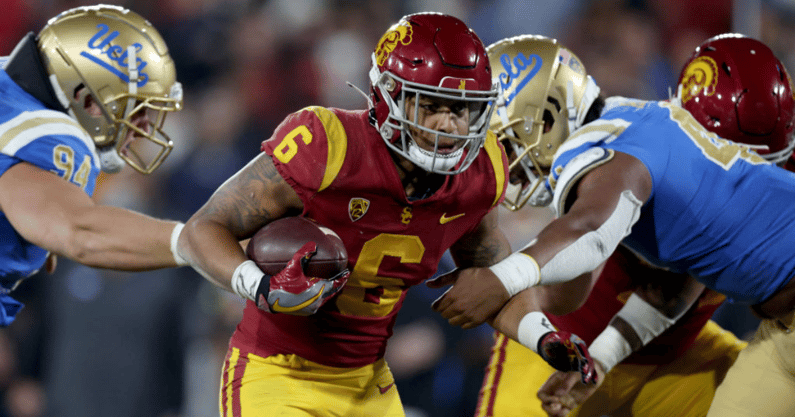 WeAreSC's Erik McKinney, Greg Katz and Marc Kulkin give their 5 Things from USC's thrilling 48-45 win against the UCLA Bruins. The crew delivers their picks for the Player of the Game, Play of the Game, Expectation Met, Surprise and Biggest Takeaway.
Player of the Game
USC quarterback Caleb Williams went full Superman in this one. The standout Heisman Trophy candidate completed 74% of his passes for a career-high 470 yards. He threw for two touchdowns and rushed for another. But he didn't do it alone. Running back Austin Jones filled in for injured starter Travis Dye and the USC offense did not miss a beat. Jones ran for 120 yards and two touchdowns. He was also the second-leading receiver for the Trojans, with four receptions for 57 yards. And while the defense gave up yards and points in bunches to the Bruins, a special note was made of the four gigantic turnovers forced by that group. They've done it all year and it once again proved significant in a close win.
Play of the Game
USC fans have waited for former five-star defender Korey Foreman to make his mark with the Trojans. What a time for his first truly game-changing play at USC. But that wasn't the only defensive highlight for USC. There was a key play earlier that changed the trajectory of the entire game. And in a game where USC put up 649 yards of total offense, how did the entire "Play of the Game" discussion revolve around the Trojans' defense?
Expectation Met
There was no doubt both teams would put up points in this one. USC and UCLA combined for 1,162 yards and 93 points. That checks all the boxes to call this one an offensive explosion.
Surprise
The crew found surprises in a couple of areas of "poor" performance from the USC offense. And UCLA running back Zach Charbonnet's sure-thing 100-yard outing didn't materialize against a USC defense that held up surprisingly well against the Bruins' dominant running game.
Biggest Takeaway
What a win. With everything on the line, the Trojans found a way to get it done. Imagine one year ago, following a 4-8 season, hearing that the 2022 Trojans clinched a berth in the Pac-12 Championship Game.