Alex Grinch on Facing the Notre Dame Offense and USC's Defensive Resume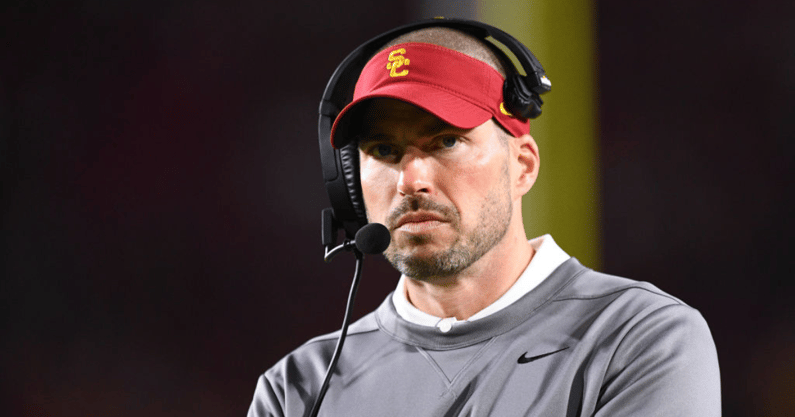 The Notre Dame offense tripped over the starting blocks this season. The Fighting Irish scored more than 30 points just one time in the first six games. But after scoring just 14 points in a 16-14 loss to Stanford on Oct. 15, Notre Dame has scored at least 35 points in each of its next five games and is coming off a 44-0 whipping of Boston College this past weekend.
The Irish offense is playing with confidence, behind a two-back running game in Audric Estime and Logan Diggs and arguably the nation's best tight end in Michael Mayer. Notre Dame has rushed for at least 220 yards in four of its past five games. Mayer's game-highs this season include an 11-catch, 118-yard, two-touchdown showing against BYU. That's the three-headed monster for the Notre Dame offense this season. Estime leads the team with 782 rushing yards and 11 touchdowns. Diggs has 698 rushing yards and two scores. And the two have combined for 11 receptions for 194 yards and two touchdowns. Mayer leads the team in all receiving categories, with 59 receptions for 711 yards and seven touchdowns.
The Trojans have been hurt through the air in recent weeks. But earlier this season, defending the running game was a big issue. And USC fans are likely still having nightmares about the night Utah tight end Dalton Kincaid had against the Trojans, catching 16 passes for 232 yards and a touchdown.
USC defensive coordinator called the challenge coming from the Notre Dame offense "a very difficult one."
"They do a good job of making it very challenging defensively to kind of earmark where the ball is being directed in the run game," Grinch said. "The gaps responsibility, they change with shifts and motions and a. lot of surfaces — four guys next to the center. And so it really makes it difficult to add numbers everywhere you need it."
Grinch did call Mayer "the best tight end in the country."
What can USC do against Mayer that they didn't do well against Kincaid?
"Tackle him when he's got the ball," Grinch said with his typical mix of dark humor and dry wit. "You can come up with a lot of ingredients. If you've got two guys on him, one of the two, if not both of the two, have to get him on the ground."
The challenge for USC will be allocating enough defenders to Mayer and also leaving enough for a power-running game. USC did surprisingly well against standout UCLA running back Zach Charbonnet, holding him to fewer than 100 yards rushing. The defensive front, led by Tuli Tuipulotu, will need to rise to the challenge once again.
A Final Regular-Season Test and Impressing the CFP Committee
To this point in the season, the USC defense has done enough in all but one game to help the Trojans win. Grinch said the individual results have been positive.
"Big picture stuff, you start going through the roster and say, 'Which guys on your roster are having their best year of college football?' And this isn't me being too positive, which I struggle with sometimes. But that's a long list," Grinch said. "Now collectively, are we getting what we need to get out of the group? No, and that's my job…I've got to get it out of them. We've got to play more consistent. And so the frustrations are all the same."
USC will have two more opportunities to prove itself against good teams for a potential spot in the College Football Playoff. The Trojans are ranked No. 6 this week and behind two-loss LSU. Playoff committee chair Boo Corrigan said at Tuesday's rankings release that the committee wanted to see more from the USC defense considering it allowed 45 points to UCLA.
Grinch said he didn't hear the comment, keeping the pattern of blocking out all outside noise. But he understands the comment.
"From a criticism standpoint, Saturdays are, that's your resume," Grinch said. "From a coaching standpoint, from a player standpoint, there's no dodging it. We're very honest in that. And understand that the chief goal each week is to find a way to beat the opponent by one. Now, after that, it's to play at a high, high level defensively and if they score one, you've got to have some level of frustration about you."
Grinch has said repeatedly this season that the defense can't just be bystanders with the best seat in the house to watch the USC offense.
"We found a way to win 10," Grinch said. "We're going to fight like all hell to get 11. It's going to be very, very difficult to do. So we understand that and we also understand it's very real in terms of the responsibility we have on our side of the ball not simply to be the group that just hangs on. So, we're got to play at a much higher level."