Andrew Vorhees, Tuli Tuipulotu Land on Lombardi Award Watch List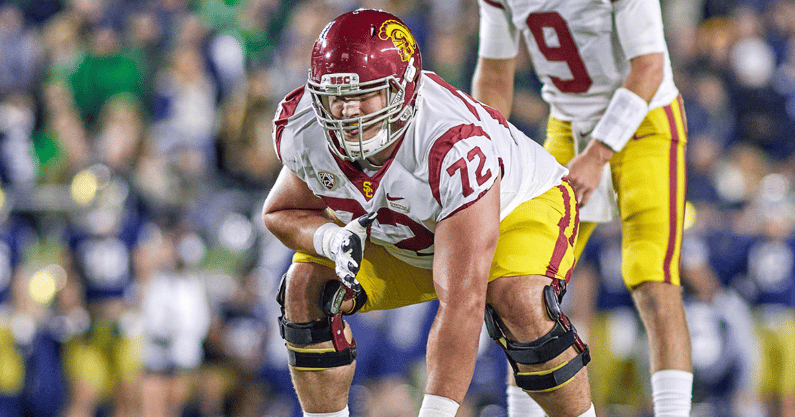 Skill position players are likely to earn a bulk of the highlights when it comes to this 2022 squad. But two Trojan big men have earned plenty of attention this offseason and continue to rack up preseason Watch List nominations. The latest statement from offensive lineman Andrew Vorhees and defensive lineman Tuli Tuipulotu comes with their inclusion on the Lombardi Award Watch List.
The Rotary Lombardi Award goes annually to the college football offensive or defensive lineman who, in addition to outstanding performance and ability, best exemplifies the character and discipline of NFL Hall of Fame coach Vince Lombardi.
Great Expectations for the USC Linemen
They won't be able to do it alone, but plenty of how the USC football team performs this season will come down to Vorhees and Tuipulotu leading their respective lines.
They were each selected preseason First-Team All-Pac-12. Phil Steele named both to his Preseason All-America Teams. Vorhees earned fourth-team honors and Tuipulotu was named to the third team.
Vorhees comes into the season as the No. 1-ranked interior offensive lineman in On3's Impact 300. On3 ranked Tuipulotu as the top edge player and No. 11 overall player in the Pac-12.
Tuipulotu finished last season with 48 tackles, two forced fumbles, led the team with 5.5 sacks and recovered a fumble for a touchdown. Vorhees has started 37 games at right guard, left guard and left tackle. Last year he started the first eight games at left guard before moving out to tackle for the final four. He's set to man that left guard position again in 2022.
USC and the Lombardi History
USC has one Lombardi Award winner in its history. Offensive lineman Brad Budde took home the trophy in 1979.
USC defensive line coach Shaun Nua got to see the 2021 winner up close, as Nua coached Aiden Hutchinson while both were at Michigan.
Ohio State has the most winners, with six. Nebraska and Notre Dame have each won five.
The Pac-12 last won with an interior player when Arizona linebacker Scooby Wright III won in 2014. There was a three-year period from 2017-2019 where the award expanded to all positions. Stanford running back Bryce Love and Oregon safety Ugo Amadi won it during that stretch.