Andrew Vorhees, Tuli Tuipulotu Win 2022 Morris Trophy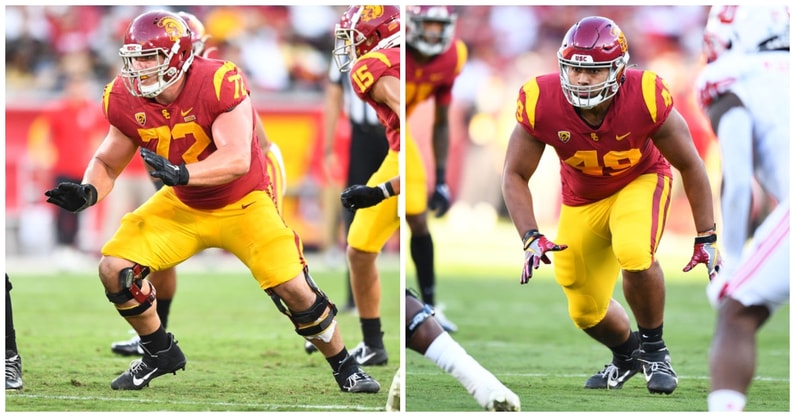 USC Trojans continued their 2022 postseason awards haul on Tuesday. Offensive lineman Andrew Vorhees and defensive end Tuli Tuipulotu were named the winners of the Morris Trophy, given annually to the best offensive and defensive lineman in the Pac-12 conference.
This award carries special meaning for the winners because it's voted on by the players.
Tuipulotu became a unanimous All-American for the Trojans this season. He and quarterback Caleb Williams became the 28th and 29th unanimous All-Americans in USC history. Tuipulotu was also named the Pac-12 Defensive Player of the Year and the Polynesian College Football Player of the Year.
His 12.5 sacks are the most by a Trojan since Kenechi Udeze had 16.5 during the 2003 season. He leads the Pac-12 in tackles for loss per game and is No. 3 in the nation in sacks per game. Tuipulotu was also a finalist for the Chuck Bednarik Award, the Rotary Lombardi Award, the Lott IMPACT Trophy and the Nagurski Trophy.
Vorhees will also get a plaque on USC's All-American Walk thanks to his inclusion as a First-Team All-America selection by the AP and PFF. He was also named to the Pac-12 First Team this season.
USC has a long history of success with the Morris Trophy, though not a lot in recent years.
Tuipulotu is USC's first defensive winner since Sedrick Ellis won in both 2006 and 2007. Vorhees follows Alijah Vera-Tucker, who won it during the shortened 2020 season. But before that, a Trojan hadn't won since USC took home three in a row with Charles Brown, Tyron Smith and Matt Kalil from 2009-2011.
USC Morris Trophy Winners
Offensive Winners:
1980 – Roy Foster
1981 – Roy Foster
1982 – Bruce Matthews
1985 – Jeff Bregel
1990 – Pat Harlow
1994 – Tony Boselli
1999 – Travis Claridge
2003 – Jacob Rogers
2006 – Ryan Kalil
2009 – Charles Brown
2010 – Tyron Smith
2011 – Matt Kalil
2020 – Alijah Vera-Tucker
2022 – Andrew Vorhees
Defensive Winners:
1982 – George Achica
1996 – Darrell Russell
2006 – Sedrick Ellis
2007 – Sedrick Ellis