Bobby Haskins on his crazy trip through the portal and return to full health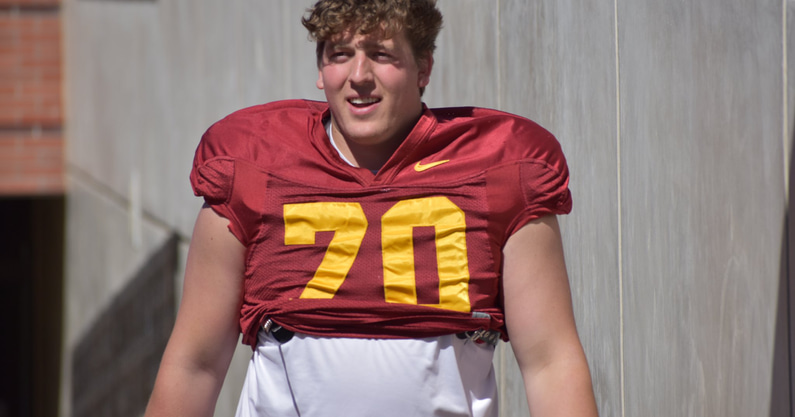 When the USC Trojans hit the field for fall camp, they'll do so with some new roster additions, including potential starters in wide receiver Jordan Addison and linebacker Eric Gentry. Offensive tackle Bobby Haskins won't be a new addition to the roster. But he will be a new body for the offense. After committing to USC last December, the 6-foot-7, 295-pound Haskins sat out spring ball with an ankle injury.
Haskins was a key offseason addition as the Trojans needed veteran help along the line of scrimmage. He'll either grab one of the starting tackle spots or add key depth at several places. Both options make him a valuable piece of the USC offense and offensive line.
Because Haskins was injured and did not participate in spring ball, he was unavailable to the media. But he sat down with USC's Keely Eure on the Victory Podcast this week. The senior lineman offered insight into where he is in the recovery process and an in-depth look at his path from Virginia to USC via the transfer portal.
Haskins Enters the Portal
Haskins played in 45 games and started 20 at Virginia. So this was not a situation where he was looking for playing time. Rather, he said Virginia head coach Bronco Mendenhall stepping down made him take another look at where he was in his career.
"I ultimately decided that I wanted to make a change and kind of go out of my comfort zone a little bit," Haskins said to Eure. "I kind of had to figure out what I was looking for."
Haskins called the transfer portal process "crazy." He added that he didn't like the chaos that came with having his name in there at that particular time for him. Haskins entered the portal in early December, about a week after Lincoln Riley was hired by USC. It was also the week of his finals. And in order to graduate from Virginia that month, those were important.
"The timing with entering the portal and finals and having to take visits, that was all the same seven-day period," Haskins said.
Haskins decided to take his official visit to USC, where he met Riley. That calmed down the process for him.
"After talking to Coach Riley, the decision became pretty clear," Haskins said.
The mix of California and Riley's offensive acumen made it an easy choice. And one that needed to be made quickly. USC contacted Haskins on a Tuesday and had him on a plane for an official visit that Thursday. The big offensive lineman announced his commitment the following Tuesday. Though, he took some time to publicly announce that decision.
Recovered From Injury
It would have been beneficial for everyone involved to have gotten Haskins involved in the offensive tackle position battle this spring. But the ankle injury sidelined him.
Haskins said he dealt with it over the final eight or nine weeks of the 2021 season at Virginia. He didn't realize it would require surgery until after the season. He said coming into USC that he knew he's miss either most or all of spring practice.
"It was just something I communicated with Coach Riley during the whole recruiting process," Haskins said. "And the athletic trainers at Virginia and the athletic trainers at USC both have done an amazing job of helping me get to get back to where I need to be and fully cleared again. So I'm really thankful for that."
Now at full health, Haskins said he's "good to go" and that the ankle "feels great."
Haskins earned praise from offensive line coach Josh Henson this spring. Henson said he asked questions and was engaged all the time, even when he wasn't physically participating.
"If I can't do something physically, I know I have to work that much harder at the mental side of it to get it," Haskins said. "So that when it's time to do physical stuff again, I can reduce the learning curve and get back to full speed as quickly as possible."
When USC breaks for fall camp, all eyes will be on the offensive weapons on that side of the ball. But figuring where Haskins fits and the makeup of that front five will be one of the biggest keys heading into the season.