Brandon Sosna Leaving USC for the Detroit Lions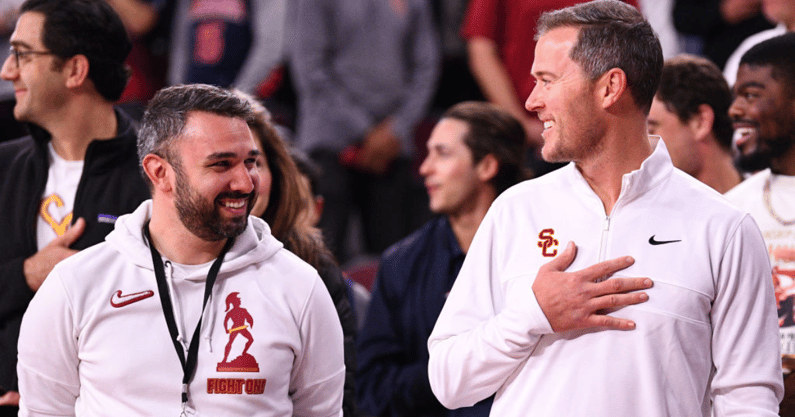 Brandon Sosna is as responsible as anyone for all the good feelings USC fans have about their football program right now. But he won't be around to share in the celebrations this fall.
According to multiple reports and first shared by ESPN's Pete Thamel, Sosna is leaving USC for a job with the Detroit Lions. Thamel reported that Sosna is expected to be named the senior director of football administration in Detroit.
Lions coach Dan Campbell later confirmed the report of Sosna's new position, via Kyle Meinke.
At USC, Sosna's title was Executive Senior Associate Athletic Director, or Chief of Staff. He was the right-hand man and do-it-all confidant of Mike Bohn, USC's Director of Athletics.
This is a significant loss for USC. Though, the end of the road for USC and Sosna was inevitable. He's someone who is on track to become an NFL GM in the future and getting back into the NFL was always going to be a requirement on that path.
Sosna worked for the Cleveland Browns in 2017 and 2018. He became the salary cap and contract analyst in 2018 after first working in the football administration department. According to his USC bio, he "assisted in the negotiation and execution of player contracts and participated in the club's NFL draft and free agency processes."
Sosna is as detailed and organized as anybody who holds a position remotely close to his. It's part of what makes him such an asset to any department he runs or works in. And what always made him a likely target for another NFL team.
Sosna at USC
Sosna wasn't solely responsible for turning around the USC athletic department and landing head coach Lincoln Riley. But it's a good bet that neither would have happened without him.
Sosna was born and raised in Cincinnati and worked for Bohn when he was Athletic Director at Cincinnati. When Bohn took the USC job, he knew he was taking Sosna with him.
Sosna joked later of the move, "I think in his mind, I wasn't given a choice."
Sosna was one of the first at USC to talk about championship expectations needing championship resources. With Clay Helton at the helm, it drew laughs from fans of other Pac-12 programs as well as much of the Trojan faithful. With Lincoln Riley now leading the program, it's no longer seen as a joke.
Landing Lincoln
Sosna spent a lot of his early time at USC working to repair the relationship between the athletic department and the rest of the university. But he and Bohn knew they might ultimately be responsible for sending the USC football program in a new direction.
Ultimately, they "got their guy" in Riley. The finish of the process was incredibly quick and involved significant timing and a little bit of luck. But that was the culmination of a two-year plan that needed every detail dialed in and an incredible amount of patience and foresight.
Sosna's departure is a big deal when it comes to USC. He is a major reason the football program is trending up and the Coliseum will be mostly, if not all the way, filled this fall. He's also part of the reason USC will be able to weather his departure. While he wasn't with the Trojans long, his impact will be felt for as long as Riley is running out of the Coliseum tunnel.