Caleb Williams Calls Out Calen Bullock's Impressive Play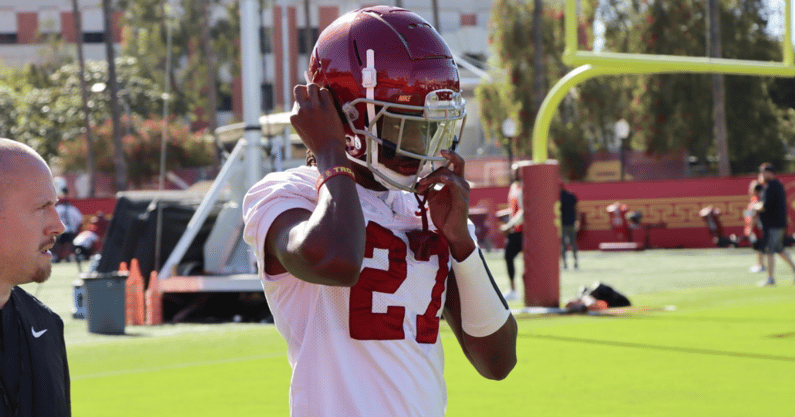 Technically, USC has to replace five starters in the secondary from the 2021 season. But the Trojans seemingly handled much of that during the latter stages of last year. Calen Bullock and Xavion Alford settled in at the two safety positions. Jaylin Smith was receiving significant snaps at nickel. And Prophet Brown was working in at cornerback.
Bullock received plenty of attention for his play as a true freshman. He finished the season with six starts between free safety, nickel and cornerback. Bullock recorded 39 tackles, two interceptions and three pass deflections. For his efforts, he was named to multiple Freshmen All-America teams and USC's Co-Defensive Perimeter Player of the Year.
Bullock impressed plenty of people during his true freshman season. He's carried that into this offseason and got a significant stamp of approval during Pac-12 media day. It came from quarterback Caleb Williams, who was asked if a player had impressed him during the spring and summer.
Williams thought for a bit, though not that long, before going with Bullock.
"I can't wait to see him play," Williams said of the second-year safety. "Some of the plays that he's gone and got, or that he's done have been, your eyebrow raises like, whoa."
Bullock was a two-way standout at Pasadena (Calif.) Muir High School and probably could have played wide receiver, safety or cornerback in college. His smooth stride and ability to cover huge chunks of ground with the ball in the air have always been impressive. He's in the conversation for Pac-12 defensive player with the best range.
The Standout Play From Bullock
Williams likely never saw Bullock play last season. But he got a taste of his ability this offseason.
"I'll give you one instance," Williams said of a Bullock play that stood out to me.
Williams said wide receiver Mario Williams cut to the left sideline and then upfield as the offense worked on a scramble drill. Bullock was lined up on the offense's right sideline, the opposite side Williams was working.
"He gets over the top of Mario and he bats the ball down," Williams said. "And I looked and was like, 'Man, how'd you get all the way over there?' I saw him coming but I didn't think he was going to get all the way over there. He's made some pretty good plays on me. I just can't wait to see this defense and what they can do."
USC Safeties in 2022
Great safety play is a necessity for the Trojans in 2022. The starters struggled there last season as opponents threw all over the field against USC. Opposing quarterbacks completed 65% of their passes and averaged 8.77 yards per attempt, which was a yard and a half more than USC quarterbacks averaged in 2021.
Defensive coordinator Alex Grinch coaches the safeties himself, which gives an idea of the importance of the position in his scheme. There were some injury issues this spring that prevented the Trojans from seeing all the options, but it would be surprising if Bullock and Alford aren't the first two up this fall.
The addition of Ohio State transfer Bryson Shaw is an interesting one. Grinch and Shaw are familiar with each other from Shaw's recruiting process to the Buckeyes, where Grinch was an assistant. An injury thrust Shaw into the starting lineup for Ohio State last season, so he's bringing some experience with him.
Oklahoma transfer Latrell McCutchin spent time at safety this spring and looks a lot like Bullock with his length and range. McCutchin can also play cornerback. And for that matter, Bullock would likely make a terrific cornerback as well.
Second-year player Xamarion Gordon got some first-team reps at safety and has also spent time at cornerback. Anthony Beavers Jr. and Briton Allen are a few other options there. And all eyes will be on big-time 2022 signee Zion Branch whenever he is healthy enough to see the field following a summer knee injury.