Caleb Williams Recovering from Hamstring Injury, Plans to Play in Cotton Bowl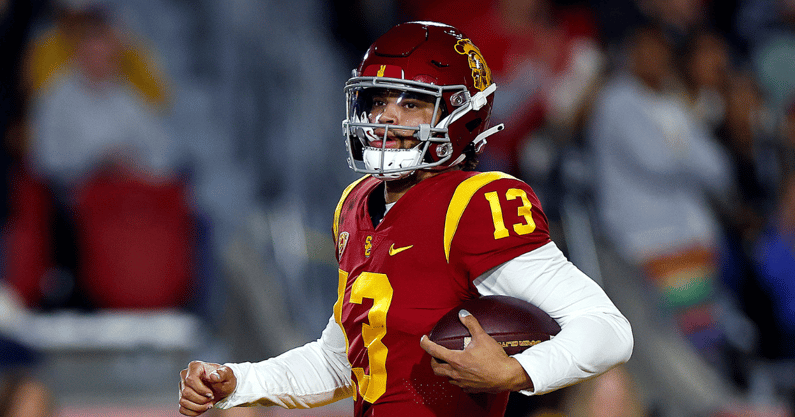 USC quarterback Caleb Williams and the Trojans might have come just a hamstring injury away from a Pac-12 Championship and spot in the College Football Playoff. On USC's ninth play of the Pac-12 Championship game, Williams took off on a 59-yard run but injured his hamstring on the play. Williams finished the game but was clearly hobbled throughout.
USC head coach Lincoln Riley said in the days following the Pac-12 Championship Game that Williams suffered a "significant hamstring injury." He added that it was probably good the Trojans didn't have a game in the coming two or three weeks.
In fact, USC's next game will take place four weeks and three days from the night Williams suffered the injury. Riley said all hamstring injuries are not the same, nor do they heal the same. And added that the Trojans will "have to see how it progresses."
But Williams doesn't have any doubts about his status for the game. On Tuesday, Williams spoke with media at USC for the first time since winning the 2022 Heisman Trophy. He offered zero hesitation when asked about playing against Tulane in the Goodyear Cotton Bowl on Jan. 2.
"I'm doing well," Williams said. "Hamstring is doing well. And I am confident that I will be out there."
It's not surprising to hear Williams said that. The sophomore quarterback didn't entertain coming out of the Pac-12 Championship Game even for a snap. That, despite a notable limp that appeared to get worse as the game went along. He will finished the game completing 28-of-41 passes for 363 yards and three touchdowns against one interception.
Williams helped USC run out to a 17-3 lead in that game against Utah. The Trojans' offense stalled and the Utes finished on a 44-7 run to win the Pac-12 title with a 47-24 victory.
Williams won't make the determination as to his playing status alone. USC coaches and doctors will ultimately be involved. But it's noteworthy that in an era where players are opting out of bowl games for any numbers of reasons, the Heisman Trophy winner and USC team captain is dead-set on being out on the field with his teammates.