Capko's promotion, Sellers' recruiting ranking and Jaxon Kohler's official visit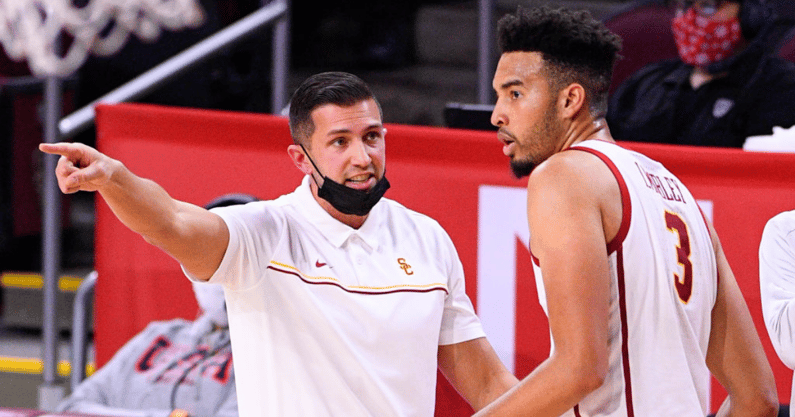 The promotion of Chris Capko, Oziyah Seller's recruiting ranking and Jaxon Kohler's official visit are three interesting recent developments for USC basketball, which deserve in-depth looks.
Chris Capko's promotion
Jason Hart left his associate head coach position at USC in July to become the head coach for a G League team. Former San Diego State assistant Jay Morris was hired to fill the open staff position. That hire took place weeks ago, and has been thoroughly publicly discussed including my interview of Andy Enfield on August 13. For some reason the official announcement by USC was delayed until yesterday, August 30.
Also officially announced yesterday was the promotion of assistant Chris Capko to associate head coach. When Hart left USC, head man Andy Enfield had three options: leave the associate head coach position vacant, hire a very experienced assistant coach or former head coach to fill the opening, or promote from within.
Hart spent several years an an assistant coach at San Diego State before Enfield hired him to be the number two assistant behind Tony Bland. When Bland was implicated in the FBI scandal, Hart was promoted to Bland's associate head coach position. Capko's promotion leaves Enfield with his least experienced staff entering his ninth season at USC. Eric Mobley is in his third season on a college bench and Morris' resume reads like a watered-down version of Hart's experience when he came to USC.
Enfield hired Capko as an assistant coach in April, 2016. He had previously been the Trojans' director of basketball operations for two seasons, in 2014 and 2015. Capko also brings experience as an assistant at Florida International, Georgia Southern and Stetson. He is a high energy, vocal and demonstrative coach who often participates in drills with the team when they work on different defensive and offensive sets. And he is the coach who often shows or tells players in practice how to correct a mistake on either end. It will be interesting to watch whether Capko's style will change.
Recent commit Oziyah Sellers' ranking should rise
It may not often happen that a five-star player is ranked too low, but in the the fall of 2019 it was obvious very early in practice that Onyeka Okongwu was better than his ranking as the 20th best prospect in his class. In the spring of 2020, Malik Thomas, the newly crowned California Player of the Year, was outside the top 100 on recruiting lists until his breakout AAU summer season last year, followed by a very strong senior year at Damien High School. Even so, he joined the USC basketball program outside the top 50 players in the 2021 class.
Some high schools did not play last season and players opted out due to Covid concerns. But Malik's accomplishment should not be minimized.
Recent 2022 commit Oziyah Sellers may also begin to enjoy a rise in the recruiting rankings after a very good performance at the recently completed Pangos All American Festival. Forty rising seniors and juniors played on four teams. Sellers scored 30 points, including six threes in one game and made 4-of-10 threes in his other game. His 22 point average was fifth-highest among the forty players.
I've had the opportunity to see limited game film and Sellers has a very smooth shot from beyond the arc and a good mid range jumper. He may need to get a little higher off the floor to avoid bigger and more physical college defenders, but the 6-foot-5 guard looks like a player who will help the Trojans.
Five-star center Jaxon Kohler has scheduled an official visit to USC
Utah high school center Jaxon Kohler will be on campus the weekend of the Stanford football game (Sept. 11). Kohler scored 53 points and grabbed 23 boards in the Pangos championship game. Not a lot of defense was played, but the 6-foot-9, 250-pound center dominated. He has tremendous footwork, is a dynamic scorer in the low post and can make shots from mid-range and an occasional three.
There is a lot of competition for Kohler's commitment, including Kansas, Gonzaga, Oklahoma, Nebraska and home state Utah. USC's recent success in having Trojan big men drafted is a plus and getting an official visit shows there is real interest on his part. He is taking an official visit to Iowa this weekend, with visits to Oklahoma and Nebraska after he is in Los Angeles.
Unlike recent athletic Trojan big men, Kohler is not a gifted athlete. His label is a smaller Luka Garza by some recruiting gurus. He uses a variety of moves inside and a soft shooting touch to pile up his points. He's a polished offensive player but is not a rim protector.
The Trojans remain active in attempting to reel in a few other very highly ranked players. If successful, USC basketball could have a monstrous 2022 class.