Defensively & Offensively Speaking: Utah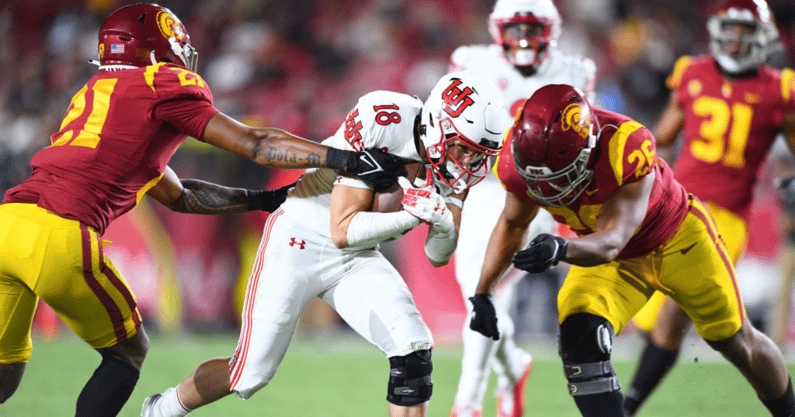 Yesterday's game went a little worse than I thought, but not by much. I told a Southern California sportswriter on background that we stood maybe a 1 out of 5 chance to win and if the score was close in the fourth quarter, it was likely that we would lose since we would have run out of gas by then. In that prediction I was wrong. The game was over on the last play of the first half, reminiscent of the Oregon kickoff return for a touchdown a few years ago also in the Coliseum, with a similar deflating impact.
This year's team is a train wreck right now and everybody knows it…including the team, I suspect. I would hate to have been in that locker room at halftime let alone after the game yesterday. I truly feel badly for these Trojans but I refuse to stomp on these guys when they are down. Really down.
I do know what it feels like as a Trojan player to be down and lose a big game or two. I don't pretend to know what these Trojan football players are feeling and thinking knowing they are outclassed on the field and in the coaching box. It can't be good or particularly productive, at least for now. Whether these multiple beat downs can produce a better team I sincerely doubt, but that is the challenge facing this coaching staff right now.
Defensively Speaking
Frankly, I'm not going to spend a lot of time on X' and O's. The defensive failings are not generally about the scheme right now. It's about personnel, readiness and lack of situational awareness. Todd Orlando used the same setup as last week versus Colorado with linebackers in the box, zone coverage in the middle with a modified two-high safety setup (not halves since one safety was often committed to run support). Utah was totally prepared to run their offense against that defense and counted on gash explosive plays. They could do this since they rightly believed they would:
Eventually win the Line of Scrimmage (LOS) battle
USC would lose the tackling battle, generating a productive run game
Their quarterback (who is good but far from great) would have time to throw to open recievers and run when he had to
Utah would exploit Pola-Mao on skinny posts especially out of slot formations with both TEs and WRs
I'm still trying to understand the flea-flicker defense. There has to be at least one deep safety on the last play of the first half. We were so concerned about preventing a first down and a field goal try we left the back end wide open. This is the lack of situational awareness I mentioned earlier. That defensive breakdown was the proverbial dagger to the heart.
Defensive Shoutouts
Korey Foreman – finally got his first sack (1.5 in total)
Tuli Tuipulotu – man among boys and continually plays at a high level
Kana'i Mauga – led team in tackles including two TFLs. He made a real effort to wrap up ball carriers with positive results for a change
So the defense got mauled yet again. No turnovers and an abysmal secondary performance. I don't think this can be fixed this season. I can hope for at least some improvement in secondary tackling performance. That would help and is something that can be focused on even in this difficult time. 
Offensively Speaking
If their four guys beat our five guys it's going to be a very long day. Eventually, it boiled down to that. When we kept in a tight end or running back or set up a bunch formation, we were better at running the ball and protecting Slovis. The problem is that other than Drake London, few receivers could get open when it really mattered. I told the same sportswriter on background earlier in the week that Slovis had to have a monster day for USC to have a chance. It didn't happen for many reasons:
The offensive line is just not very good. Pure and simple. Pass protection and run blocking are sub-par. I will say that run blocking has improved from earlier this season. Dedich I know got a personal foul penalty but I love his aggressiveness and toughness. I hope it rubs off on others.
Our RPO (run-pass-option) is not working and will not work. Defenses key on the running back and penetrate. If Slovis keeps the ball he's never going to run and is a sitting duck for pass rush pressure as a result. STOP IT!!! Rollouts and misdirections will slow down the defense. 
Our attempts at screens won't work since we're going to same running back that the defense is keying on. Has to go to tight end, wide receiver or a second back.
Slovis is holding the ball to give his guys time to get open. That's becoming counter-productive. Break down the defense and rollout or scramble more. It sure would be nice for the receivers to get open for a change and that's on the coaches. Better figure something out. 
Offensive Shoutouts
Drake London – Incredible performance. Please, please stay healthy
Malcolm Epps – Touchdown grab and two-point catch. Needs to high point more with his hands but he is a mismatch no matter who we play. His blocking has improved as he uses his wingspan to an advantage now…much better.
Summary
I don't envy Coach Donte Williams for the job he has to do to get a battered, bruised and deflated team ready to go to South Bend. Many, if not most of these players, have never played Notre Dame in South Bend. So here's an update:
Even now there are tickets available but eventually it will be a sell out
It is a really difficult place to play and win
It is easy for an outclassed USC to get run off the field…so don't be outclassed
It will be physical…at least ND will be physical and motivated
Design a plan to protect Slovis or he may not make it in one piece
Better fix the safety problem among other secondary issues
Get the penalty problem fixed
There is only one way to have fun in South Bend for this team…win as the underdog you're going to be.
I don't expect Jaxson Dart to be ready. Way, way too risky
So let's take this season for what it is…a transition season. A new head coach is in process, the player cupboard isn't bare and USC is still a marquee assignment for the right coach and staff. For now, play hard and see if we can get over.500 for the season. That is a taller order than it should be but there it is. Fight on.