Defensively Speaking - Fresno State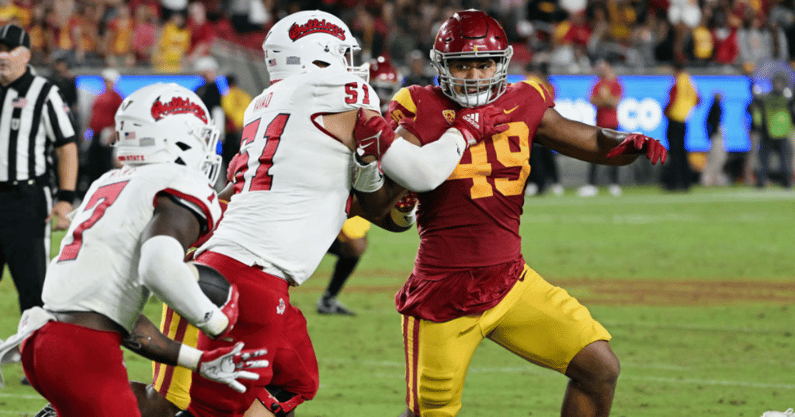 Saturday's game against Fresno State was never going to be an easy game despite what the final score of 45 – 17 might indicate. That said, the defense played an overall solid game. The tackling was choppy and a step backward from the Stanford game. But this matter is very fixable as the team prepares for a tough Oregon State team. But the formula of presenting our best defense possible, combined with a dynamic offense and minimal turnovers is still a winning formula that keeps working.
When you look at the game statistics, the game was never in doubt. Our time of possession (TOP) was 34:08 vs. 25:52 for Fresno State. When combined with 3rd & 4th down conversions of 4 of 13 for Fresno State vs our 9 of 15, you see pretty quickly that our defense outplayed Fresno State's. There are more statistics, but they all tell the same story. What is behind the stats does include knocking out Fresno State's starting QB who's backup QB (Fife) played a pretty nice game given the tough circumstances on the road.
What Didn't Work Well:
There's always something to improve upon and we gave up three runs to Fresno State of 40, 32 and 27 yards and one rushing TD. This type of run stopping isn't going to be satisfactory against a better opponent with a starting QB intact which we'll see far more often than not.
Our 3-4 defensive run stopping package is much more difficult to execute properly against the run than a 4-3 scheme. That is one of the trade-offs of this type of scheme. Therefore, to strengthen against the run, we must move a safety (or a Nickel back) into an "Over" set lining up against the opponents' strong side (or wide side sometimes) to provide additional run support. In certain formation we'll move a Mike ILB into an Over position as well. Sometimes you'll hear TV announcers talk about "run fit" and this is what they are generally referring to or they're just BS-ing everybody. It also allows for more defensive stunting (moves that attack the Line of Scrimmage (LOS). This leads to big negative plays but also leads to giving up explosive running and passing plays, which we did. You get one good thing but risk the big play. Welcome to the defensive world. You have to be able to shake off these plays and keep on attacking while making a few adjustments. Also, sometimes you just have to be able to guess right and attack an area or a gap (the space between players) or certain personnel and make a big defensive play.
We still have work to do on kick-off coverage and returns. Fresno State outperformed us here gaining valuable field position with an average return of 30.8 yards vs our 15.0 yards. This has to get corrected and is a leftover issue from the Stanford game as well. In the football world these are sometimes called "hidden yards" but it is a real battle that championship teams routinely win.
Shout-outs:
Travis Dye
Offensive Line (fun to watch these big guys move!)
Eric Gentry
Shane Lee
Tuli Tuipulotu
Malcolm Epps (He's starting to high point his catches)
Solomon Byrd