Defensively Speaking: UCLA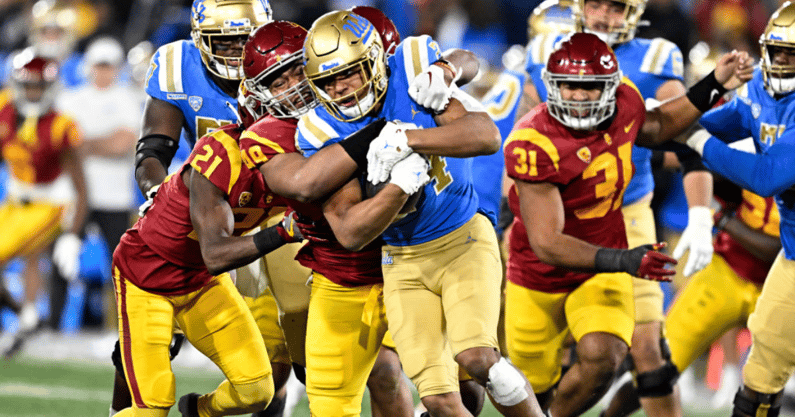 Some games defy any analysis and just need to be enjoyed. This is clearly one of those. Ironically, I've seen and been critical of some of the effort and play of one of the heroes of Saturday's game. What I really enjoyed seeing was watching those few plays that separated a championship victory (City of Los Angeles) from an almost-win, excellent effort but just not quite all the way. What a difference a victory makes. And how close is a memorable win from that dreaded near-win? This is what I've been pointing to over the past several weeks and I for one am proud of the growth of this team despite circumstances and headwinds.
So, Korey Foreman is a hero and forever in the USC/UCLA pantheon of USC heroes. I'm happy for him and this team.
What worked
Three interceptions
One fumble recovery
Slanting the D-line for greater line-of-scrimmage penetration
Interfering with DTR's smooth play calling and view of the field (note the D-line getting up in the air disrupting clear visual view of the passing lanes)
TFLs and a couple of sacks
What didn't work
Mixed bag tackling Charbonnet but I would argue that the defense did an OK job
Overall tackling was less than desired, but offset by good turnovers recovered
Stopping DTR was difficult, which was not a surprise, but still accomplished
FG kicking is really hurting us
Shout Outs
Caleb Williams
Darwin Barlow
Korey Foreman
O-line
Calen Bullock
Bryson Shaw
Tuli Tuipulotu
So, for this week comes Notre Dame. They are a much-improved team with an excellent run game, tight end and very, very physical. Championship teams win these kinds of games no matter how tough and physical they are. Frankly, these can be fun games to play and win. So, it's time to Fight on!