Florida Offensive Lineman Transfer Ethan White Commits to USC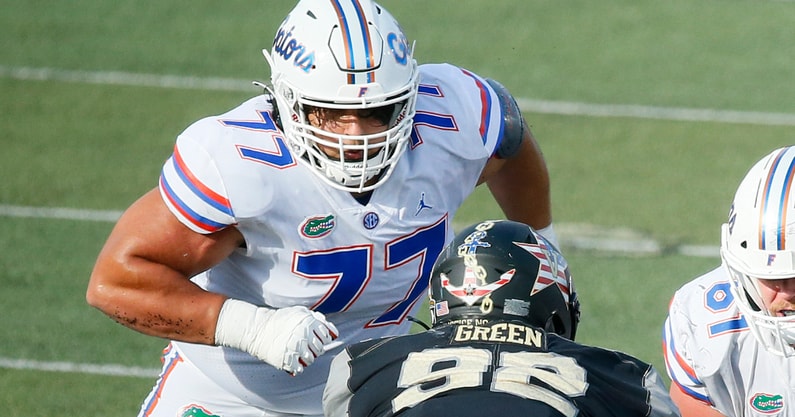 USC hosted several transfer targets two weeks ago and last weekend hosted 4-Star Serra ATH Rodrick Pleasant on his official visit. Pleasant was the only USC official visitor. We believe the Trojans are in a strong position with Pleasant after his visit.
This weekend USC hosted Florida OL Ethan White on his official visit. The Trojans also hosted TCU Safety commit Warren Roberson. At one time we'd submitted a USC prediction for Roberson. Most felt Roberson would end up a Trojans following his June 16-19 official visit. 
Earlier today (1/22) White announced his commitment to USC.
Ethan White at Florida 
Two Florida Gators were named to the Associated Press All-SEC teams. Left guard White was named to the second team offensive line and O'Cyrus Torrence earned first-team honors.
White, a junior, earned his first career AP All-SEC honors after starting in all 12 Florida regular season games this season. The Clearwater, Florida native has started 19 games in his Gators career.
The Gators' offensive line this season has paved the way as the program is third in the FBS with 5.8 yards per carry, rushing for 213.7 yards per game, on pace to be the 10th most in Florida history. Florida's 29 rushing touchdowns this season is currently the fifth-most in program history.
When healthy, White (6-4, 331) is an absolute road-grader in the running game. He has one season of eligibility remaining.
Final 2023 Recruiting Push
January is the final month where college football programs hope to add significant upgrades to their Spring rosters. There's another window for Transfer to enter the Portal May 1-15. The transfers enrolling for the Fall semester typically enroll in June, so they can partake in Summer strength & conditioning programs and player run practices.
A year ago USC head coach Lincoln Riley and staff added 26 transfers to the 2022 roster. That list was obviously headlined by QB Caleb Williams, 2021 Biletnikoff Award Winner Jordan Addison and RB Travis Dye.
USC's Transfer Portal Signings
USC has announced 11 signings via the transfer portal to this point. The defensive line will get a boost with former Arizona defensive tackle Kyon Barrs. Rush end Jamil Muhammad comes over from Georgia State and should provide a pass-rushing boost. Linebacker Mason Cobb from Oklahoma State is a tackling machine. Cornerback Christian Roland-Wallace from Arizona will have a chance to replace Mekhi Blackmon as USC's top corner option. They are all vital defensive reinforcements.
Former Arizona State punter Eddie Czaplicki will have a good change to grab the starting spot. And wide receiver Dorian Singer comes over from Arizona with a shot to take over the No. 1 receiver for the Trojans.
The Trojans have also gained commitments from former South Carolina RB Marshawn Lloyd, Texas A&M Edge Anthony Lucas, Washington St. OL Jarrett Kingston and Florida OL Michael Tarquin. Lloyd visited USC two weeks ago and committed to the Trojans while in Los Angeles. 
Lucas and Kingston announced their commitments a few days after Lloyd.
Transfer portal background information
The NCAA Transfer Portal, which covers every NCAA sport at the Division I, II and III levels, is a private database with names of student-athletes who wish to transfer. It is not accessible to the public.
The process of entering the portal is done through a school's compliance office. Once a player provides written notification of an intent to transfer, the office enters the player's name in the database and everything is off and running. The compliance office has 48 hours to comply with the player's request and that request cannot be refused.
Once a player's name shows up in the portal, other schools can contact the player. Players can change their minds at any point and withdraw from the portal. However, once a player enters the portal, the current scholarship no longer has to be honored. In other words, if a player enters the portal but decides to stay, the school is not obligated to provide a scholarship anymore.
Transfer Portal Database
The database is a normal database, sortable by a variety of topics, including (of course) sport and name. A player's individual entry includes basic details such as contact info, whether the player was on scholarship and whether the player is transferring as a graduate student.
A player can ask that a "do not contact" tag be placed on the report. In those instances, the players don't want to be contacted by schools unless they've initiated the communication.
The portal has been around since Oct. 15, 2018 and the new calendar cycle within the portal begins each August. For example, the 2021-22 cycle started Aug. 1. During the 2020-21 cycle, 2,626 FBS football players entered the transfer portal (including walk-ons). That comes after 1,681 entered during the 2019-20 cycle and 1,709 during the abbreviated 2018-19 cycle. In comparison, 1,833 Division I basketball players entered the portal during the 2020-21 cycle after totals of 1,020 in 2019-20 and 1,063 in 2018-19.
Track transfer portal activity
While the NCAA transfer portal database is private, the On3 Network has streamlined the reporting process tracking player movement.
If you find yourself asking, 'How can I track transfer portal activity?' our well-established network of reporters and contacts across college athletics keeps you up to speed in several ways, from articles written about players as they enter and exit the transfer portal or find their new destination, to our social media channels, to the On3 Transfer Portal.
The transfer portal wire provides a real-time feed of player activity, including basic player profile information, transfer portal ranking and original On3 Consensus recruiting ranking, as well as NIL valuation (name, image and likeness).
The On3 Transfer Portal Instagram account and senior national college football reporter Matt Zenitz's Twitter account are excellent resources to stay up to date with the latest moves.