Initial On3 NIL 100 Rankings Show Why USC Needed Lincoln Riley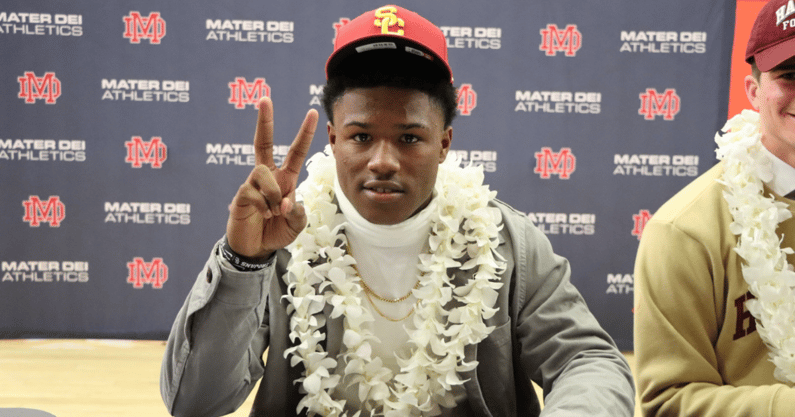 The On3 NIL 100 rankings were released for college players and high school recruits on Friday. The rankings offer a first-of-its-kind look at the NIL power of players and prospects. As part of it, the NIL tab on On3 player profile pages offer a look at what one post on any of the three leading social media sites (Twitter, Instagram and TikTok) is worth.
The discussion around Name, Image and Likeness has been one of the dominant themes of college football over the past year. The On3 NIL Valuation provides a baseline for an athlete's value based on their social media platforms. That value may be boosted by several different factors, including relative social media strength, college prestige, gameday performance, prestigious achievements, media and other criteria.
It is not a list of student-athletes who have made the most money or could make the most money from NIL. Rather, it's a sense of the star and brand power an athlete possesses and could use in searching for NIL deals.
Former USC head coach Clay Helton and USC football administrators spoke at length about how USC's location and football prestige should make Trojans lead the way in NIL. Or, at the very least, be able to get in the game and cash in somewhat.
The On3 NIL 100 is a dynamic ranking and will be updated each week.
Building a brand and earning money through NIL will never be as easy as putting on a uniform and sticking out a hand. It can be a second fulltime job to build a social media following or do all the legwork that comes with establishing a reputation both on and off the field. But what seems evident at this point is that USC wasn't anywhere close to being in position to truly take advantage of NIL. Whether that was due to a football program comfortably out of the national spotlight. Or a roster of players that simply hadn't yet emerged as national names on the football field or crossover stars via social media.
On3 College Football NIL Rankings Full of California Standouts
In the On3 NIL 100 for college football players, not a single current USC player is listed. But former California high school prospects dominate the college list. Eight of the top 22 players prepped in California.
The top two are former California high school standout quarterbacks Bryce Young (No. 1) and C.J. Stroud (No. 2).
Ohio State's Chris Olave is No. 8. Ole Miss' Matt Corral is No. 11. Oregon's Kayvon Thibodeaux is No. 14. Oregon's Justin Flowe is No. 18. Clemson quarterback D.J. Uiagalelei is No. 19. And Georgia tight end Brock Bowers is No. 22.
Expanding the border just slightly, Nevada product and UCLA quarterback Dorian Thompson-Robinson is No. 9,
Riley's effect on USC players' potential NIL earnings
The effect Lincoln Riley will have on NIL earnings for USC football players is still to be determined. Though, if he turns a 4-8 program into a national championship contender in two or three years, the effect will likely be quick and obvious. But the effect he's had on bringing big NIL earners to USC is notable.
In looking at the On3 NIL 100 for high school football prospects, USC 2022 signees Raleek Brown (No. 9) and Domani Jackson (No. 14) and 2023 commitment Malachi Nelson (No. 44) are all top-50 prospects. And it's extremely likely none of those three would be headed to USC without Riley taking the job.
And the same could be said for USC's fourth member of the On3 NIL 100, safety Zion Branch, who checks in at No. 122.
Without Riley, there's a real chance USC would not have had a player on the roster or commitment list in either of these rankings.
But it's a new age of college football. There will be those who embrace NIL and those who despise it. But regardless, it's here. And the programs that have players enjoying successful NIL pursuits will be able to use that in recruiting.
Riley helped turn two quarterbacks into top-50 NIL prospects. Spencer Rattler is No. 4 and Caleb Williams is No. 6. And whether the numbers climbed as a result of playing for Riley at Oklahoma, or whether Riley was able to attract high-profile NIL prospects to the Sooners, the result is the same (and a major positive for Oklahoma). His high-powered offense has the ability to turn USC skill players into household names and national award winners. And that will keep them toward the top or vault them up the On3 NIL Rankings.
The On3 NIL Rankings were designed to give players and prospects a real-world sense of their value. And USC players and recruits now have a chance to make some real noise when it comes to NIL.