Interim head coach Donte Williams wants to enhance everything USC does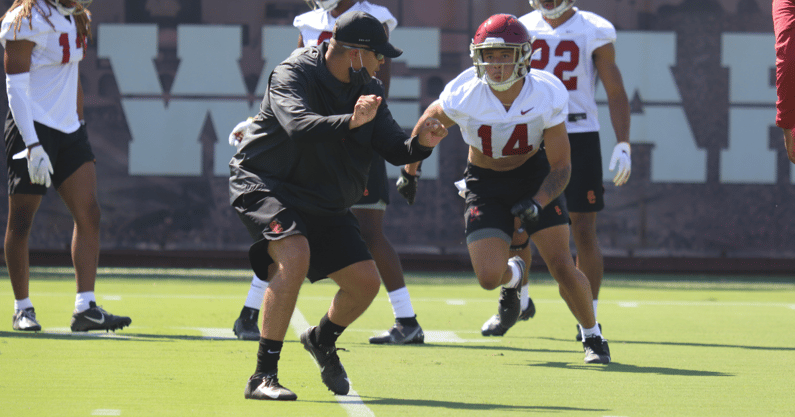 Donte Williams woke up Monday morning as the USC cornerbacks coach and associate head coach. By mid-afternoon, he was the interim head coach of the Trojans, taking over duties for Clay Helton, who was let go by athletic director Mike Bohn.
Bohn and chief of staff Brandon Sosna alerted Williams to the change just before a scheduled team meeting, where Bohn and Helton shared the news with the team.
"Those two and Dr. Folt gave me the opportunity of a lifetime," Williams said Monday night on the Trojans Live radio show.
Bohn had positive things to say about Williams on the same show.
"You're really going to enjoy Donte Williams," Bohn said. "And the good news is he's got some really talented coaches in the room with him. [He has a] unique ability to connect with young people. I am really looking forward to seeing what he can do."
Williams has enhancements in mind
Two games into the season, it's difficult to make major changes to the program, Williams said. Instead, he's looking to make small changes everywhere.
"My biggest thing is about enhancing everything we do," Williams said. "How can we enhance everything we do? Whether it's the way we lift weights, the way we eat, the way we practice, the way we play, just enhance everything we do. That's the biggest message right now. Making sure we take care of all the little things, because too many little things become huge and big things and they cost us, They cost us penalties, they cost us dumb mistakes, they cost us as a team, they cost us as a university. And that's the biggest message that I have: making sure that we enhance everything we do. Everyone in this organization needs to do something a little bit better than what they were doing before, including myself."
Helton would often talking about going 1-0 each week, taking each game as its own season and just looking to win that next game. Williams went a step further, paraphrasing Chip Kelly's "Win the Day" mantra he had at Oregon.
"Everybody says about going 1-0 in the game," Williams said. "I'm more in the facet of going 1-0 every day. And if we go 1-0 every day and we do the best that we can do every day, individually and we do it in the organization as a team, then we're going to love the results that we get."
Stupid mistakes
USC committed nine penalties and had more than a few mental lapses in its blowout loss to Stanford on Saturday. Williams took aim at those things in listing what needs to be fixed immediately.
"To not have the stupid mistakes and play more together as a family, as a team," Williams said. "Everyone says those words, but at the same time you have to be able to live by those words. And when you do stupid things that cost the team, you're not protecting your family.
"One thing we have to do, we have to eliminate the dumb mistakes. And once we eliminate the dumb mistakes, you're going to see true Trojan football."
Out of the booth
Williams has been in the coaches booth during games while at USC, but this promotion brings him down to the field. He's excited.
"Coming to USC was the first time I've ever been in the box," Williams said. "I love being on the field, I love being around the guys, I love hyping those guys up and being fully involved."
The ability to look in the eyes of his players when he talks to them during the game is extremely meaningful to Williams.
Looking ahead under Williams
Bohn is hopeful the Trojan Family will respond positively to this move.
"Everything is in front of us as far as our aspirations to win the league, still," Bohn said. "My expectations are that the Trojan Family really do a great job of embracing not only Donte, but this whole staff and this team in a way that they know they're behind them."
Williams has one goal in mind in terms of fan support during his tenure as interim head coach.
"I'ma bout making sure the Coliseum is sold out," he said.