Jordan Addison on Choosing USC, Outside Noise and Making an Impact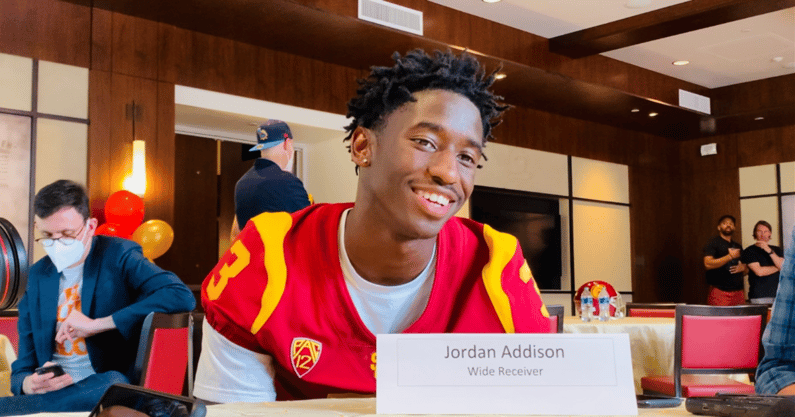 When Jordan Addison met with the assembled USC media for the first time on Thursday during the Trojans' media day, he declined to get into specifics about what led him away from Pitt. But he spoke at length about the decision to attend USC, what led him to the Trojans and what he's experienced in his relatively short time on campus.
Addison and quarterback Caleb Williams entering the transfer portal were two of the more shocking decisions of the offseason. Both subsequent recruitments came with plenty of attention, noise and rumors.
Addison's name was amplified when reports surfaced that Pitt coach Pat Narduzzi suspected USC and head coach Lincoln Riley of tampering with Addison before he went into the portal. The report stated that Narduzzi made several phone calls to Riley.
Riley said during Pac-12 media day that USC's pursuit of Addison via the transfer portal was entirely above board. Addison made it clear Thursday that he needed very little convincing that USC was the right destination for his next step at this level.
"After I started getting recruited here, I was already feeling the vibe," Addison said, downplaying the role Caleb Williams had in his decision. "There's not really too much he had to say. I just wanted to come out here and see for myself."
Addison said he knew USC would be the choice for him the moment he stepped on campus for his official visit.
"Right away I knew," Addison said. "It was just a feeling that I had and I just ran with it."
Riley said multiple times this offseason that he was blown away by Addison during that visit. He said during media day that they missed multiple meals and scheduled activities because Addison wanted to talk football. It turns out, Addison viewed it more as a job interview than a recruiting trip.
"I wanted to make sure they knew what my intention was and what my focus was going to be," he said. "I wasn't coming out here for all the lights, camera, action, and all that. Just wanted to make sure they knew that I'm strictly business."
Addison on Dealing with Outside Noise
Addison said he first heard word of the tampering accusations via social media.
His reaction to seeing it?
"This is just some BS," he recalled thinking.
Addison said it was a frustrating situation for him, but he's moved on.
"It was definitely frustrating," he said. "But I wasn't really too concerned with it. Because the truth will always come to the light. So I know what my focus is and my intent. All of that is just outside noise."
Making an Impact at USC
Addison won the Biletnikoff Award last season as the nation's top wide receiver. He caught 100 passes and scored 18 touchdowns in 2021.
Not good enough for Addison.
He said he wants to get better this season because he had a few potential plays he left on the field last season.
No player is ever going to be perfect at this level, but Addison is one of those guys who impresses teammates every time he takes the field. Multiple teammates during Thursday's media session referred to Addison as "a guy." While that sounds like muted praise, it's anything but.
Addison's speed jumps out immediately. He said he ran track at a young age and his favorite superhero is Flash. But he admitted with a smile that genetics probably plays more of a role than taking after a superhero.
But Addison said what he feels separates him as a receiver isn't just getting to top speed quickly.
"Being able to control my speed," he said. "Some people are fast, but they can't really get in and out of their breaks or they struggle with release. I feel like controlled speed is always the best way to go. I feel like that's something that I do well."
Addison said the transition has been an easy one. Both in the fact that he's coming into a new situation but most people here have just a nine-month head start. And the family culture built by this new staff allowed him to feel welcomed and supported from Day 1.
But a surprise did come from the receiver room.
"I was actually surprised by the talent that they have here already," Addison said. "So it helps me out to make sure I'm not saying complacement. They have a really good group, so I have to make sure I stay on my A game as well."