Josh Falo Makes Impressive One-Handed Grab to Kick Off Fall Camp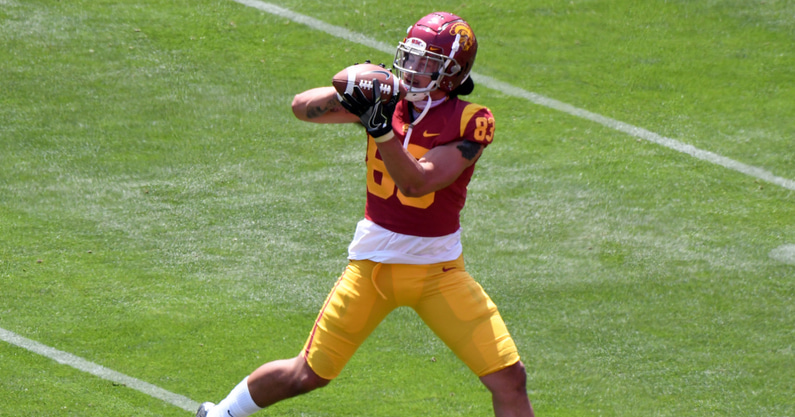 Josh Falo is at it again. The USC senior tight end has dealt with far more than his share of injuries during his time as a Trojan. But when he's been healthy, and typically during fall or spring camp, he's shown the ability that made him a four-star prospect all the way back in the 2017 recruiting class.
The 6-foot-6, 255-pound tight end authored another practice field highlight on Friday, going up over safety Xavion Alford and coming down with an impressive one-handed grab.
The USC Trojans participated in their first day of fall camp on Friday. Head coach Lincoln Riley was pleased with the energy and intensity of practice. Plays like the one Falo made were likely part of the reason why.
Falo did not play in a game last season. He saw backup action in just three games during the 2020 season. His last significant play came in a blowout win against Cal in the 2019 season, when he caught a five-yard touchdown pass.
Falo has 18 catches for 246 yards and three touchdowns in 36 career games. Trojan fans might remember his first reception at USC, which went for a 30-yard touchdown against Oregon State in 2017. He caught another touchdown the following week against Utah. And he had one of the key plays of the season in the Pac-12 championship game against Stanford that year, hauling in a short fourth-down reception late in the game to seal the win for the Trojans.
He was featured this summer in a video diving into his path to and time at USC.
A Healthy Group of Tight Ends
USC's group of tight ends are healthy for the first time in a while. Falo and Ethan Rae have dealt with injuries throughout their USC careers. Lake McRee was sidelined for much of spring ball.
"We're excited to have everybody healthy and have everybody out there," tight ends coach Zach Hanson said during USC's media day, adding it was tough to make it through spring ball with one-third of the room out. "Excited to have those guys back. Everybody brings a different skill set, and a different mentality to it. Those guys do a great job of helping coach each other and support each other. It'll definitely help the competition level raise throughout camp."