Justin Dedich Shares High Praise for Strength Coach Bennie Wylie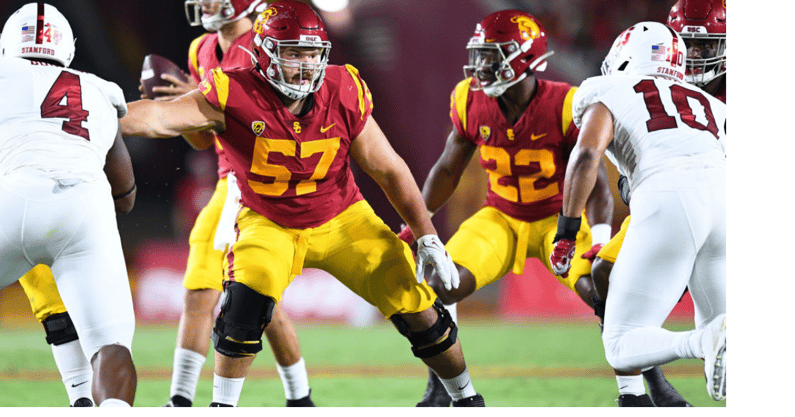 The USC Trojans need to improve on offense, defense and special teams if they are going to make significant improvements upon their 4-8 record last season. But it doesn't stop there. And truthfully, it doesn't start there either. For years, USC has not been the biggest, strongest or fastest team in the conference. The Trojans might not have even been any of those things in the division for a significant chunk of time. That can't happen at USC. And that was one of the first things head coach Lincoln Riley determined needed to change.
One member of that first small group to arrive at USC from Oklahoma along with Riley was Bennie Wylie. He's now the Director of Football Sports Performance for the Trojans.
Riley is tasked with taking a 4-8 team to a national championship winner at some point during his tenure. But no coach has a more pressing and immediate task than Wylie. His job is to get the Trojans back to when they could win games just by getting off the bus.
Wylie got his hands on the team during winter conditioning and has them now during the summer. Offensive and defensive schemes will go a long way in determining USC's success this fall. But what Wylie is able to accomplish might mean just as much. It's tough to ask a strength program to yield immediate results in just one offseason. But Wylie's impact goes beyond that as well.
USC offensive lineman Justin Dedich spoke last week with Keely Eure, USC's Director of Creative Content and Team Reporter on The Victory Podcast. He credited both Riley and Wylie with helping turn around the program.
Dedich said the message from both when they first arrived was the need for trust to extend both ways.
"We're trusting you guys; you guys got to trust us," Dedich said. "So I think guys bought in. Especially us guys that were here before. Going a 4-8 season it's like, obviously you can sit here and point fingers but something's gotta change with it. And you too, because you played a factor in that. You played a role in that season last year."
Erasing last year's record started with the conditioning program. The buy-in happened quickly.
"It was like I was a freshman again," Dedich said of the feeling of getting a fresh start. "I think that fire was underneath us and it was easy for us to buy in."
Dedich said that helped the transition to the new staff happen easier than he thought it would.
"I genuinely think it has been a great turnaround," he said. "The brotherhood of this team is really tight right now. People are bought into the program. It's a good dynamic to see, going into fall camp.
Wylie's System
Wylie's history is long and impressive. He spent the past four years with Riley at Oklahoma. Before that he was the head strength and conditioning coach at Texas Tech, Tennessee and Texas. He also spent time as the Director of Performance at Performance Lab in Abilene, Texas. And he served as a staff member of Alpha Warrior, providing training and obstacle fitness to United State military personnel.
He immediately found a connection with the offensive linemen because he coached Clay McGuire at Texas Tech. McGuire was the USC offensive line coach last season and formed a strong bond with that group.
"He's been there, he knows, he's been around," Dedich said of the authority Wylie coaches with.
Dedich got into some of the specifics Wylie preaches.
"He's very proressional. He's very into prehab rehab," Dedich said. "Making sure you're staying healthy. Making sure you're being the best athlete you can be in terms of combine and football training. He's giving us great advice on how to further our career to go make ourselves money at the next level, which is awesome. And he genuinely believes everyone on the team can do it. It's not like he's showing favoritism to one or two guys. Everyone can get this chance, it's whether or not you're going to buy in. It's just that belief in us as players and then the program itself actually represents that."
Dedich's Tuesday CarPull
Dedich is a guy who knows a little bit about strength and conditioning. When Covid sent players home and away from team training in 2020, Dedich drew attention with a workout where he pulled a car.
He was back at it again this past spring.