Kade Eldridge Commits to USC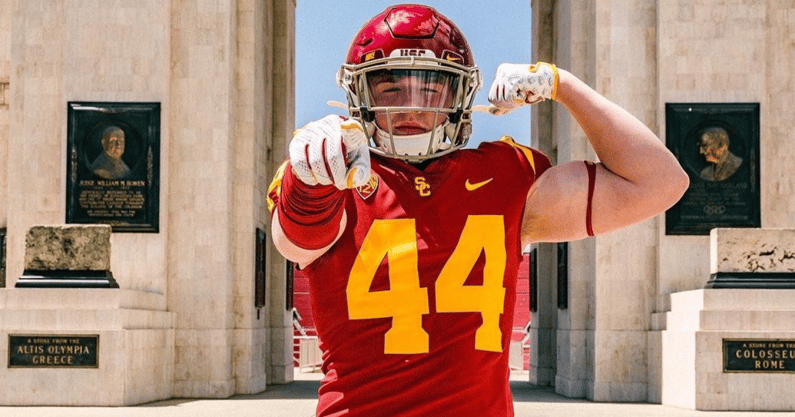 USC's recruiting roll continued on Wednesday as the Trojans landed a commitment from two-way athlete Kade Eldridge. The 6-foot-4, 235-pounder becomes commitment No. 11 for USC in this 2023 recruiting class.
Eldridge took multiple trips to USC this spring and summer. USC didn't really enter the picture until extending an offer in March. The Trojans got Eldridge on campus in April for an unofficial visit. He was initially to take his official visit this past weekend as part of the huge list of visitors. But Eldridge bumped it up a week and was on campus for the June 10 weekend instead.
Of the four official visitors that weekend, Eldridge is now the third to announce a commitment to USC. He joins offensive tackle Tobias Raymond and defensive lineman Grant Buckey.
The jumbo athlete stars on both sides of the ball in high school but is being targeted by USC as a tight end. Last season, he was used mostly on offense as a big back out of the pistol. In 10 games, he caught just eight passes but recorded 794 offensive yards and averaged 8.3 yards per carry. He scored 11 touchdowns.
That ability as a running back could make him a very intriguing option as an H-back in head coach Lincoln Riley's USC offense. Riley likes a specific type of player there. It's a position that acts as a lead blocker in the run game and can occasionally receive carries in specific situations. It also calls on players to work as a normal receiver in the passing game, as well as begin a play as a blocker before releasing into the pattern.
Tight ends coach Zach Hanson said earlier this spring the H-back is a "huge part" of this USC offense.
"He's got to be a really savvy football player," Hanson said of the H-back. "There's a lot of feel."
On defense last season, Eldridge had 62.5 tackles, including 15 tackles for loss and 4.5 sacks. It was an impressive rise as a junior, as he did not hold a scholarship offer as of a year ago.
USC's 2023 Recruiting Class
Eldridge is another recruit this USC staff specifically targeted and won out for. Michigan, Oregon, Washington and Washington State were the other four finalists for the Washington native.
He's the first tight end commitment in this class but likely won't be the last. USC coaches are making a significant effort at the position, with five-star Duce Robinson and four-star Walker Lyons still high on the wish list.
USC's No. 3-ranked recruiting class is led by Five-Star Plus+ quarterback Malachi Nelson, five-star wide receiver Zachariah Branch and four-star receiver Makai Lemon.
A four-star Texas duo of Quinten Joyner and A'Marion Peterson give the Trojans a one-two punch in the backfield.
Four-star cornerback Braxton Myers is another Texas prospect set to head West. He's the nation's No. 125 overall prospect. And safety Christian Pierce is an intriguing three-star safety commit.
Eldridge is the second commitment for USC this week. Offensive lineman Amos Talalele took an official visit this past weekend and announced his commitment on Monday.