Kyron Hudson on Playing at USC and the Legacy He Wants to Leave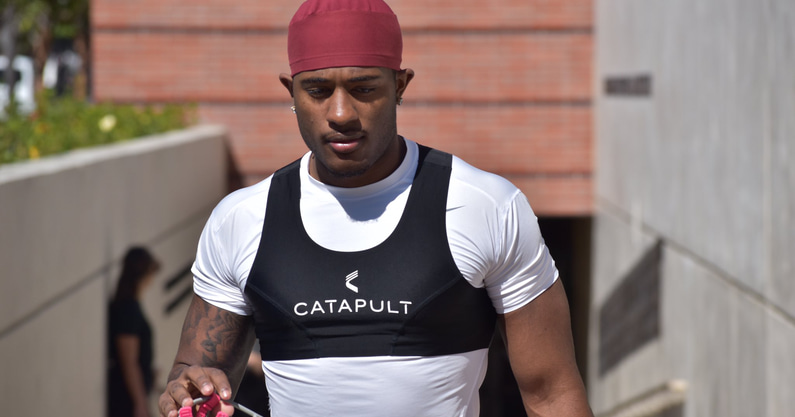 The USC spring game that capped the Trojans' spring practice sessions was the first time USC fans had an opportunity to see the Trojans on the field since an uninspired 24-14 loss to Cal that capped off a dismal 2021 season. New additions such as quarterback Caleb Williams, wide receiver Mario Williams and linebacker Shane Lee caught the most attention from USC fans. But the player who might have earned the most attention as a pleasant surprise was wide receiver Kyron Hudson.
It's going to be difficult to break into a wide receiver rotation that now features reigning Biletnikoff Award winner Jordan Addison as well as Williams, Brenden Rice, Terrell Bynum and lead returners Gary Bryant Jr. and Tahj Washington. But Hudson proved he was up to the challenge. Hudson made the first noteworthy play when he took a reverse 18 yards. Later he authored maybe the top highlight of the day with a leaping grab along the sideline. Hudson finished with four receptions for 36 yards.
He might have been something of an afterthought heading into spring practice because of his limited impact last season. He caught just two passes for four yards as a true freshman. But he battled injuries to start his career and the entire receiving corps was overshadowed most of the season by the outstanding year turned in by Drake London.
Hudson is ready for Year 2, however, and is happy to be doing it right at home. He is a one-time Oregon commitment who flipped to USC fairly late in the process. This week, the official USC Football Twitter account posted a video feature on Hudson.
Celebrating Staying Home
Hudson hails from Duarte, California and attended Mater Dei High School in Santa Ana. Playing for the Trojans allows him to stay close to home.
"I grew up out here in LA," Hudson said. "Growing up being a USC fan and just being able to watch players like Reggie Bush, for instance, and just play on the same field that he did is something that I was inspired to do."
The combination of athletics, academics and alumni USC offers is something Hudson understands and appreciates.
"A degree from USC is truly as strong as it can be," Hudson said. "The alumni we have, people that want to be a part of it be a part of your journey, is truly something that every kid wants. A degree from USC is something that can take you on through generations."
Clicking With Receivers Coach Dennis Simmons
Wide receivers coach Dennis Simmons was one of the first hires made and announced by head coach Lincoln Riley. He was known as a tremendous recruiter and a very good coach. Hudson expressed his affection for his position coach.
"That's my boy," Hudson said of Simmons. "He's so up front. And he has the best for me, puts me on a line to be able to perform at my best. He trusts in me and I trust in him. That's my guy."
Hudson Looking to Make His Mark
Hudson still has four years of eligibility remaining as he's set to enter his redshirt freshman season. And he has some goals set for that time remaining.
"The impact that I want to leave at SC is just being able to inspire a lot of people," Hudson said. "I love to have a smile on my face, enjoy, laugh, have jokes, just leave that mark I would want throughout my life. Life is short, so I like to keep it happy every day and to enjoy it. Even on the football field, just being able to be that player that people can rely on."
And part of that is paying it forward to the next generation.
"I'd never been to a college game growing up, but just seeing those smiles on the kids' faces and having me being able to put the smiles on their faces and have their dream come true is truly a blessing," he said.
Hudson admitted last season didn't go as planned, which isn't exactly a secret. But he's part of a roster of returning and new players who can't wait to step foot on the field this fall.
"For a player like me and the rest of my teammates, we're just excited to put on a show for LA," Hudson said. "We're here. We're working hard. And we're gonna give you all a show."