Lincoln Riley on Jordan Addison and His Move to USC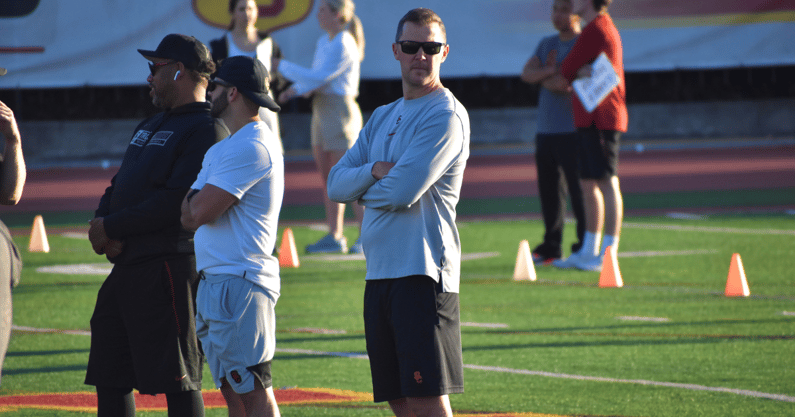 USC head coach Lincoln Riley said at his introductory press conference that he believes he can oversee the construction of the best roster in college football at USC. Riley and the Trojans don't yet possess that roster. But the USC roster that will break fall camp is better than the one that ended spring ball. And that roster was improved from the one that finished the 2021 season. The Trojans return significant contributors on both sides of the ball. But it's impossible to talk about this team and this roster without first touching on the two most significant transfer additions in quarterback Caleb Williams and wide receiver Jordan Addison.
They were the top two available players in the transfer portal this offseason and few additions will have a more immediate impact on their new programs. Absolutely zero additions created more conversations and outrage throughout college football.
Addison left a Pitt program where he won the Biletnikoff Award last season as the top wide receiver in college football. But Pitt lost its quarterback, offensive coordinator and wide receivers coach, pushing Addison to begin exploring his options. When he made the decision to enter the portal and eventually selected USC, speculation about NIL inducements and tampering ran wild online.
Riley sat down with CBS Sports' Dennis Dodd to discuss a variety of topics, including the noise surrounding Addison's move to USC.
"That's the internet, that's Twitter, that's people that can say whatever they want with no responsibility attached behind it," Riley said. "This kid is all ball. That's why he's at USC."
Riley on Addison to USC
Riley went deeper into Addison's move.
"It's exciting to have him here," he told Dodd. "To have a guy that was one of the best players in college football, that ultimately chose he wanted to be here at USC, that believed in us, that believed in this program before we'd even played a game, I think it's exciting. Guys like that, it sends a message to future recruits and the guys looking at it. Here's a guy that could have played football anywhere that he wanted to and he chose here."
Addison took official visits to USC and Texas during his recruiting process out of the transfer portal. The Trojans were seen as the leaders from the moment he entered the portal. Riley and staff were able to finish off the process with a solid visit.
"The fun thing about Jordan is he came up on his official visit and he didn't want to talk about anything else other than football," Riley said. "I don't know that I've ever had a more football-centered visit that I can remember throughout the years. All he wanted to do was watch tape and talk ball and talk about how we thought he could improve and how he could help the team. One of the first questions he asked was, 'How do you think the team will accept me coming in?' So that shows you what kind of kid that we brought in here."
Addison's Fit in the Offense
USC lost Drake London as a first-round pick in the NFL Draft this offseason. But Addison caught 100 passes and scored 18 touchdowns last year. The expectation is that he'll fit right in as a starter and the No. 1 receiver.
USC added three very good wide receivers prior to spring ball in Mario Williams from Oklahoma, Brenden Rice from Colorado and Terrell Bynum from Washington. And there was talent returning in Gary Bryant Jr., Tahj Washington, Kyle Ford, John Jackson III, Michael Jackson III and Kyron Ware-Hudson. But Addison takes this position up another level. And indeed, raises the ceiling for the entire offense.
"It's going to be exciting to put him into our offense," Riley said to Dodd. "It's fun to watch all the great things that he did at Pitt last year and to think about him in our offense. He brings instant productivity. He's a very well-balanced receiver, very good after the catch."