Lincoln Riley on Kickoff Decisions, Confidence in Denis Lynch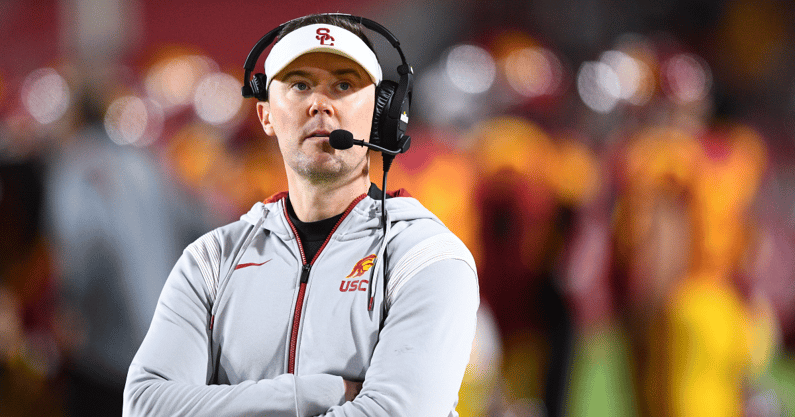 At this point in the season, there are typically very few surprises with how a USC unit performs in a game. The offense is one of the best in the country. The defense must generate turnovers because good opponents will generate yards and points. And the special teams is something of a grab bag, complete with good and bad in the same game. Against UCLA, in terms of special teams, that's exactly how things played out.
USC had a 17-yard punt return on a well-executed fake where Jordan Addison drew the UCLA coverage team to one side while Michael Jackson III retreated on the opposite side to field the punt. Kick returner Raleek Brown had a 28-yard return, but also muffed a fair catch and forced the Trojans to start at their own five-yard line for the most important drive of the game.
Punter Aadyn Sleep-Dalton dropped a nice punt at the 11-yard line to make UCLA travel nearly the length of the field on its final drive. And kicker Denis Lynch missed two field goals from inside 35 yards, but drilled a 49-yard attempt on the final play of the first half for one of the game's more impactful plays. USC also elected to sky-kick a couple of times on kickoffs, avoiding returns from Kazmeir Allen but giving the Bruins good field position. Allen returned a kickoff for a touchdown against USC last season.
USC head coach Lincoln Riley spoke earlier this week specifically about his decision on those two kickoffs as well as his confidence level in Lynch moving forward.
"We wanted to change up some of the locations," Riley said of moving the ball around on kickoffs during his Monday evening appearance on the Trojans Live Radio Show. "They've done a nice job on kickoff return all year and you keep giving a good team a lot of shots at it…there's different strategies and thought processes behind that."
The first one came after a USC field goal cut the UCLA lead to 14-10 with 5:45 left in the first half. UCLA wide receiver Titus Mokiao-Atimalala caught it at the 23-yard line and returned 14 yards to the UCLA 37. The Bruins then marched 63 yards in six plays for a touchdown.
The second one came with 14:51 left in the fourth quarter after a USC touchdown put the Trojans up 41-31.
Kicker Alex Stadthaus landed the ball at the 33-yard line on that one (10 yards shorter than the first). It was returned 11 yards by tight end Hudson Habermehl. And somewhat ironically, after avoiding putting the ball in the hands of Allen on the kickoff, the Bruins found him for a 55-yard touchdown on the first play of that drive.
"The second one, we just didn't hit a good kick," Riley said. "We hit it about 10-15 yards short of where we wanted to kick it."
But Riley did say the second kick was probably a mistake on his part.
"The guys did a good job covering," Riley said. "We honestly probably should have just kicked that last one deep. So that was my fault. I wish we would have, in hindsight. But listen, these calls. I mean, that's how they are. You go in there and hit a perfect pooch kick right in the spot and they get no return. Everybody's like, oh man, what a great call. Great job on that. That's the nature of the beast."
For the game, Allen returned three kickoffs and averaged 19.7 yards per return. His one long return was called back due to a holding penalty. And for all the concerns about USC's kickoff coverage, the longest kick return allowed by the Trojans is 35 yards. That came in Week 3 against Fresno State.
Riley has Confidence in Kicker Denis Lynch
USC is tied for ninth in the conference in field goal percentage at 66.7%. Denis Lynch is tied with Oregon State's Everett Hayes for the most misses in the Pac-12, with six.
But Riley hasn't shown any indication of making a move to Stadthaus when it comes to field goals. He was asked following Tuesday's practice what his confidence level is in Lynch moving forward.
"Very high," Riley said.
On the first field goal attempt, Lynch made contact with holder Will Rose's foot as he struck the ball.
"I've never seen a kicker who could make a field goal and hit the holder's foot," Riley said. "If he did that, he'd be really good."
Riley chalked the second miss up to just not hitting a great call.
"Those happen," Riley said.
Lynch would have been 1-for-4 against the Bruins because he came up short on his first attempt at the 49-yarder. But a UCLA timeout gave him a second chance. After seeing the miss, Riley gave Lynch another shot at it.
"He comes back and drills a 49-yarder into the wind that ended up being the differentiating points in the game," Riley said. "We've got a lot of confidence in Denis and I think Denis showed his confidence by going back and nailing that one. Because that was a big kick and a big momentum kick in that game."