Lincoln Riley on USC's Championship Expectations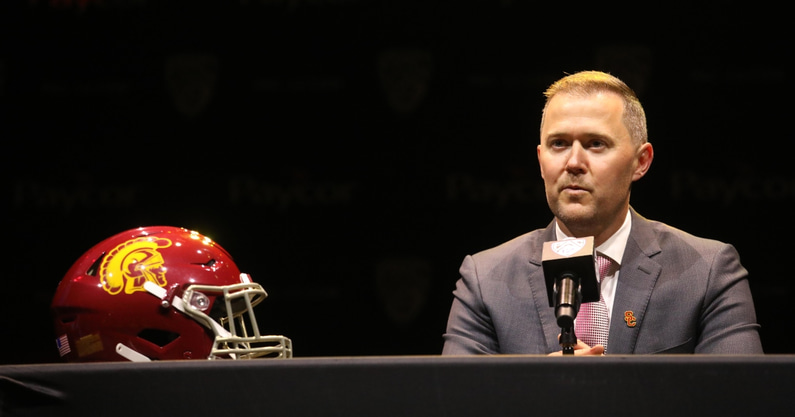 USC head coach Lincoln Riley refuses to temper expectations heading into his first season with the Trojans. USC was selected to finish third in the Pac-12 by media members who cover the conference. Riley's goals are well beyond that.
Asked during Friday's media day what his expectation is for this season, Riley didn't hold back.
"To win the championship," he said.
It would be borderline ridiculous for a 4-8 team to turn around and win a national championship the following season. It would be difficult enough to win a conference or even a division championship. But the amount of talent Riley brought to USC in just one offseason is a bit borderline ridiculous as well.
USC fans would likely overwhelmingly be happy with an appearance in the conference championship game. Some would want a win there. A small minority might be looking at this season as a playoff-or-bust situation. But Riley's comments might be helping to grow that group.
"You don't come to USC and you don't come to Los Angeles to do things small," Riley said. "You got to set your sights big."
Riley's plan is to be at USC for a long time, so it's been a two-pronged approach this offseason, needing immediate results and also building long-term. But again and again, he mentioned championships.
"The people we brought in there, the staff we brought in here, we didn't come here to play for second," Riley said. "We are not wired that way. We came here competitively to win championships, win them now and to win them for a long time. That will always be our expectation."
Enough on Defense
USC's defense was bad last season. It seemed like Coliseum and opponent records were routinely set throughout the 2021 season. One year doesn't seem near enough to get that completely turned around. Riley again though was preaching positivity and confidence on that side of the ball.
"We expect to have a national championship-caliber defense here at USC," Riley said. "I believe we have the people to do that."
Riley is clearly confident in defensive coordinator Alex Grinch. The two worked together for three years at Oklahoma and Grinch was one of the first few coaches who came over to USC with Riley.
"I got to sit there firsthand and watch the changes that he made when he came to Oklahoma in 2019," Riley said of Grinch. "There were just immediate, drastic improvements. He obviously did that in this conference when he went to Washington State for his first defensive coordinator job."
Riley is known for his offensive outputs at Oklahoma. But building a impenetrable force on the other side of the ball is high on his to-do list.
"You think about the great history of this place," Riley said. "Of course, the highlights of Reggie Bush are going to run forever, all the quarterbacks, all that. You can't forget all the great defensive players that have run through here. When this team has been a national championship-caliber team, it's been riding a tremendous defense. That's where we expect to be."