USC Trojans Fall to Michigan State Spartans in NCAA Tournament, 72-62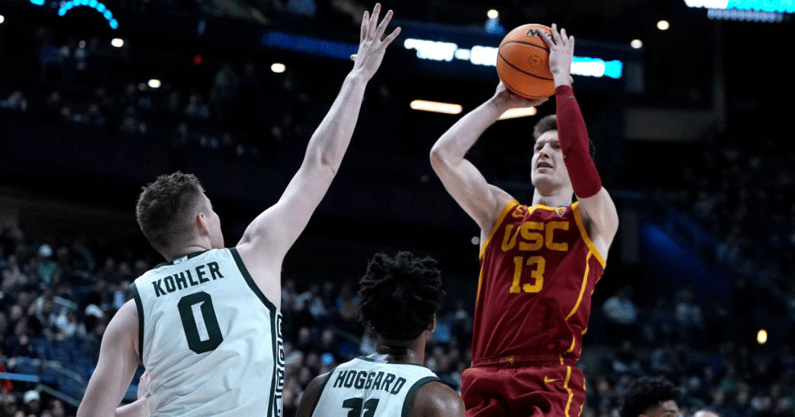 The USC Trojans and Michigan State Spartans will kick things off with the first game of the day on Friday at 9:15 am PT in the 7-10 matchup of the East region in Columbus, Ohio. Follow along with WeAreSC as we run down the key plays and points of the game as the Trojans and Spartans look to advance in the NCAA Tournament to take on the winner of Marquette – Vermont, which will tip at 11:45 am PT.
If you missed the coverage leading up to the game, WeAreSC's Rich Ruben provided a breakdown of Michigan State and this matchup the Trojans will take on.
This is not anything close to the same Michigan State team that USC met back in the 2009 tournament when the Trojans advanced as a 10-seed but lost 74-69 to the Spartans as a 2-seed.
The Spartans are led by guard Tyson Walker and forward Joey Hauser, who scored 14.6 and 14.2 points, respectively, per game this season. Walker, Hauser and guard Jaden Akins all shoot better than 42% from three-point range. Michigan State is one of the best three-point shooting teams in the nation by percentage. The Trojans don't have anybody shooting even 40% from distance. The Trojans have a height advantage just about everywhere, but if they can't use it to bother shots from three-point range, Michigan State could get comfortable from outside.
USC head coach Andy Enfield also talked this week about needing to play good transition defense. In both football and basketball, the Big Ten often gets painted as a slower, plodding conference. But Michigan State will run and the USC players are aware of that.
NCAA Tournament Results
There have already been some major upsets in this NCAA Tournament. No. 2 Arizona lost to No. 15 Princeton and No. 4 Virginia lost to No. 13 Furman in the South region on Thursday.
The 7-10 games split on Thursday. No. 7 Northwestern beat No. 10 Boise State 76-67 in the West. In the Midwest, No. 10 Penn State took out No. 7 Texas A&M, 76-59.
The Pac-12 took a big hit with Arizona's loss. But the conference still has Arizona State and UCLA playing. The No. 2 Bruins easily beat No. 15 UNC Ashville. Arizona State won it's play-in game as a No. 11 seed and will play. No. 6 TCU in the final Friday game.
USC – Michigan State
Vince Iwuchukwu was a game-time decision for this one and he is indeed out for the Trojans. That's a tough blow for the USC bench.
First Half
* After all the talk about three-point shooting, both teams go with an isolation look down low on their first possessions. Hauser missed inside low. Drew Peterson scores the first points of the game on a turnaround jumper. Trojans up 2-0.
* Michigan State's first three-point shot goes in. Spartans are up 5-2 and the Michigan State crowd advantage is evident.
* Michigan State leads 9-4 at the first timeout. USC has been caught pressing the three-point line a few times and allowed blow-bys and easy layins. Tre White looked like a savvy vet on one possession in posting up a smaller guard and drawing a foul. But he also looked like a true freshman in missing a dunk attempt against pressure and turning the ball over on a dribble.
* Peterson knocks down USC's first three-pointer of the game. It's 11-9 and Peterson has five points. That's a good sign for USC that Peterson appears to be playing without any signs of the back issue that was giving him trouble recently.
* With 12:08 left in the first half, Michigan State leads 15-9. USC is shooting 25% from the field, compared to 50% for Michigan State.
* Kobe Johnson stops what was 3:45 scoreless streak for the Trojans with a tough make inside. It's 17-11 Michigan State at the first media timeout with 10:30 remaining in the first half. USC is still obviously in this, but the Trojans are playing a bit like it's a 9:00 am PT tip-off. Their two-point defense hasn't been as good as it's been most of the season. And White, Boogie Ellis and Reese Dixon-Waters are a combined 0-for-6 from the floor with two points.
* Tom Izzo said during the media timeout that he likes the defense so far but he's wary of Ellis eventually coming alive. The Trojans absolutely need Ellis to get going.
* Hauser hits another three to put Michigan State up 22-13. The TV broadcast announces that when Hauser makes two or more three-pointers, the Spartans are 16-3 this season. Hauser is 2-for-2 so far.
* Kobe Johnson with a tremendous strip of Hauser and then the smarts to throw it off him before going out of bounds. We'll see if that can get the Trojans going, down 24-15 right now.
* The under-eight timeout comes and Ellis is still scoreless. Meanwhile, Hauser and Walker are a combined 5-for-6 with 14 points.
* Joshua Morgan already has surpassed his season average in scoring as he has eight points and the Trojans have cut the Spartan lead to 28-23.
* Make that 10 points for Morgan, who has a game-high now as the Trojans are down just 28-25 now with 3:49 remaining in the first half. Morgan has USC's last eight points. Ellis is still scoreless but has four rebounds, three assists and zero turnovers.
* Kijani Wright with a big-time block that turns into an Ellis jumper and his first points of the game. It's 28-27 Michigan State but the Trojans are on a strong 10-2 run. USC playing really well on both ends right now. Wright is called for a foul and we have another timeout with 2:47 remaining in the half.
* Huge three from Johnson as the Trojans take the lead 31-30 with about 1:30 remaining in the half. That's USC's first lead since it was 2-0 very early.
* Dixon-Waters drills a three as he has seven points. Michigan State finishes the half with a bucket and it's a 34-34 tie at halftime.
Michigan State held a 24-13 lead with nine minutes left but USC closed the first 20 minutes on a 21-10 run.
Halftime Stats
Both teams are lighting it up from the field. USC is shooting 50% from the floor, while Michigan State is at 46.7%. The Spartans are just 2-for-8 from three-point range, which is significant for the Trojans.
There is no significant foul trouble for either team. No player has more than one foul through the first half.
Morgan is a perfect five-for-five from the floor and has a game-high 10 points. Safe to say nobody involved in this one saw that coming.
Second Half
* Back-to-back buckets for both teams gets the second half going as it's 38-38 with 17:39 remaining. Ellis gets two more points as he hopes to continue picking up his scoring.
* Officials starting to get involved in this one as they call back-to-back offensive fouls on both teams and have spent the last five minutes at the monitors.
* Michigan State guard A.J. Hoggard is the first player in any kind of foul trouble as he picks up his third. Ellis now has two for USC.
* Hauser drills another three and Ellis comes back with a tough layup. Ellis clearly starting to feel it a bit offensively. But it's 43-40 after USC gives up another drive from the three-point line and easy layup.
* Michigan State on an 11-2 run to go up 49-40 with 13:43 left. USC hasn't scored in more than three minutes as the Trojans have hit another scoring drought.
* Johnson gets USC back going with a big dunk. It's 49-42 Michigan State as the game goes under 13 minutes remaining. Ellis follows up by drawing an offensive foul, which gets Michigan State coach Tom Izzo off the bench and in the face of the officials.
* Dixon-Waters with back-to-back big plays. First a nice dish to Morgan for a dunk. Then he drills a three-pointer to make the score 51-47 with 11:30 left.
* Michigan State continues to hold a lead as it's 58-49 with 7:19 left in the game. USC is 0-for-5 with three turnovers on its last eight offfensive possessions.
* Morgan stops a five-minute scoring drought with a putback. But Michigan State's lead is at 60-51 with 5:30 remaining.
* The Spartans take their largest lead of the game at 63-51 as Hauser hits his fourth three-pointer of the game.
* And Jaden Akins quickly adds another. Michigan State is up 66-51 with 4:21 remaining and USC is in big trouble.
* Johnson with another big play as he hits a three to stop a 13-2 run by Michigan State.
* Another three from Johnson after Michigan State misses an easy layup. USC going with a bit of a press defensively. It's 66-57 Michigan State as the game goes under three minutes.
* Ellis falls and turns the ball over on a key USC possession. Michigan State misses the front of a one-and-one but USC can't capitalize as they miss a shot on the other end. The Trojans will start fouling with 1:24 remaining.
* Michigan State is doing everything it can to let USC get back into this. The Spartans have missed the front end of three-straight one-and-one free-throw opportunities. But USC missed a couple of three-pointers and now Johnson dribbles it out of bounds to turn it over again. Michigan State hasn't scored in six possessions and USC still can't cut the lead to less than 66-57 with 1:08 remaining.
* USC's last points came on Johnson's three-pointer with 3:28 remaining. With 55 seconds left, USC has the ball down 69-57.
* Ellis fouls out with 33 seconds remaining. He had a tough day offensively, going just three-for-12 for six points. But he also had six rebounds and five assists. Definitely not the ending Ellis deserved to his season and career.
* Michigan State runs out the clock and wins this one 72-62. The Spartans shot 52% from two-point range and 48% from the field.
* Michigan State head coach Tim Izzo praised his guards for their defensive performances against Ellis and Peterson. They finished with 17 points, but needed 22 shots to get there. It's clear that was the focus for the Spartans in this one, and they did enough to move on to the next round.
Final Score – Michigan State 72, USC Trojans 62