Malachi Nelson Impressing at OT7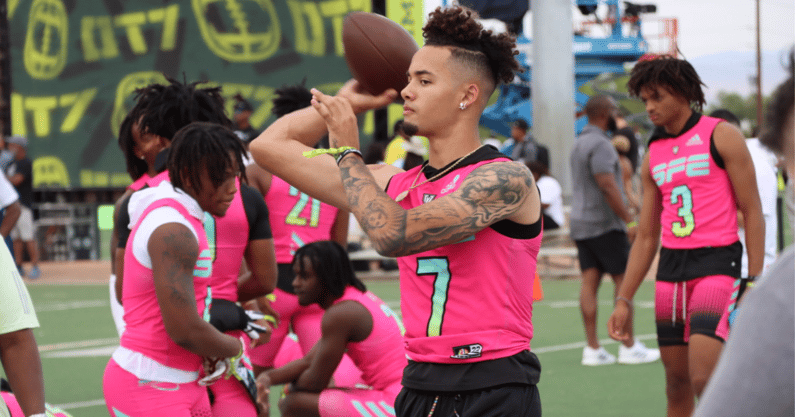 The inaugural OT7 event is taking place in Las Vegas over four days this weekend. The event consists of a seven-on-seven tournament and other team activities as a joint venture between Overtime and Cam Newton. Many of the top prospects in the country are in attendance and that includes USC commit and Five-Star Plus+ prospect Malachi Nelson.
And it's safe to say Nelson got off to a good start. On his first throw of the tournament, he connected with five-star wide receiver Carnell Tate for a touchdown.
This offseason, Nelson has been playing 7-on-7 events with South Florida Express, one of the pioneer teams of the travel circuit. It's loaded with five-star talent on both sides of the ball. Five-star wide receiver Brandon Inniss is another target for Nelson. As is high school teammate and fellow USC commit Makai Lemon. Defensively, Five-Star Plus+ cornerback Cormani McClain is the headliner.
Nelson was the No. 2 top performer from Day 1 according to On3's Charles Power. And he made the list of standouts again for Day 2.
Strong Throws from Nelson
These settings don't allow for quarterbacks to showcase their running or scrambling abilities with the lack of a pass rush. But Nelson was able to put a little bit of everything regarding his throwing ability on display. The arm strength is obvious on that opening touchdown throw. But he also has the touch necessary to get this one over a defender and down to his receiver in stride.
And just to show he really has the whole package, he threw another touchdown on Friday night where he showed his quick release, arm strength and pinpoint accuracy. Here, he found Tate again for a score, beating two defenders with a perfectly thrown pass.
It's never surprising to see Nelson throw the ball well in this kind of setting.
Nelson Evaluation
His On3 Scouting Summary tells the story of an extremely advanced quarterback:
"Quick-armed, accurate passer with strong functional movement skills. Considered one of the more talented quarterback prospects in high school football dating back to his early high school career. A natural, nuanced passer with a quick release. Shows some aggressive tendencies in throwing downfield. Has touch with the ability to layer his throws. Accurate with good ball placement dating back to his sophomore spring season which was shortened due to COVID-19.
Good arm strength, which could improve with overall strength progression. Adept at running the quick game out of spread looks, flipping the ball out quick to the boundary. Loose and fluid in his movements. Plays with bouncy footwork and lower body twitch. Looks to pass first, but has good burst as a runner with the ability to run zone read or pick up yards when the play breaks down. Plays at a relaxed pace and typically seems unbothered in the pocket. Has a lean, streamline frame and will need to continue adding mass."