Malachi Nelson Signs NIL Deal with h.Wood Group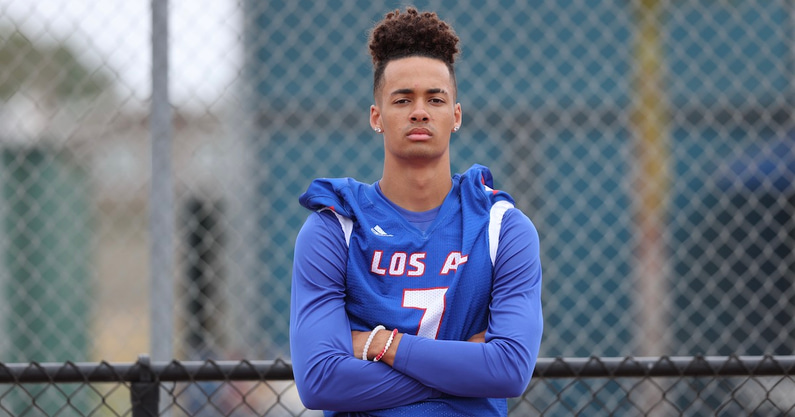 USC Five-Star Plus+ quarterback commit Malachi Nelson is officially in business when it comes to this new NIL world.
Nelson signed an NIL deal with h.Wood Group, which calls itself a "Los Angeles-based hospitality and lifestyle company with a diversified portfolio of upscale nightlife and restaurant venues." The deal was first reported by Pete Thamel of ESPN.
Nelson's first appearance via this partnership is a commercial for SLAB, a Texas-style barbecue restaurant in Los Angeles.
Thamel said the expectation is that Nelson could agree to nearly one million dollars in endorsement deals by the time he enrolls at USC.
The standout quarterback is the nation's No. 3 overall prospect in the 2023 On3 Consensus and one of the more well-known recruits in the nation. He wasn't one of the first recruits in his class to jump into the NIL space. Instead, he took his time with this process and found the best path for himself.
NIL waters have been tricky to navigate for many recruits and college standouts early on. There have been reports of absolutely massive deals signed that many in the sport don't believe will actually pay out close to the reported numbers. And there have been reports of deals signed that are incredibly slanted toward the companies, with student-athletes signing away their NIL rights in perpetuity.
Nelson's father, Eric, told Thamel that he spoke with the father's of USC quarterback Caleb Williams and Alabama quarterback Bryce Young on their approach to the NIL space. Young and Williams rank Nos. 1 and 2 in On3's NIL rankings for college football.
The Power of USC
Like Nelson, USC as a university took its time getting itself ready for a splashy NIL announcement. USC's major announcement with Stay Doubted came last week and served as a the first university to establish a holistic approach to allowing its student-athletes to get the absolute most out of NIL.
Nelson will do just fine in this space. A large part of that is his talent. But the fact that he's headed to USC plays a role as well. No university is better poised for its student-athletes to take advantage of the true nature of NIL.
The potential for partnerships in the Los Angeles area and with USC alumni is infinite. This company, h.Wood Group, was co-founded by John Terzian, a former football walk-on with the Trojans who had a skill for hosting recruits.
Nelson's NIL Valuation
Nelson ranks third among all high school football prospects in On3's NIL Rankings with a valuation of $736k. That's a number good enough to rank No. 24 overall when factoring in football and basketball at both the high school and college level.
He's on a path to be a star at USC as things line up for him. He'll play his senior season at Los Alamitos before heading to USC. There, he should be afforded a season to sit and redshirt behind Williams, who will be in his second season with the Trojans and third in college football. Nelson then could have a position battle against Miller Moss to determine who replaces Williams, if he leaves after that season as expected.
Plans that far in the future don't always work out in this business. Few thought that Kedon Slovis, JT Daniels and Jaxson Dart would all be suiting up for different programs this fall. That's why it's important for Nelson to get this deal done now. He can start capitalizing on the success and recognition he's already achieved.
"This is all fun and it's good to be comfortable now," Malachi Nelson said to Thamel. "At the end of the day, we're chasing the NFL and that second contract when you really get paid. All of this is lining up to get to that point."