Marcus Allen Believes Lincoln Riley Will Win at USC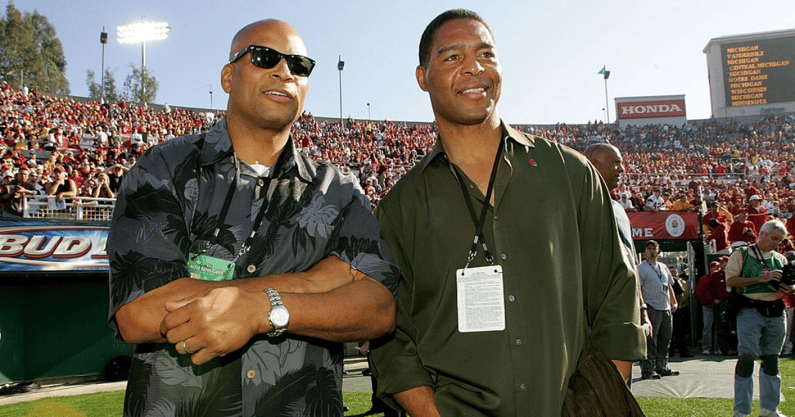 Lincoln Riley hasn't yet won a game as head coach at USC but he's certainly won over plenty of influential Trojans. The latest ringing endorsement comes from USC and NFL legend Marcus Allen.
Allen, who starred for the Trojans from 1978 to 1981, won the Heisman Trophy after rushing for 2,342 yards in his final season at Troy. He is still one of the biggest draws among former players when he attends a USC event and it's always notable when he appears at a USC football function.
This past weekend, he spoke at Salute to Troy. Afterward, USC team reporter Keely Eure caught up with Allen for a video.
Allen sees big things in store for the Trojans under Riley.
"I think he will do exactly what he intends to do, which is win," Allen said.
He said that belief stems from Riley's track record.
"I've seen what coach Riley has done at the University of Oklahoma," Allen said. "I've seen the players he's coached, I've seen the players he's developed. He comes here with an understanding of the great expectation. I think he knows what he's getting into. He knows the standard is high. But I think he can get it done here. I believe in him."
Breaking USC's Long Lull
There have not been many fun times for USC fans over the past decade or so. The 2011 season had a number of big moments even with the Trojans ineligible for the postseason. The 2017 Rose Bowl win over Penn State was probably the highlight of the Clay Helton era at USC. Outside of that, there wasn't much to celebrate. USC didn't lose three games in a season from 2002 through 2008. The Trojans haven't lost fewer than three games in any full season since 2012. They've finished in the top 10 just one time in that span. And excluding the shortened 2020 season, USC has 20 losses in the past three full years.
"I noticed a little lull over the last couple of years," Allen said with a laugh. "But I think it's going to return and I'm looking forward to the team having a great year."
Football means a lot to USC and USC fans. Allen is acutely aware of that having starred for many years in front of Trojan fans. He made a point of that in his speech to the Salute to Troy crowd.
"What I said earlier was that I've always felt there was something really special about USC, but it was because of the football program that really sort of galvanized and brought people together and gave us this incredible enthusiasm and passion for this university," Allen said. "And I think it's going to return."