Mekhi Blackmon Generating NFL Buzz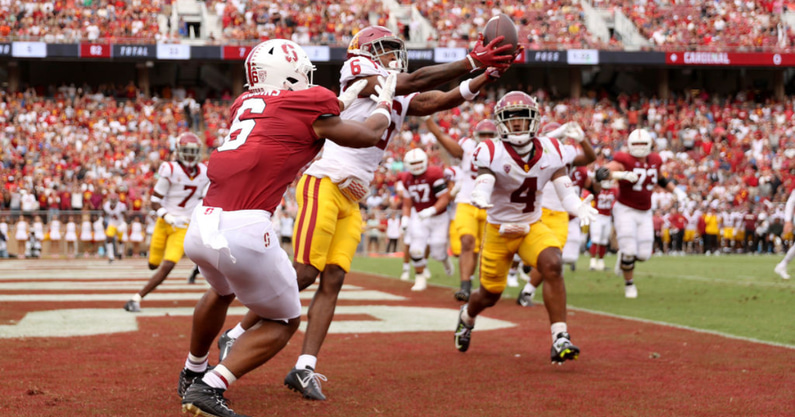 Cornerback Mekhi Blackmon wasted no time establishing himself as a defensive leader for the Trojans upon his arrival as a transfer from Colorado. Early on during spring ball, head coach Lincoln Riley praised Blackmon for being one of the biggest playmakers for the Trojans on that side of the ball.
He's continued his high level of play through three games this season, rarely coming off the field for the Trojans.
Blackmon is fourth on the team with 12 tackles, leads the team with two pass deflections and has one of the Trojans' seven interceptions. Early in the season, the redshirt senior is catching the attention of those in the NFL scouting world.
On3's Matt Zenitz takes a weekly look around the college football landscape along with Senior Bowl executive director Jim Nagy at players who are generating buzz in NFL scouting circles. Blackmon's name was mentioned after his performance against Fresno State.
Here's what Nagy had to say about Blackmon:
"The former Colorado player was on our radar last year before he opted to return for another year and head to Los Angeles. Blackmon has had a few ticky-tack interference calls on him so far this season, but he's also looked sticky in man coverage and made some disruptive plays. The biggest things that stood out Saturday were his twitchy movements during pre-game warmups and his improved play strength in the game. One of our staff's concerns off his junior tape was that Blackmon, who's listed at only 175 pounds, got bounced around too much, but he looked sturdier in person at the Coliseum on Saturday night."
Blackmon Earned Riley's Trust
Blackmon was targeted heavily by Stanford the previous week. He recorded an interception but drew three pass interference calls.
Riley pushed for Blackmon to continue playing exactly the way he did in that game.
"He was awesome," Riley said about Blackmon's performance in that game. "We like him matched up against anybody…That's a one-on-one matchup that we're very, very comfortable with."
Next up for Blackmon and the USC secondary will be Oregon State's group of fast, shifty receivers, led by Tre'Shaun Harrison.