Micah Banuelos Names USC Among Top Three Schools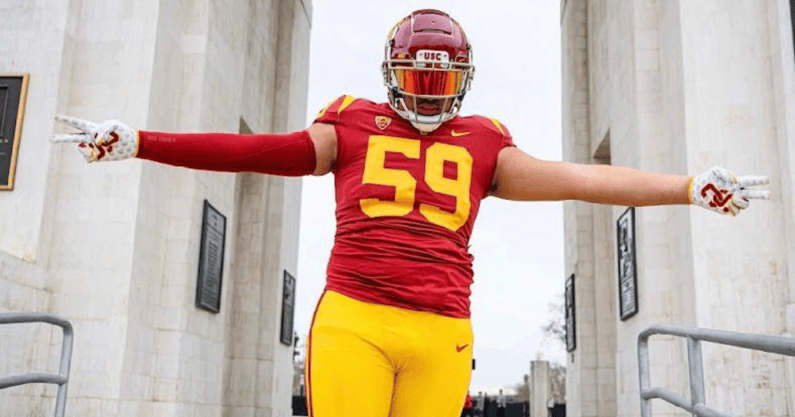 USC received good news with regard to the future of its offensive line after each of the past two weekends. The Trojans are hoping Tuesday evening's news from three-star lineman Micah Banuelos is the start of more.
USC earned a commitment from offensive tackle Tobias Raymond and two-way lineman Amos Talalele following their official visits this month. The Trojans are hoping to ride that momentum in another recruiting battle for an offensive lineman. On Tuesday, interior lineman Micah Banuelos announced he's down to a final group of three schools. USC is now battling Oregon and Texas A&M.
The 6-foot-3, 285-pound Banuelos became a significant USC target the minute offensive line coach Josh Henson was hired. The Trojans have stayed involved with constant communication and were able to get Banuelos to Los Angeles for an official visit this past weekend. He spoke highly of the visit, where he was one of two dozen official visitors. That group included Talalele and several more top offensive line targets for the Trojans.
Banuelos in the Rankings
Banuelos is the nation's No. 805 overall prospect and No. 79 interior offensive lineman in the 2023 On3 Consensus.
But his final three programs clearly see much more than that in him. And it takes about four clips of his junior season highlights to see the tenacity and physical ability he'll bring to an offensive line. Banuelos plays left tackle at Burien (Wash.) Kennedy Catholic but will likely slide inside at the next level. He's a potential safety for the Trojans if he ends up at USC.
USC's 2023 Recruiting Class
USC is up to 10 commitments in its 2023 recruiting class. The last three commitments have all been from linemen, as defensive lineman Grant Buckey joined the two offensive prospects.
It's a group led by Five-Star Plus+ quarterback Malachi Nelson. He's the nation's No. 3 overall prospect and just made a significant splash in the NIL arena.
He's joined by two tremendous receivers in five-star Zachariah Branch and four-star Makai Lemon. The offensive skill positions also feature Texas running back tandem Quinten Joyner and A'Marion Peterson. Both are four-star prospects and Joyner is a top-10 running back.
Cornerback Braxton Myers is a four-star prospect and local safety Christian Pierce is an outstanding prospect.
Banuelos would be another major get and addition to this class. USC is clearly stressing high school offensive linemen with two committed and a significant number of targets still in play. Landing Banuelos would also serve as a recruiting win against Oregon, which USC needs to start posting when it comes to offensive linemen.