Musings from Arledge: Historically Bad, Donte Williams' Future and Reader Questions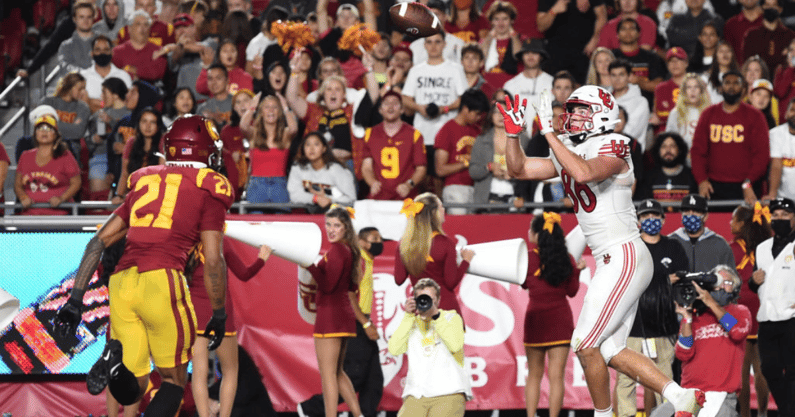 "Shoot for the moon. Even if you miss, you'll land and among the stars."

Norman Vincent Peale
But what if you shoot for somewhat-above-average (as USC has been doing for the last seven years) and miss that?
You land here: the 2021 USC football team. 
Let's be honest about what we're seeing. Unless there is a significant turnaround – and I don't think we can expect that – this is an historically bad USC football team. I've been a USC fan for just under 40 years. That means any list of the worst Trojan teams in my lifetime would have to include Ted Tollner's 4-6-1 team in 1983, the 3-8 Larry Smith debacle in 1991, Paul Hackett's 5-7 masterpiece in 2000, and Clay Helton's 5-7 mess in 2018. 
This team is on a path to exceed some or even all of those in futility. None of those teams were blown out three straight times in the Coliseum. And this team has more blowouts on the way: Notre Dame, ASU, UCLA, and BYU aren't perfect teams, but all three are better than Stanford, Oregon State, and Utah. Right now, USC doesn't even look competitive on their home field against mid-level conference foes. Right now, USC is the Washington Generals. It's a Mike Tyson opponent in the 1980's. It's the Polish army taking on Germany. It's embarrassing.
No, that's not cruel to say. The players know it's embarrassing. They're embarrassed. They were superstars throughout high school and came here to win big games and capture titles. We don't have to avoid telling the truth for their benefit. They know the truth. This team has cratered in just about every possible way. Is there anything you know you can be sure you can count on for USC at this point? The run game? The passing game? No. The run game is spotty, and the passing game is easily contained: just keep everything in front and wait for a holding penalty, sack or turnover. How about the other side? The run defense? The passing defense? No, the defense is a mess. There's no discipline, no tackling, no ability to stop even mediocre offenses.
You can't count on USC to consistently bring anything of value to the field, other than a star wide receiver. Every unit on the team has fallen flat on its face multiple times this year – most of the time in unison with other units. The team is in full meltdown. USC football, Chernobyl edition. In the next Saw movie (Saw 43?), the protagonist will wake up in a dark room chained to a television and must watch an entire USC football game. They won't make it.   
That's not to say there aren't bright spots. Drake London is a consistent bright spot this season, and his hurdle of a defender to score was beautiful. And there was the other bright spot: when the camera showed Donte Williams on the sideline. Not because I have any special affinity for Donte (more on him later), but because I didn't have to see Clay Helton's Shocked Face. That made my heart warm with gratitude.
USC is suffering the consequences of many years of disastrous leadership. If you left three fourth graders responsible to maintain your boat for five years, would you really be shocked if, on your return, it were covered in barnacles and half-sunk? USC has entrusted its offense to some combination of Clay Helton, Tee Martin, and Graham Harrell for many years now. These are three guys who could play tic-tac-toe against each other for hours and never have a single draw. How surprising is it, really, that the USC offense is submerged and the new home a school of clownfish?
Every great college football program has been here: Alabama, Oklahoma, Michigan, Miami, FSU, Notre Dame. Sometimes they bounce back. Sometimes, as with Nebraska and Pittsburgh, they don't.
Mike Bohn, Carol Folt, and Rick Caruso are going to decide whether USC rises again or stays submerged. Do I trust that group to make the right decision? Not really. But we don't have a choice but to wait and hope for the best. In the meantime, this season will likely get increasingly ugly.  
————
What we know is that USC won't have to decide whether to make the interim head coach permanent like it did the last two times it fired a coach during the season. There will be no push to hire Donte Williams. There will be no players standing at the fifty yard line before the last game of the year making a "D" or "W" on the field.
Donte is in a tough position. Clay Helton was inept, and he was allowed to hammer at the foundations of the program for far too many years. Nobody is cleaning up that mess during the season as an interim. Vince Lombardi wouldn't be able to do it. And Donte is no Vince Lombardi. The fact that he left this offensive staff intact after getting the job told me all I need to know. At least I thought it did. Then I watched how USC's defensive backs – Donte's guys – performed during this season. I then decided that told me what I really needed to know. 
So to the popular question: What becomes of Donte? My answer is: Does it matter? Donte Williams is a great recruiter. But there are lots of people who can recruit well at USC. He's also supposed to be a coach. Yet USC's secondary – which is talented and has been Donte's primary focus – is a disaster. So if USC keeps Donte Williams, what are they going to keep him as? Defensive back coach? I guess, but it's hard to get excited about that right now. Defensive coordinator? That's probably what he'll want. But on what basis can you give Donte Williams that job? There is nothing in his background or USC's performance during his interim head coaching tenure that would lead anybody to believe he can do that job effectively. 
There is a strong temptation to take your top recruiters and put them into coordinator positions because they want to move up the ladder, and you want to keep them. But if the next coach keeps Donte Williams and makes him the defensive coordinator, doesn't that smell a little like Clay's decision to make Tee Martin his offensive coordinator? Maybe Pete Carroll could get away with that, because he's a defensive genius, and he can cover for the coordinator's inadequacies. But it's almost always a mistake to promote a questionable coach just because he can recruit. Being a recruiter and being a coordinator are two very different jobs with very different skill sets. Would you take your best salesman with no technical expertise and put him in charge of the engineering team developing your company's most-important product? (Well, gee, I didn't want the competition to steal him away from me.) Because that's the equivalent.
I don't know what will happen to Donte Williams. I'm not sure I care. He'll land on his feet somewhere, that's for sure. But I wouldn't want to keep the current recruiting class together at the expense of destroying the next coach's defense.
---
Speaking of destroyed defenses, I sat in a sports bar with about 300 Texas Longhorns fans yesterday to watch the Red River rivalry. Texas fans are a lot like USC fans. They have a proud tradition, dominate a top recruiting territory, and expect to win. And, like USC fans, they have seen a bunch of lousy football lately, and it has left them feeling angry. Yesterday's collapse won't help.
They're screwed, by the way. Steve Sarkisian can draw some plays on a chalkboard, but he cannot build a winning culture, and he cannot instill toughness and discipline. He's just not up to it. Texas fans have been beaten up enough over the last few years that they could feel the disaster coming as it unfolded. I could see it in the body language and facial expressions of hundreds of Texas fans changed over the last quarter of that game. 
They saw it only a short time after I did. I know Sark better. I may have been the least-surprised person in the building when some critical mistakes and horrendous tackling doomed the Longhorns. 
There's a lesson here: X's and O's is not the key to a great head coach.
That's not to say that they don't matter. Pete Carroll, Nick Saban, and Urban Meyer were all great X's and O's guys. You can't hire a genial dolt and hope he can turn the ship around. We've seen what happens when you try. The coach needs to be smart enough to be an effective problem solver, and a deep grasp on football strategy helps a coach to know what his program should be about. But some ability on the chalkboard is not close to enough. The Texas athletic director should have known better. I hope Mike Bohn does.
---
Speaking of Urban Meyer, any news on that guy lately? 
Just kidding. I saw how he had to apologize to a group of NFL players for allowing a young woman to grind up against him. I feel for those players. It's hard to imagine a group of people who are less prepared to deal with the shock and disappointment of a man engaged in inappropriate behavior on the road with somebody other than his wife. Poor guys have probably never seen anything like it. Even Jacksonville probably gets enough TV revenue to make therapists available to those guys. I hope so. It's so important. That's not to defend Urban, who is an idiot. When you're a giant celebrity, in the middle of a large number of people who know you and probably aren't taking their eyes off of you even for a second, and they all have smart phones…. 
Still, it's funny to see the hand-wringing in Jacksonville over this. The team hates Urban. Urban hates the NFL. Nobody wants to be in that relationship at this point. The team won't fire Urban because it would owe him a boatload of money. Urban can't walk from that boatload of money. So we get this foolish spectacle of an owner hoping this conduct will trigger a morals clause so he can fire the expensive coach he no longer wants (and his lawyers saying he can't). 
---
Down goes Saban! Down goes Saban!
---
I was going to talk about how USC's secondary seems frequently to be put in tough spots where they are expected to play soft man defense. I was going to talk about why I always thought this was a tough assignment when I was playing. I started writing. I stopped. I'm not sure now it even matters. I feel like I'm complaining that some of Pickett's guys were charging Cemetery Ridge without being compliant with all governing uniform requirements. It just feels like it's not very important in the grand scheme of things. If you're interested, put it in the comments on the message board and I'll discuss it next week. 
---
Off-topic of course, but when the real topic is this painful to discuss, why complain? No heavyweight in history would be favored against Tyson Fury. There may have been more-skilled fighters, but Fury is plenty skilled, and at 6'9" 277 pounds he would be a mountain compared to Ali or Holmes. Others may have hit harder, but he clearly packs something in those shots, and he has plenty of heart to take a big shot and get off the canvas. He would have smothered Tyson worse than Holyfield did. Joe Frazier, too. Maybe Lennox Lewis is the guy who would have beaten him; Lewis had Wilder's right hand but far more boxing skill. 
---
Since next week is a bye week, I'm going to offer up some pre-Notre Dame material, but I'm also opening up Musings to WeAreSC readers. This is your chance. Send me an email or post on the message boards. I'm looking for a question you want answered or a topic you want addressed. This is your chance. I might even incorporate a comment if it's funny or insightful.