Musings from Arledge: Rock Bottom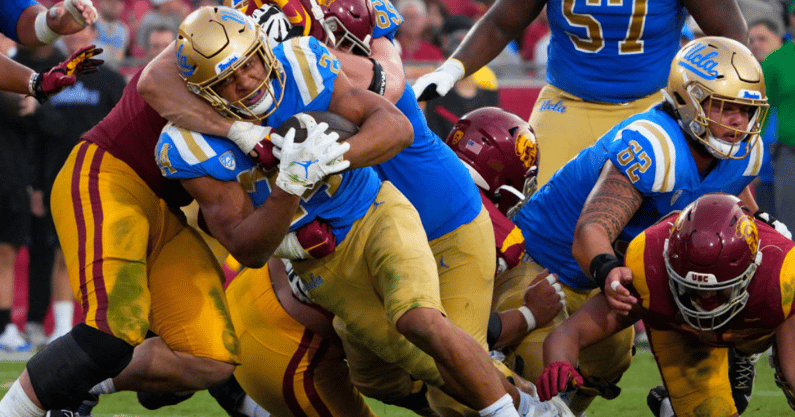 "It's not like in the movies, Mary. There's no magic reset button at rock bottom."
— Benjamin W. Bass
I used to have trouble keeping USC football in perspective. Before a big game, I would have butterflies in my stomach, even though I obviously wasn't playing. Losses would ruin my weekend, even though I often knew nobody on the team. That's silly, I guess.
The therapy team of Lynn Swann, Pat Haden, Clay Helton, Graham Harrell, and Todd Orlando have helped me with that foolishness. 
Yesterday was not fun. But if that had happened a decade or two ago, it would have left a gaping wound on my soul. And that's ridiculous, of course. 
Thanks to the guys mentioned above, I'm not capable of that type of hurt because of USC football at this point. I'm a healthier individual. And judging by the number of empty seats yesterday, a lot of USC fans are healthier individuals today.
Still, giving up 62 points and almost 10 yards a play to UCLA would have been unthinkable once upon a time. Saturday, it was not only thinkable, it was predictable. You could see that coming from miles away. I expected it.
Not because UCLA is great. They're not great. That's not Alabama in powder blue. The Bruins are okay. Just okay. That's an 8-win team in a terrible conference — not exactly the type of team you would expect to run all over USC in the Coliseum. But of course they ran all over USC in the Coliseum, because the type of team that runs all over USC in the Coliseum these days is a team with a pulse. 
The Trojans have officially hit rock bottom. They woke up in the gutter, covered in their own filth, not quite sure how they got there. (If they want to know, they can ask. I'll tell them.) Some of the players on that team are trying hard to stand up, find a shower, and regain some dignity. Some are content to stay where they are. Most just don't know what to do or how to do it.
And that's what happens when a team has no leadership. Donte Williams has done his best. He has at least forced a renewed commitment to the run game — so lacking under Clay — and we're seeing some success. It makes you wonder what might have happened if Clay had replaced Tee Martin with a better O coordinator but committed to power football instead of panicking and going with the Air Raid.
Even so, Donte's successes are few and far between. Watching this team play poorly week after week, with awful penalties, mental errors, and no ability to tackle or cover, you remember that Donte did not have the experience that most coaches need to take on a head coaching position. I'm forever stuck with the image of a small boy wearing his dad's suit; he's just nowhere near big enough to fill that role yet. 
And he's not getting much help from Graham Harrell or Todd Orlando. I'm not convinced Orlando is still with the team. I think what we see on the sideline is a cardboard cutout, or maybe an animatronic Todd Orlando — maybe Disney engineers put Orlando's face and clothes on the robot from the Mr. Lincoln exhibit. 
And after years of poor recruiting and even poorer development, the roster is a mess. Put it all together, and you get what is, right now, possibly the worst USC team of all time, and a likely 4-8 season.
For the 21,216 in attendance (just a guess) and the thousands watching at home, that's pretty obvious.
There are some decent players on this team. A few — like Jaxson Dart and Gary Bryant — flashed yesterday and could, with time and proper leadership, become the foundation for a pretty good football team a couple of years from now.
But that's all we have right now. USC isn't even a "just wait 'til next season" kind of program right now. It's more like a "just wait until two seasons from now" kind of program. First you put out the fire, then you wait for the site to cool, then you clear it and build on it. That's a long process, and this is a real clean-up job. 
With the right hire, next season will be better, it will be a team that plays harder, plays more disciplined, tackles better, competes for 60 minutes. Maybe season two could be special. Maybe.
That's enough for now. I don't want to write any more about this team, and I'm guessing most of you don't care to read much more about this team. This season can't end soon enough. The new coach announcement can't come soon enough. Graham Harrell and Todd Orlando's return to the Lonestar State can't come soon enough.
Hope is just around the corner. I'm not going to argue the merits of Fickell or Aranda or Campbell. I just hope it's one of the three. All are tremendous football coaches. And if it's somebody else, let's just hope that Bohn is smarter than his two predecessors. 
That shouldn't be too high a hurdle to overcome.
---
One more thing before I leave you for the week: take that Duck nation! 
Does it bother me that the Pac 12 is once again on the outside looking in when it comes to the college football playoff? Nope. Not one bit. I love to watch Oregon collapse, and I love to see them suffer. 
Recruits, listen to me. Oregon is not real. It's not a destination for players that want to compete at the highest level. It's fool's gold. It's all flash and no substance. It's fake. 
And you know what? This is the best it will ever be for them. USC has been running the race for the last five years with a 240-pound, aww-shucks-country-boy-shaped ball and chain around its leg. So, yes, Oregon is well ahead of USC now. I mean, come on, that's a lot of weight to drag around the track. But we're about to get a new pair of spikes, and Oregon isn't that far ahead. We'll pass them, because that's who Oregon is, and this is who USC is. 
So playoffs?  Don't talk about — playoffs? You kiddin' me? Playoffs? I don't care about the Pac-12 and playoffs. The Pac-12 is a mess. How can it be otherwise? USC is a mess, and USC is Pac-12 football. 
The Pac-12 is USC, a couple of scrappy programs that try hard but will never compete with the big boys, a couple that could but aren't serious enough to ever try, and a whole bunch of hapless losers that will always be hapless losers. 
---
Wait, I lied. One more thing: Texas, oh boy, Texas. Talking about fool's gold. 
You guys have a giant culture problem in your very rich, very prestigious, easy-to-recruit-at program. And you made the costly mistake of choosing a guy who can sometimes draw up clever plays. You don't need somebody who can come up with clever plays from time to time. You need somebody to instill toughness, discipline, and the drive to be great. You need somebody who can establish a winning culture. 
That's not what you got, not by a long shot. A clever X's and O's guy can succeed where the head coach has provided a rock-solid foundation for the program. But without that foundation, a guy like Steve Sarkisian can never succeed. You guys are fools, and your pain is just beginning. Enjoy the SEC.
Now let's hope our AD is smarter than theirs….