New "Inside the Trojans' Huddle" (June 21): Offensive line recruiting, unretiring jerseys, 9 a.m. kickoffs, Coliseum redos, Musings with Arledge, high school Trojans, and more...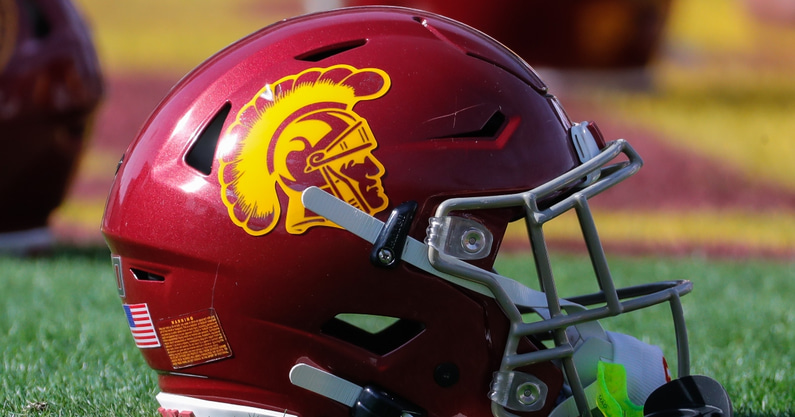 On this week's "Inside the Trojans' Huddle", panelists Marc Kulkin, Chris Arledge, Erik McKinney, and Greg Katz discuss the latest offensive line recruiting, the unretiring of retired jerseys, 9 a.m. kickoff times, Coliseum renovation redos, high school Trojans, and viewer questions and panel answers.   
The first quarter of ITTH focuses on the panel's analysis for concern over offensive line recruiting. The panel is optimistic about the future of this offensive line class of 2023, but there is agreement that it all comes down to signing the players. Katz brings up the point that many of the great line recruits that visited USC last weekend may never have visited had the previous coaching staff been in place.
In the second quarter, the panel gives their opinion of the unretiring of Carson Palmer's No. 3 jersey for heralded current Trojans wide receiver Jordan Addison, the 2021 Biletnikoff winner. Should retired jersey be unretired for special recruits or transfers? There is some surprising agreement and disagreement in the panel's view on unretiring uniforms. You might be shocked by who says thumbs up and who says thumbs down.
For the halftime segment, the panel debates whether the Pac-12 should have 9 a.m. kickoffs in order to be viewed in a better TV time slot for the East Coast and the Midwest. The panel becomes quite vocal and emotional regarding a 9 a.m. West Coast kickoff – whether home or away. Do you agree?   
In the Huddle's third quarter, the panel is asked what they would change or revise as it pertains to the Coliseum renovations of three years ago. Here's a hint: There's a lot of discussion regarding what to do with the peristyle end of the Coli and some other not so subtle, but positive recommendations. Notre Dame Stadium renovations are compared to the Coliseum renovations.   
For the lighting of the traditional "Chris Arledge Coliseum Torch" between the third and fourth quarter, "Musings with Arledge" wrath focuses on Arledge's pointed comments regarding Notre Dame, honesty of coaches, Clay Helton, and, yes, cosmetic surgery.  
In the fourth quarter, the panel is asked to use their memory to recall the greatest high school players they ever saw in person who eventually signed and attended USC. One panelist says it's a former All-America running back and three other members believe it's a player from Santa Ana (Calif.) Mater Dei. Can you guess who that Mater Dei player is that drew a majority of the panel's vote?
And in Overtime, the panel answers viewer questions pertaining to former assistant coach Ed Orgeron's returning to Troy, 2023 USC team captains, who directs the player-run summer practices, and how long will it take for the Trojans to make the College Football Playoffs?