New "Inside the Trojans' Huddle (May 10): Early preseason rankings, statement games, uniform controversy, ranking Pac-12 all-time backs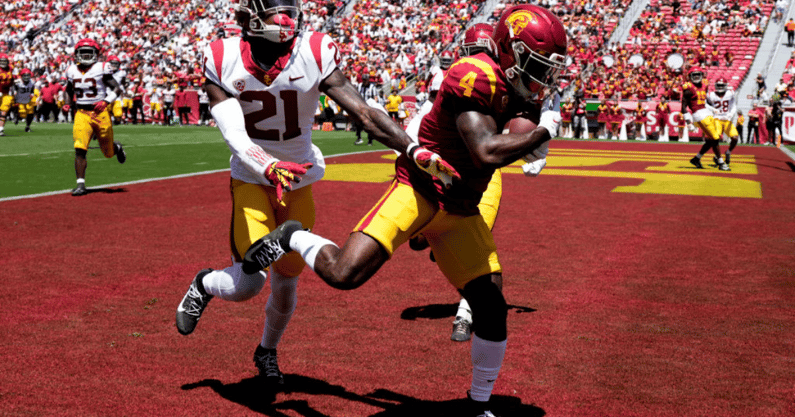 On this week's "Inside the Trojans' Huddle", panelists Marc Kulkin, Chris Arledge, Erik McKinney, and Greg Katz discuss where the Trojans should be placed in early preseason rankings, what will be the 2022 statement game, solving a No.13 uniform controversy, debating the All-Time Pac-12 running backs, memories of bad weather USC games, and viewer questions and panel answers.  
The first quarter is devoted to where the Trojans should be preseason ranked with some background of some previously released "way-too-early" national rankings. The panel is in general agreement where the Trojans should basically be ranked in these early polls and give their opinions why.
The second quarter poises the question asking of the 12 regular season games, which game is the "statement game"? Erik McKinney expands the definition of a statement game, and Marc Kulkin says there's more than just one "statement game." Chris Arledge and Greg Katz seem to be in agreement regarding the statement game, however Arledge believes a very early season away game will give an early indication of the Trojans potential.  
For halftime, the panel decides the No. 13 offensive jersey controversy between quarterback Caleb Williams and wide receiver Michael Jackson lll since they currently are wearing the same number. The panel also gives their individual views on how one of the players will not be giving up his number anytime soon and the other player will have to deal with the disappointment of not wearing No. 13. What will Lincoln Riley do?  
In the Huddle's third quarter, the panel reacts to a new ranking of the top all-time Pac-12 running backs. In the new ranking, Trojans' former running back LenDale White is ranked ahead of All-American Ricky Bell. Agree? The panel takes the rankings to task beginning with the Bell/White rankings. There's panel disagreement on who's the Pac-12's top running back of all-time: Reggie Bush or O.J. Simpson?
For the traditional Huddle lighting of the Coliseum torch between the third and fourth quarter, Chris Arledge's "Musings with Arledge" commentary discusses the proper etiquette for girlfriends, wives, and friends when watching a USC football game together. Consider it the do's and don'ts of viewing a USC game with friends.
In the fourth quarter, the panel is asked which is the worst USC football weather game – home or away – they have ever experienced? Was it the Oklahoma game of 1963, the Notre Dame game of 1970, the Purdue game of 1998, or the 2007 Cal game in Berkeley that rained and blew wind all game in Strawberry Canyon?
In Overtime , the panel answers a trio of viewer questions regarding USC uniforms, offensive and defensive line recruiting, and whether Mark Kulkin pays Chris Arledge so he can talk to Arledge every week.