Opponent Preview: Oregon State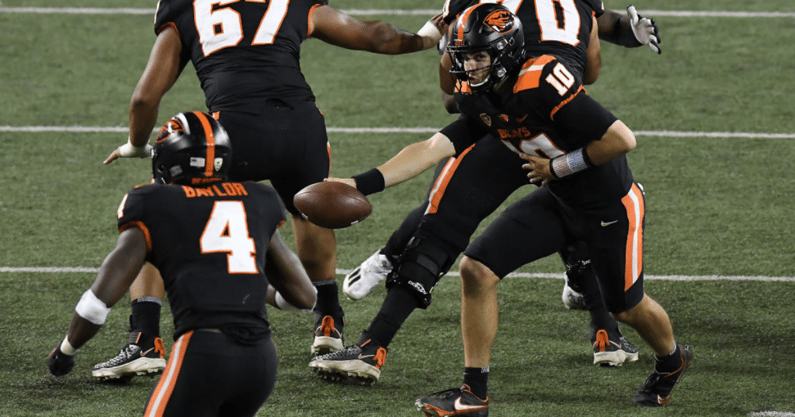 The USC Trojans (2-1) will host the Oregon State Beavers (2-1) Saturday night in Los Angeles. Oregon State is coming off a 42-0 win against Idaho, but has won at the Coliseum just three times in 48 games.
Oregon State Offense
The Beavers will bring an offensive unit that ranks No. 1 in the Pac-12 in total offense. This is a very versatile offense, especially when compared to Washington State's constant 10 personnel look. Oregon State will operate out of the shotgun and under center. The Beavers can go with a five-wide look or a heavy package with multiple tight ends. They'll want to establish the run and then work play action off of that. And there will be a Wildcat look mixed in now and then.
Between the heavy run game and small, speedy receivers, plus potentially a lot of pre-snap motion and post-snap misdirection, USC defenders could see a bit of everything on Saturday night.
Quarterback
#10 Chance Nolan – 6-3, 203, RS SO
#12 Jack Colletto – 6-3, 239, RS JR
Oregon State is another Pac-12 program that has had an interesting quarterback dynamic to start the 2021 season. After starting Colorado transfer Sam Noyer in the season-opener, Chance Nolan came in to replace him. Head coach Jonathan Smith would not reveal who would start ahead of Game 2 for the Beavers. It wound up being Nolan, who also started against Idaho last week. This is all happening as last year's starter, Tristan Gebbia, remains out with a hamstring injury.
Nolan has been extremely effective this season, albeit mostly in games against Hawaii and Idaho. He's completed 70% of his passes for 634 yards and five touchdowns without an interception. He's also a strong runner, both as a scrambler and on designed carries.
Quarterback-turned-linebacker Jack Colletto serves as a Wildcat quarterback and on short-yardage. He's run eight times for 25 yards and a touchdown. He's yet to throw a pass this season.
Running back
#4 B.J. Baylor – 5-11, 205 – RS JR
Oregon State's solid ground game continues with B.J. Baylor carrying the load this season. He's a very good back who has good vision and will hit the hole and get upfield quickly. He's averaging 6.9 yards per carry and his seven rushing touchdowns are tied for most in the nation. But he's fumbled twice this season and roughly two-thirds of his yards came in a huge performance against Hawaii.
Wide receiver
#8 Trevon Bradford – 6-0, 184, RS SR
#2 Champ Flemings – 5-5, 142, RS FR
#18 Zeriah Beason – 6-0, 197, FR
#1 Tyjon Lindsey – 5-9, 173, RS JR
#15 Anthony Gould – 5-8, 163, RS JR
This is much more a typical Air Raid group of receivers than the one at USC. There is speed and agility all over this group and they will come in waves. Trevon Bradford leads the team with 12 receptions for 171 yards, but five receivers have at least three receptions. Anthony Gould has been the No. 2 guy this year, with eight catches for 127 yards and a touchdown. Champ Flemings has three catches, but he's been the big-play threat, averaging 26 yards per catch.
Washington State's receivers will have prepared USC well for the group Oregon State brings.
Tight end
#84 Teagan Quitoriano – 6-6, 259, JR
#88 Luke Musgrave – 6-6, 252, SO
The Beavers will use multiple tight ends throughout the game and both Teagan Quitoriano and Luke Musgrave are versatile in the running and passing game.
Quitoriano is the No. 3 receiver this season, with seven receptions for 86 yards and a score. Musgrave has five catches for 47 yards.
Offensive line
LT #67 Joshua Gray – 6-4, 300, RS FR
LG #70 Jake Levengood – 6-4, 284, RS SO
C #64 Nathan Eldridge – 6-4, 297, RS SR
RG #69 Nous Keobounnam – 6-2, 292, RS SR
RT #68 Brandon Kipper – 6-6, 310, RS JR
This group will present a solid test for the USC defensive line. Nathan Eldridge is the leader in the middle and while it's not the most talented group in the conference, there's a desire to run the ball and the Beavers do it well.
Oregon State is averaged 194 yards per game on the ground, which is No. 37 nationally and No. 3 in the conference. The offensive line has kept Oregon State ahead of the chains as well. The Beavers' 54% third-down conversion rate is No. 15 overall and leads the Pac-12.
Oregon State has allowed just three tackles for loss this season (top-10 nationally) and is No. 2 in the conference in sacks allowed.
Oregon State Defense
USC hasn't played Oregon State since the 2018 season, so this will be the first time the Beavers go up against Graham Harrell's Air Raid offense with the Trojans.
Defensive line
DE #96 Simon Sandberg – 6-3, 293, RS JR
DT #76 Thomas Sio – 6-3, 347, RS FR
DE #32 Keonte Schad – 6-2, 288, SR
Oregon State has been terrific against the run this season, though the schedule likely needs to be taken into account. The 94 yards per game allowed on the ground ranks second in the conference. It will be interesting to see what the Beavers throw at the USC offensive line, which seemed to take a major step backward against Washington State after two fairly solid showings to open the season.
This is not a defensive line that piles up tackles and sacks. It will engage the USC offensive line and allow the linebackers to make plays.
Linebacker
OLB #56 Riley Sharp – 6-6, 243, RS SO
ILB #34 Avery Roberts – 6-1, 234, RS JR
ILB #36 Omar Speights – 6-1, 237, SO
OLB #2 Andrzej Hughes-Murray – 6-2, 246, RS SR
Like Washington State, Oregon State brings a pair of inside linebackers who are tackling machines.
Avery Roberts leads the team with 25 tackles and five tackles for loss. Omar Speights has 23 tackles and an interception. One of those two are virtually guaranteed to lead the team in tackles every game.
Pressure on the quarterback comes from the two outside linebackers. Both Riley Sharp and Andrzej Hughes-Murray have two sacks this season, among seven combined tackles for loss, and Hughes-Murray also has seven quarterback hits. They will present a stiff test for the USC offensive tackles.
Defensive back
CB #1 Rejzohn Wright – 6-2, 191, JR
S #7 Alton Julian – 6-2, 210, RS SO
S #28 Kitan Oladapo – 6-1, 209, RS SO
NB #3 Jaydon Grant – 6-0, 193, RS JR
CB #5 Alex Austin – 6-1, 192, RS FR
Oregon State is allowing 254 yards per game through the air, which ranks No. 100 overall and No. 8 in the conference. But the Beavers are No. 42 overall and No. 2 in the Pac-12 in passing yards per completion.
USC and quarterback Kedon Slovis should be able to find success against Oregon State, but the Beavers secondary has made plays on the ball this season. Jaydon Grant . and Alex Austin have interceptions, while Rejzohn Wright, Kitan Oladapo and Alton Julian have combined for 12 pass deflections. Oregon State leads the conference with five interceptions through three games.
Oregon State Special Teams
It's been up and down for the Beavers on special teams. There are areas where USC might be able to take advantage.
Specialists
PK #35 Everett Hayes – 6-0, 204, SO
P #38 Luke Loecher – 6-4, 212, RS JR
Everett Hayes has only been asked to attempt one kick this season, and he made the 27-yarder against Hawaii. He came into the season seven-of-10 with a long of 48 yards.
Punter Luke Loecher has been very good. He's averaging 47.6 yards per punt with a long of 72. He's forced three fair catches and put three of his eight punts inside the 20-yard line.
Oregon State is allowing 27.7 yards per kickoff return, No. 144 overall and No. 10 in the Pac-12. But the sample size is very small, with just three returns. The Beavers have been much better on punt coverage, and haven't allowed a return through three games.
Returners
KR #2 Champ Flemings – 5-5, 142, RS JR
PR #8 Trevon Bradford – 6-0, 184, RS SR
There is some speed here, but not much in terms of production so far. Bradford has one punt return for 10 yards. Flemings is averaging 19 yards on his three kickoff returns.