Three USC Trojans on 2023 College Football Hall of Fame Ballot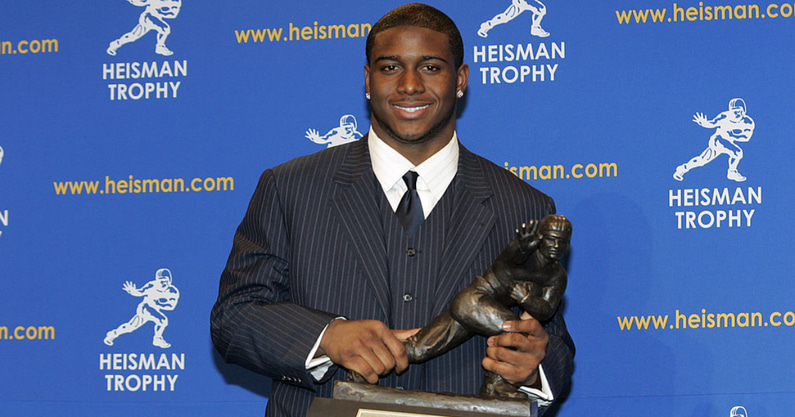 The National Football Foundation and College Hall of Fame announced the names on the 2023 ballot for induction into the College Football Hall of Fame today. Three USC Trojans are listed among the 80 former players in the Football Bowl Subdivision.
They are the same three who were listed last season. The headliner is running back Reggie Bush.
Bush was nominated by USC for the hall of fame for the first time last season. Players are eligible to be nominated 10 years after their last appearance on the field. For Bush, that would have come in 2015. But USC had to wait to nominate him until the NCAA-mandated disassociation period elapsed. That happened in 2020.
As far as pure statistics and on-field performance goes, it's impossible to keep Bush out of the Hall of Fame. He became the first college football player ever to accumulate 3,000 rushing yards, 1,500 kickoff-return yards, 1,000 receiving yards and 500 punt-return yards in a career. He averaged 8.7 yards per carry (on 200 attempts) as a junior and he scored 42 touchdowns in four different ways as a Trojan.
But Bush was not elected last year, which shows many voters will hold against him the fact that he was found by the NCAA to be retroactively ineligible during the final season of his career.
Bush won the 2005 Doak Walker Award and was named the 2005 Walter Camp Player of the Year. And he won the Heisman Trophy, which he later returned. He was a consensus First-Team All-American in 2004 and a unanimous First-Team All-American in 2005.
There are some very good running backs up for Hall of Fame enshrinement this season. Ki-Jana Carter of Penn State, Warrick Dunn of Florida State, Toby Gerhart of Stanford, Garrison Heart of Georgia, Craig Heyward of Pittsburgh, LaMichael James of Oregon and Errict Rhett of Florida, among others, were all terrific. But there isn't a running back in this year's class or the near (or distant) future who impacted the game overall the way Bush did.
Other Trojans on the Ballot
Former USC safety Mark Carrier is on the ballot for the third time. He also appeared on the 2020 and 2022 ballots.
Carrier isn't often listed among USC's best safeties along with Ronnie Lott and Troy Polamalu. But he belongs in that group. He was a two-time First Team All-American and took home the 1989 Jim Thorpe Award as the nation's top defensive back.
Carrier led the conference with seven interceptions in 1989, to go along with 107 tackles, three fumble recoveries and 10 pass deflections. And he was a two-time First Team All-Conference selection. He was inducted into the USC Hall of Fame in 2006.
This is also the third year former USC offensive lineman Jeff Bregel appears on the ballot. Bregel was the 1985 Morris Trophy winner as the conference's most outstanding offensive lineman. And he was twice selected as a First Team All-Pac 10 performer.
USC Trojans in the College Football Hall of Fame
USC claims 34 players who are enshrined in the College Football Hall of fame. Tough, tackle Dan McMillan is also claimed by Cal as his playing career was split between the two programs.
The most recent Trojans to go into the Hall are quarterback Carson Palmer in 2021, safety Troy Polamalu in 2019 and quarterback Carson Palmer in 2017.
Should Bush be voted in, he'd become the eleventh USC running back/halfback elected to the College Football Hall of fame.