USC a Top School Early On For Elite 2023 CB Caleb Presley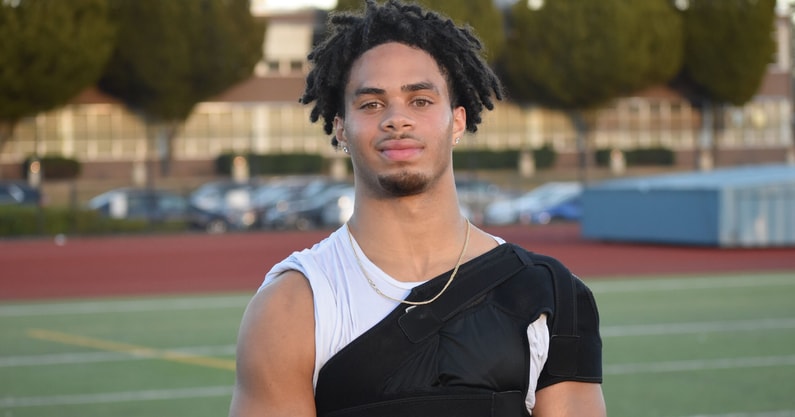 Washington has been producing more and more Elite prospects each year and one of the top 2023 prospects from Washington is Rainier Beach HS CB Caleb Presley.
USC offered Presley a year ago and he's one of the top priorities for Donte Williams.
As of Sept. 10 Presley has offers from USC, Washington, Oregon, Michigan, Washington St., Notre Dame, Alabama, Arizona, ASU, Auburn, Boise St., California, Colorado, FAU, LSU, Michigan St., Nevada, Oklahoma, Oregon St., Penn St., Texas, Texas A&M, UNLV, Virginia Tech and Utah.
Presley visited USC with players and coaches from his 7v7 Program Team FSP in June. That was one of the topics we talked about with him after practice at Rainier Beach HS on Wednesday. He also shared which other schools he visited in June, where he'd like to visit after this season, what his interest in the Trojans and more.
With Presley, a program doesn't just get a tremendous football player, it gets a leader and an extremely high character kid.
SCOTT SCHRADER AND CALEB PRESLEY Q&A:
SS: You're one of the Top 2023 Cornerback targets for USC. Where does your interest stand with the Trojans and is it a school you could see yourself visiting again?
CP: "Most definitely make some plans to try and get out there for a game this season. Coach Donte wants me out there to meet more of the coaching staff. I took a prior visitin June, but it's definitely a place I find interesting and I k now Donte is a great coach. He puts a lot of cornerbacks in the League (NFL) and I'll definitely take more visits there."
SS: Do you already talk to Coach Donte on a regular basis?
CP: "Yeah, Coach Donte and I have talked already about wanting to get the next generation of great corners and wants me to be a part of that. He's talked about me being a player he wants to bring in, develop and coach me up. So, Coach Donte is a great dude and I'd put my trust in him."
SS: What did you see or experience at USC that will lead you back for more visits?
CP: "I got a nice tour of the schools and facilities, but didn't see all there is yet. But I did build some strong relationships while I was there. like I said, Coach Donte puts guys in the League, he's got an impressive coaching resume and he's one of the highest paid assistants in college football for a reason. You definitely need to keep that in mind when making decisions."
SS: Which schools did you visit in June?
CP: "I got see a lot of schools on the West Coast like USC, Oregon, UDub, Arizona and Arizona St. Then I got to SEC schools Georgia, Alabama, Texas A&M, Texas and also TCU. So, I got to see some Pac-12 and SEC schools, but I'll get to the Big-10 at some point next."
SS: Tell me about Oregon?
CP: "It's close to home, it's the Pacific Northwest, it's a lot like home and Coach Chance is a great coach down there. He's a DB guru just like Coach Donte."
SS: Some schools you haven't seen, but really want to?
CP: "Michigan and Notre Dame has been high on me and they have a lot of rich history I want to check out."
SS: Who else at USC do you talk to?
CP: "Coach Aaron Williams and I have chopped it up a bit and I've talked with a few wide receiver coaches, but that's about it."
WeAreSC will be back in Seattle to see Rainier Beach play later this Fall.