USC Among Top Options for All-American Bowl WR Chris Marshall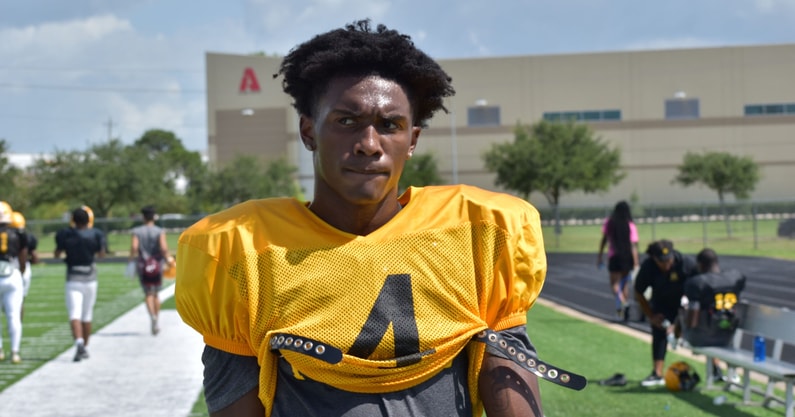 With me basically moving to Texas in the Spring of 2020 to relocate where football was being played, at least 7v7, indoor workouts and some high school practices, I got extremely familiar early on with the Lone-Star State's Top 2022 prospects.
In early January, the day after watching the Katy Tigers advance to the Texas State Semi Finals, I was at the first Fast Houston 7v7 tryouts at Pius X High School. There were several familiar faces like USC DB Xavion Alford, Texas Commits Jaydon Blue‍, Jaylon Guilbeau‍ and one elite kid I hadn't met in WR Chris Marshall‍ from Missouri City, TX. 
Fast Houston CEO Ro Simon told me at the time Marshall was a big time prospect and he'd at least get him to USC for a visit at some point.
USC SCOOP spoke to Marshall, who the Trojans had just offered, but not much was known about USC other than he'd been talking with Keary Colbert (wide receivers coach).
We saw Marshall in Dallas a few weeks later and last saw him in Bullhead City (AZ) at a Pylon 7v7 Event. He is tremendously talented, has impressive size and speed to compliment his athleticism.
Marshall came up to me after the Pylon event and asked if I wanted to talk about his interest in USC. He still didn't have much to say other than his definitive plans to visit Los Angeles, but it was obvious Colbert and the Trojans had done a solid job of recruiting Marshall. That effort led to a June official visit.
"I love the environment in Cali, they produce receivers to the league, so it's definitely a great spot to get a good look at," said Marshall back in March. "Coach KC and Coach Carrington who came from Texas are recruiting me really hard. I feel like I have a really good relationship with them, it's getting stronger after we talk weekly."
Texas A&M and USC are the staffs Marshall has the strongest bond with at this point, but Alabama is poised to make a strong move and wants him to take an official visit during the season.
As it stands now, most believe the Aggies are the program to beat, but USC has been building momentum with Marshall. And the Trojans feel they have a legitimate shot if they take care of business on the field this season.
We made our first trip to Marshall HS in Missouri City (TX) Monday to see Marshall. I also had my first in-depth conversation about his interest in USC, Texas A&M, where things stand with his recruitment, what's left before he makes a school choice and more.
Scott Schrader and Chris Marshall Q&A:
SS: You told me back in March in Bullhead City (AZ) you were going to visit USC and basically blew you off. And just as you told me, you took an official visit to USC in June. Why is USC a school you're still seriously considering with most people believing it's a done deal for Texas A&M?
CM: "Because of how much they throw the ball and the culture down there. It's Wide Receiver U and they've produced some great great receivers at USC. So, I've always had interest in playing in a throwing offense and I've always had USC under consideration."
SS: Did Keary Colbert show you anything while on your official visit that made an impact, like something he showed you while watching film with him or anything else?
CM: "He and other coaches showed me how well they know the game. They also got to know how much I know the game. They picked me a part, asked a lot of questions and I love when coaches do that…because I know the game pretty well. It was a great experience."
SS: What were some experiences of your USC Official Visit that still stand out two months later?
CM: "There was alot that stands out, but for me it was really just being in Cali. That was my first time being able to visit California and experience the city of Los Angeles. A got see see a lot, but there's a lot I didn't get to see too. I took a lot back with me."
SS: Is there anything other than USC claiming it's Wide Receiver U that's a big draw for you? I've heard you talk about how living in a city like Los Angeles is attractive to you.
CM: "You can't beat the publicity and exposure you can get in a city like Los Angeles. There are a lot of eye balls on you and a lot of great people there. There are a lot of powerful people that can be at your games watching you, that you can potentially build relationships with. Coming from where I come from, there are people there you'd never thought you'd have an opportunity to meet."
SS: Speaking of relationships, you have close relationships with a lot of guys committed to Texas A&M or will ultimately end up there. So that speaks for itself. Are there any USC players or Commits you communicate with? 
CM: Yes, Landlord (Xavion Alford), one of the DBs there that transferred from Texas. That's my boy right there. When I was down there, I spent a lot of time with him and I still talk to him to see if he's liking it."
SS: What does Xavion say about USC?
CM: "He's loving it there and says there's nothing but great people there. He's loving the coaches, the team and the environment. And it's never as hot there as it is here. It's 103 here right now."
SS: Could you make it back to USC for another visit?
CM: "Yes, I could possibly get there again during a BYE week or at another time."
SS: What else do you have left with the recruiting process before you'll be ready to make a decision on a school?
CM: "I'm thinking about taking an official visit to Alabama, but that would be about it. I already took visits to USC and A&M. It'll be go time after the last visit. So, that's close to my top three schools right now."
SS: Texas A&M is in Texas, it's in the SEC, it's a Top 10 program right now and you have a close relationship with players, recruits and coaches there. That's a lot for another school and program to overcome. Did I leave anything out besides the Aggie Network?
CM: "There's a lot of stuff I could talk about with A&M, but it's really about the culture down there and it's like family. I got nothing but love whenever I'm at A&M and I know so many people down there. There's love down there."
SS: How does USC compete with all that?
CM: "They're in California. That's their ace in the hole. Me coming from where I do, it's different going down there."
SS: Were you surprised by how much you liked L.A.? Did anything surprise you?
CM: "There was some stuff that surprised me."
SS: Good or bad?
CM: "Great, great. There was a lot of stuff that caught my eyes I didn't expect. It was just a great experience down there. I loved USC and my parents loved USC, too. My mom and dad both went on the USC visit with me. And they showed us the football and basketball facilities, because if I go down there, I'll be playing both (sports)."
SS: Is USC Recruiting your mom and dad?
CM: "They call my mom a lot."
SS: How important is the offense a program runs, really?
CM: "I feel like I can perform in any offense. I'm going to choose a school and go be me. That's how I feel about it. My pops always tells me it's all about what you do when you get there. Don't worry about what they can do, worry about what you do when you get there."
SS: Does it matter what USC does on the football field this season?
CM: "Yes it does, but it matters what all my top schools do this season….A&M too."