USC announces signing of 5-star guard Aaliyah Gayles, still recovering after recent shooting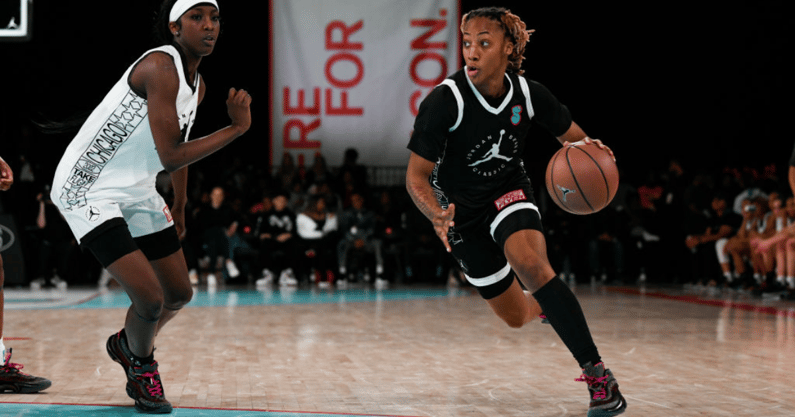 The USC Women's basketball program was able to make a very special announcement on Monday, publicly sharing the signing of five-star guard Aaliyah Gayles.
This could be a big addition for head coach Lindsay Gottlieb's program due to her talent on the court. But it's far more important for reasons away from the court.
Gayles continues to recover after being shot ten times after a fight broke out at a house party in Las Vegas a little more than a week ago. Her father shared an update on her recovery a few days ago. He said via TMZ that "She will be able to play ball again."
A Significant Addition
Gayles is USC's lone signee for this 2022 recruiting class to this point. And she will undoubtedly be a central figure in this program when she is back to full health.
In USC announcing the Aaliyah Gayles signing, Gottlieb was able to comment on her point guard of the future.
"Aaliyah is one of the most talented, athletically gifted basketball players I've known," she said in a statement. "She is electric on the court, with her ability to score, defend and create for others with her ball handling and vision."
Gottlieb commended Gayles for her off-the-court attributes as well, praising her character and personality.
"It is these characteristics that, in her recent time of extreme trial, have allowed her to survive and will ensure that she continues to thrive," Gottlieb said. Aaliyah is a part of the USC family and we could not be more proud to be on this journey with her, every step of the way."
Gayles was one of four people shot at the party that night. According to reports, she underwent two emergency surgeries for her injuries.
She becomes the 17th McDonald's All-American in USC Women's basketball history. Gayles will be central to a rebuilding project for Gottlieb. The Trojans lost some of their best players to the transfer portal this offseason. That includes leading scorer Jordyn Jenkins, 2020 Pac-12 Freshman of the Year Alissa Pili and frontcourt veteran Angel Jackson.
Gayles averaged 13.8 points, 4.9 rebounds, 3.3 assists, and 3.5 steals per game as a senior.
Gayles Speaks Out
There is still a long road to recovery for Gayles. She said in an interview with Fox5 in Las Vegas that she can move her arms. But she can't yet feel her legs.
She was scheduled to transfer from the hospital to physical therapy today, where there will be plenty of work to do.
"My body is feeling alright but it hurts still," Gayles told Fox5, adding that she's keeping the right mindset throughout this process. "I just want to say thank you for all the support and love. And I appreciate everybody but my journey isn't over yet."