USC at No. 6 in College Football Playoff Rankings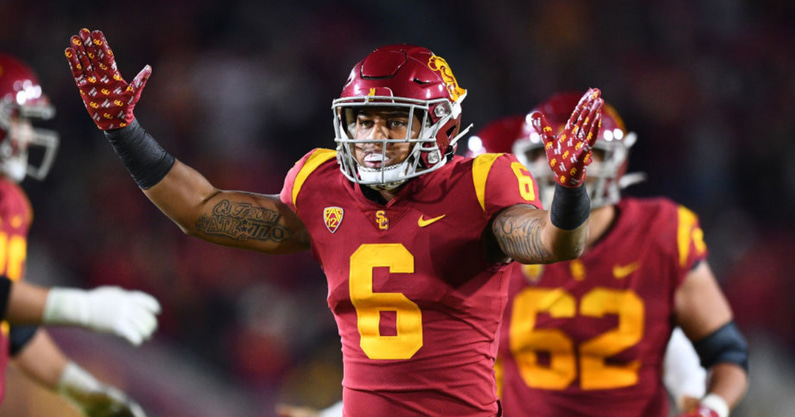 The USC Trojans keep winning and the USC Trojans keep climbing in the College Football Playoff Poll. USC has risen one spot in the CFP rankings each of the four weeks they've been released, moving from No. 9 to now sitting at No. 6.
There will likely be some disappointment from USC fans hoping to see the Trojans jump LSU following USC's thrilling 48-45 win over UCLA. But the Trojans are still in a great spot at No. 6 at this point in the season.
The top four teams remained unchanged from last week. Georgia continues to pace the field at No. 1. Big Ten rivals Ohio State and Michigan check in at Nos. 2 and 3, respectively. And undefeated TCU is still No. 4.
Tennessee's blowout loss to South Carolina dropped the Volunteers from No. 5 to No. 10 — an important fall for USC in several ways. First, Tennessee represented a real issue for USC because it looked as though the Volunteers could win their final two games, not play in the SEC championship game and potentially stay ahead of a one-loss Pac-12 champion in USC. Now, Tennessee is removed from the equation and also fell behind No. 9 Oregon, which could be USC's opponent in the Pac-12 Championship Game.
Looking Forward
When USC lost at Utah back in mid-November, talk of a potential playoff berth completely vanished. But head coach Lincoln Riley has been consistent in saying teams that can just put together wins have a way of being there in the end. One of Ohio State or Michigan is guaranteed a loss this weekend as they play each other in Columbus. If USC beats No. 15 Notre Dame by any margin on Saturday, the Trojans will absolutely be in the discussion for a top-four spot in next week's ranking. Beat Oregon, Utah or Washington (all ranked in top 15 this week) in the Pac-12 Championship Game and it's difficult to see how USC gets left out when there is the possibility of only three undefeated Power 5 champions and one-loss Clemson doesn't have nearly enough in front of it to warrant leaping USC. LSU has a likely loss awaiting it in the SEC Championship Game against Georgia. If the Tigers pull that one out, then there could be some nerves in Heritage Hall regarding a one-loss Georgia team landing in the top four.
But the Trojans have to continue winning. Nothing else matters without two more wins this season.
Reasoning for LSU and USC's Positions
CFP committee chair Boo Corringan spoke about why LSU remained ahead of USC after the Trojans posted a win over No. 16 UCLA and LSU beat a UAB team that was 5-5 heading into the game.
"That was a dominant conversation for the last couple days," Corrigan said. "There's reasons for USC to be at five. There's reasons for LSU to be at five."
Corrigan said LSU's wins against Alabama and Ole Miss "carried the day more so" than USC's ranked wins against UCLA and Oregon State.
As a note, both of LSU's wins mentioned came at home. Both of USC's wins mentioned came on the road. Corrigan said allowing 45 points to UCLA was enough to create some questions.
"I think some of the members of the committee, as we looked at it, wanted to see a little bit more from their defense," Corrigan said of the Trojans.
LSU's two losses came by one point against No. 16 Florida State in a not-quite-so-neutral-site game held in New Orleans, and at home against No. 10 Tennessee in a 27-point blowout. USC's lone loss came by one point against No. 14 Utah in Salt Lake City.
Complete Week 13 College Football Playoff Rankings
1. Georgia (11-0)
2. Ohio State (11-0)
3. Michigan (11-0)
4. TCU (11-0)
5. LSU (9-2)
6. USC (10-1)
7. Alabama (9-2)
8. Clemson (10-1)
9. Oregon (9-2)
10. Tennessee (9-2)
11. Penn State (9-2)
12. Kansas State (8-3)
13. Washington (9-2)
14. Utah (8-3)
15. Notre Dame (8-3)
16. Florida State (8-3)
17. North Carolina (9-2)
18. UCLA (8-3)
19. Tulane (9-2)
20. Ole Miss (8-3)
21. Oregon State (8-3)
22. UCF (8-3)
23. Texas (7-4)
24. Cincinnati (9-2)
25. Louisville (7-4)