USC Athletics Announces NIL Agreement with Stay Doubted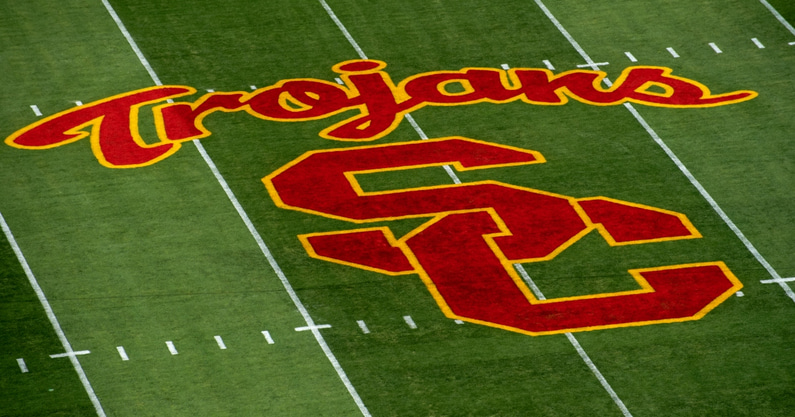 USC took its first public steps in the NIL arena on Wednesday as the school announced an agreement with Stay Doubted, a modern-day media agency empowering the next generation of student-athletes and fans.
This will launch later this summer, in time for the fall sports season.
"From the moment the NCAA revised its rules regarding the use of NIL, President Carol L. Folt encouraged me to develop the best NIL support program in the nation for our student-athletes consistent with our vision to be the most student-athlete centered program in the country," USC Director of Athletics Mike Bohn said in a statement. "We offer dozens of services to support all aspects of the student-athlete experience: coaching, medical, academic, nutrition, strength training, sports psychology, career planning, and so many more. NIL is a new dimension of the student-athlete experience, and we want to provide best-in-class services to our student-athletes in this area as we do all others."
According to the USC press release, Stay Doubted has "managed over $63 million in sports partnerships, including more than $1 million in collegiate athlete partnerships in the first year of the NIL era." It has partnerships with well-known companies, including Amazon, Microsoft, Verizon and Walmart. The connection with USC will be handled through BLVD LLC., a Stay Doubted subsidiary that will "exclusively serve USC student-athletes to assist with the development of NIL opportunities." Seven full-time Stay Doubted employees will be dedicated USC and BLVD accounts.
USC's Timing With This Announcement
USC did not rush into the NIL space. Bohn and football head coach Lincoln Riley spoke often of USC student-athletes being able to take advantage of new NIL rules in a city such as Los Angeles. But this is really the first big announcement of any kind from USC, which does not have an NIL collective like ones many other schools do.
"We have patiently studied the NIL environment both within our program and nationally to inform our decision-making," Bohn said in his statement. "We believe every student-athlete should have access to NIL support resources and currently only about 3% of our student-athletes have engaged professional service providers. We strive to support our student-athletes in all ways, including in the NIL space. We are thrilled to be able to meet this need and make these resources available through a qualified and reputable third party for our student-athletes should they wish to take advantage."
NIL Perks for USC Student-Athletes
An important aspect of this as far as USC student-athletes are concerned is that all of them will have the opportunity to opt into non-exclusive NIL representation through this partnership.
BLVD will offer a number of different ways USC student-athletes can earn revenue through NIL opportunities. Those include sponsorships, group licensing, promotions and events, and merchandising. According to USC's statement: "All USC student-athletes who voluntarily opt-in to BLVD representation will be equipped with digital 'media kits,' which will be available online and showcase the student-athlete's brand, social media accounts, and key social media metrics." 
"Since the inception of NIL, the focus has been on establishing long-term sustainable structures that place student-athletes at the forefront of opportunities and industry-leading resources," said Michael Jones, CEO of Stay Doubted, in the same statement from the school. "This arrangement achieves that and more. The economic power of Los Angeles is a differentiator that is hard to match. We are prepared to use the Stay Doubted network of brand partners and in-house capabilities to establish BLVD as a leader in the NIL era."
Aside from creating the partnership, USC will not be involved in any NIL deals or earn any portion of the revenue created from them. Student-athletes will sign their own industry-standard representation agreements with BLVD.
USC Fans Offered Membership Subscriptions
USC student-athletes will be afforded the opportunity to tell their stories via BLVD, which also acts as a student-athlete driven media company. Trojans fans will be able to experience those stories and reach a deeper connection with players through membership subscriptions. According to USC, various membership levels will give fans further access to student-athletes, "such as cameo style appearances, event appearances, autographed memorabilia, and more."
The agreement with BLVD will also provide USC student-athletes the training necessary to build their brands and NIL portfolios.
According to the USC statement: "USC student-athletes will have independent access to other essential NIL resources in the areas of accounting, banking, investing, taxes, and legal. For their own brand enhancement, USC student-athletes will have the opportunity to tap into Let Creators Create, which is a media library and experiential program focused on empowering the next generation of creators. USC student-athletes will get tactical tips, tricks, and tools from the biggest creators."
Lincoln Riley's Statement
"This agreement and the creation of BLVD are an absolute difference-maker for both our current and future student-athletes," Rileys said in a statement from the school. "There is simply nothing else like this in our sport. Combining BLVD with the significant advantages of being in Los Angeles provides an NIL program that will have no equal."
How NIL Was Meant to be Done
This is NIL the way it was meant to be done and USC should be applauded for this. NIL was meant for players to be able to receive monetary compensation for the use of their name, image or likeness. Instead, NIL became a catch-all for boosters to funnel money to recruits and transfer targets.
With this agreement, USC continues to stay out of the NCAA crosshairs when it comes to illegal inducements and "pay for play," which is still against NCAA rules even in the NIL era.
It also puts a significant number of tools in the hands of USC student-athletes. They no longer need to venture anywhere in order to have top-of-the-line training and resources. And they are able to take advantage of everything NIL allows for.
Many schools took a piecemeal approach and do have some of these assets available for their student-athletes. This program at USC provides student-athletes every conceivable advantage in maximizing their earning potential in this landscape.