USC Attacks Day 1 of Fall Camp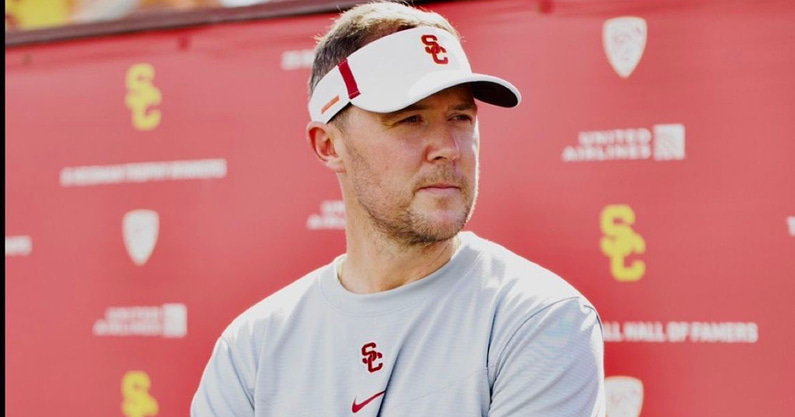 NCAA rules put the USC Trojans in just helmets for the first day of fall camp, but there was nothing light about the practice than ran for about two and a half hours and featured a lot of energy and intensity, according to head coach Lincoln Riley.
This was USC's first practice with several new true freshmen and a number of transfers who came in over the summer. That latter group includes wide receiver Jordan Addison, linebacker Eric Gentry and cornerback Jacobe Covington.
Riley said it was fun to see the entire roster out on the field. But it's time to get going in a hurry, which is no change from the plan for spring ball or summer conditioning.
"For us right now it's Year 1," Riley said. "And there's so much new about this roster, we're certainly not easing into it, if you will…Right now it's about us. We've got to get USC right. We've got to win our inner battle and that's our fight every day. So as opposed to thinking of it like a marathon when you run a little bit each day, our deal is more, it's a fist fight every single day. Then you wake up and get up and you're ready to fight again.
One thing that stands out about this group is that they seem to be much more ready for the fight. Quarterback Caleb Williams said during Pac-12 media day that he's seen bodies develop over the summer. He cut pounds and body fat, while offensive linemen are easily beating their previous lifting marks. Riley said that was obvious to him as well.
"I think the biggest thing I notice right now is a lot of our bodies have started to change," Riley said. "Both our bigs and our skill, we really moved in the right direction. You see a little more pop, a little more speed, a little more physicality out on the field."
Another good sign is that in just practice 16 overall under Riley, with the addition of new players who weren't here in the spring, the entire roster hit the ground running.
"You just work," Riley said of the culture and mindset they're building. "You just create that expectation coming into it…I don't think anybody was shocked by the pace of practice or amount of reps we took or even the physicality even though we didn't have pads on. And you want that to become, it's just what we do here. Nobody even thinks. I did feel that, so the response to it was good. Our guys were in shape. They were ready to go."
Anxious for Day 1
Asked post practice if Riley felt any anxiousness on the part of him or the team.
"Absolutely," Riley said, saying he didn't sleep well last night because he was so excited to get this day going.
"It's been a long road for this group to this point," he said. "The group's been challenged in a lot of different ways. And they've continues to respond. We talked a lot about how this roster has come together and I think for them, they're glad to finally have all their guys. Here's what we got and then let's go to work and start building this."
Riley said this spring that the team was disappointed when practice came to an end because they wanted to keep going. He said it was the same thing on Friday morning.
"That's how it should be," he said.
Riley seemed very pleased with the work put in on Friday. He expected to like the mindset and focus the players came in with, and that was met. He looks forward to the execution level rising across the board over the rest of fall camp.
"The execution was good for a first day," he said. "It won't be good for a second day. You just have to keep climbinb. You have to keep building. But we're not going to go home right now. We've still got a little work to do."
Future Fall Camp Practices
Riley clearly likes practicing in the Coliseum and working in those surroundings. They'll be there for the four practices. The Trojans will also vary their practice start times. Friday's kicked off at 7 am. Monday's will take place at 6:30 pm.
"We're going to play at a lot of different times here in the upcoming year, so we've got to be ready," Riley said. "Going to challenge them to get their bodies, their minds ready to go."