USC blown out again at home as Utah takes down the Trojans 42-26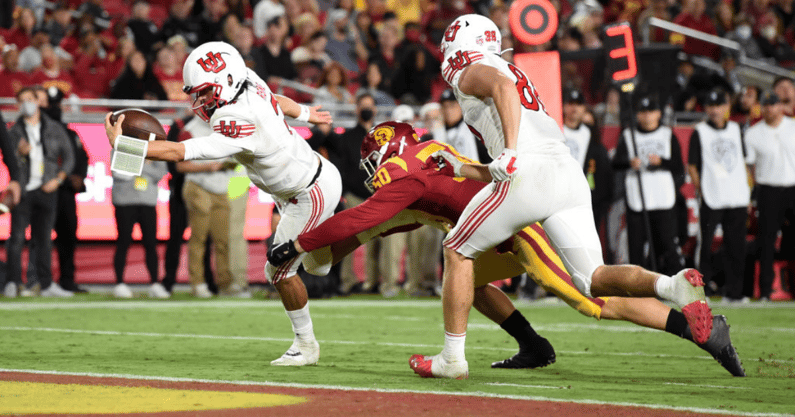 USC was blown out in the Coliseum for the third time in a row Saturday night, suffering a 42-26 loss to Utah. It marked Utah's first win over USC in Los Angeles since 1916 and the Utes' first-ever win in the Coliseum.
USC is finding itself on the wrong end of too many historical statements this season. Two weeks ago, Oregon State won its first game in the Coliseum since 1960. USC also found itself on the wrong side of a lopsided score against Stanford earlier this season.
Utah quarterback Cameron Rising was 22-of-28 for 306 yards and three touchdowns, and added another score on the ground. He led four-consecutive Utah touchdown drives over the middle part of the game to turn a 10-7 USC lead late in the second quarter into a 35-10 Utah stranglehold five minutes into the fourth quarter.
"I'm extremely proud of our football team," Utah head coach Kyle Whittingham said. "Players played with a great competitive spirit tonight, passion, energy, you name it, we had it."
USC wide receiver Drake London was the lone bright spot for the Trojans. He caught a career-high 16 passes for 162 yards and had a highlight touchdown where he hurdled a Utah defender at the goal line.
Kedon Slovis finished the game with 401 yards passing, going 33-for-53 with two touchdowns, an interception and two sacks. But after trading touchdowns early, USC had no answer for Utah's run.
USC interim head coach Donte Williams was asked after the game what the biggest focus is for the team now.
"Us," he said. "Making sure that we play the right guys, making sure we're calling the right plays, making sure we're doing things the right way. This . is the first half of the regular season, so we have a whole second half to go. So we got to make sure we got the right combination of guys and plays going on that field."
With the loss, USC falls to 3-3 on the season and 2-3 in Pac-12 play. The Trojans have a bye this week before traveling to Notre Dame.