USC blown out by Stanford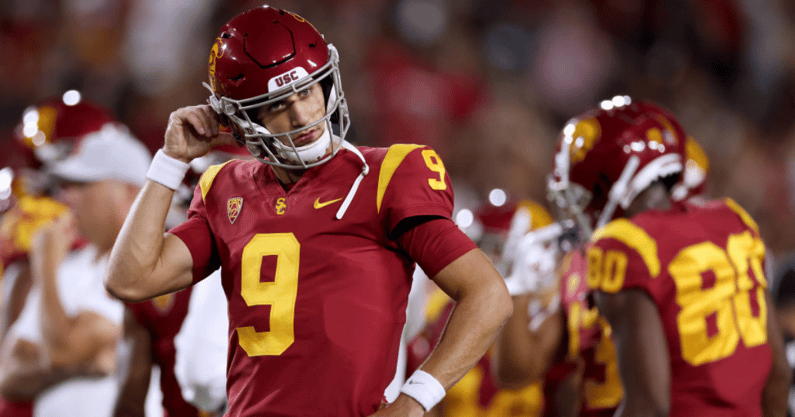 Stanford walked off the Coliseum field with a convincing 42-28 win over USC, but it was a collection of familiar foes that did in the Trojans.
USC committed nine penalties for 109 yards, lost the turnover battle, went just 4-for-14 on third downs, did not score a third-quarter touchdown, and allowed an 87-yard rushing touchdown and six passing plays of more than 15 yards.
"When you look at it across the board, they beat us in every phase," USC head coach Clay Helton said. "In each and every phase, you look at the execution they out-executed us. And when you look up, we did not do what we did in the first game. We got beat in penalties. We got beat on third down efficiency, and be get beat in the turnovers, we didn't get turnovers."
The announced crowd of 56,945 rained boos down at various times and the crowd had largely dispersed by the time Stanford took a 35-13 lead at the end of the third quarter.
An 87-yard touchdown run on Stanford's first play of its second possession was an early sign this wouldn't be the same Cardinal team that was run over by Kansas State last week.
USC tied it at seven and had it close at the end of the first half, with Stanford ahead 14-10 following a Trojans field goal with 1:56 remaining.
That was the beginning of the end for USC.
Stanford raced 66 yards in four plays, thanks to a 49-yard pass from quarterback Tanner McKee to running back Austin Jones. Stanford's touchdown with nine seconds left in the half pushed the Cardinal lead to 21-10.
USC kicked a field goal on its opening possession of the second half before the wheels fell off.
A third-down pass from Kedon Slovis bounced off Drake London's hands and wound up in the arms of Stanford cornerback Kyu Blu Kelly, who returned it 31 yards for a score. Stanford scored the next two touchdowns to push the lead to 42-13 and USC tacked on two cosmetic scores that resulted in the final margin.
Helton blamed penalties and field position for USC's poor offensive performance.
"I thought we got behind in penalties early that set us back," Helton said. "We didn't get the turnovers, we didn't get the field position, and that's credit to them. I thought they played great special teams. They pinned us deep in special teams, they didn't make the critical error in turning the ball over and they outplayed us tonight. That's reality."
With 8:34 remaining in the second quarter, USC had committed five penalties for 53 yards. The Trojans had just four penalties for 35 yards last week.
An offensive pass interference call wiped away a third-down conversion. A defensive pass interference on third down gave Stanford a first down. An offsides call allowed Stanford to take a field goal off the board and score a touchdown on the next play. And the game's first play resulted in a targeting call against kicker Parker Lewis.
The USC secondary knew it have a tall task in keeping up with Stanford's big receivers. But they were flagged three times for pass interference and cornerback Chris Steele was hit with an unnecessary roughness penalty.
But the USC offense didn't pull its weight tonight.
Slovis finished 27-of-42 for 223 yards and a late touchdown to London. The running game was more than serviceable, with 138 combined yards from Keaontay Ingram and Vavae Malepeai. But the passing game produced just two throws of more than nine yards with the game still in doubt.
"The one thing that I'll gauge from this tape is that it didn't feel as if we had as many explosive plays as we had in week one, and credit to Stanford on that," Helton said. "It's a 28-point night, which is usually not us. We're typically a 35-point plus team."
USC has played 21 games with Graham Harrell as the offensive coordinator and scored 35 points or more in seven of them.
In this game, nothing came easily for the Trojans on that side of the ball as it seemed the Cardinal were a step ahead for the full 60 minutes.
USC will next travel to Washington State to take on a 1-1 Cougars team. Helton said this is a long season and an early loss can be salvaged.
"We'll come back out and we'll get it," Helton said. "We'll continue to get wins and add them up and we'll see where we are at the end of the season. I know it'll be a successful season at the end. Like I told them in the locker room, you never want this to happen, ever. But when it's an early one in the season, you can live through it, but you got to correct it extremely fast."