USC Extends Official Offers to 2023 Recruiting Class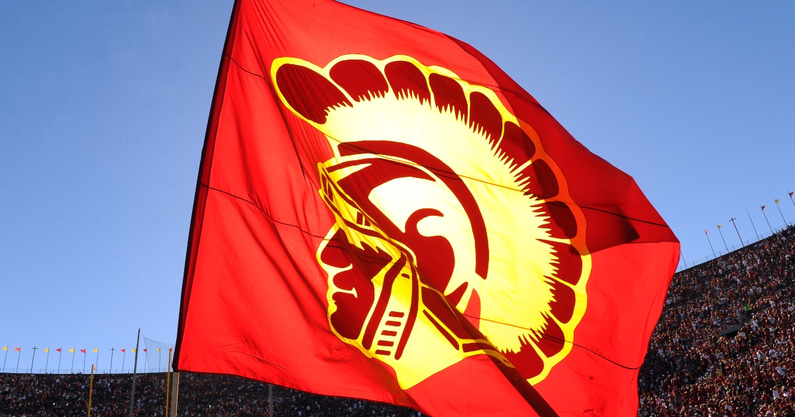 August is an important month for the USC football program, both this 2022 team and future teams. This version of the Trojans will kick off fall camp later this week. And August 1 signaled the first day official scholarship offers could be sent to the 2023 recruiting class.
USC produced a video to address the class of 2023 prospects being targeted by the Trojans, and gave that group the moniker, Club XXIII.
"You are joining a family that humbly hails some of the greatest players to ever play the game," the voiceover stats. "This club has helped build and carefully shape a winning heritage that extends beyond the Coliseum's 300 feet of hallowed grass. A legacy, a brand of excellence, a lifetime of success."
Recruits also received personalized letters announcing the scholarship offers.
"Because we are confident that you will make a positive impact on our university and football program, I am excited to offer you a full scholarship to attend The University of Southern California," the letter reads, before finishing with, "Come help us win another National Championship at USC!"
USC's 2023 Recruiting Class
USC currently holds the No. 12 2023 recruiting class nationally and the top-ranked class in the Pac-12.
It's led by two of the nation's four Five-Star Plus+ prospects in quarterback Malachi Nelson and wide receiver Zachariah Branch. They are the Nos. 2 and 4 prospects nationally, Nelson is the No. 2 quarterback and Branch is the No. 1 wide receiver.
Though, there has been plenty of hand wringing in Troy of late due to both prospects taking visits to Texas A&M. Only a signed letter of intent will finalize these recruitments. So these could be worth monitoring throughout the season.
Another top-100 prospect joins them in four-star wide receiver Makai Lemon.
USC went into Texas to grab a pair of four-star running backs in Quinten Joyner and A'Marion Peterson. Four-star cornerback Braxton Myers is another Texas prospect in this class for the Trojans. Though, that commitment might be on shaky ground after a recent visit.
Four-star linebacker Tackett Curtis represents a huge recruiting win for the Trojans. Head coach Lincoln Riley, defensive coordinator Alex Grinch and linebackers coach Brian Odom went toe-to-toe with Ohio State and Wisconsin for that commitment. Curtis is a top-10 linebacker and the nation's No. 104 overall prospect.
Some under-the-radar talents from the West region help fill the class at this point.
Three-star safety Christian Pierce is a real talent who could put together an outstanding senior season. Three-star defensive lineman Grant Buckey is another prospect who looks like his best football is ahead of him.
Tight end Kade Eldridge looks to be a perfect fit as an H-back in Riley's offense.
And USC has commitments from a trio of high-upside offensive linemen. Interior offensive linemen Amos Talalele and Micah Bañuelos were big recruiting wins for the Trojans. Talalele committed originally to Cal. Bañuelos was a big Oregon target. And the USC coaches found a local prospect they like in three-star offensive tackle Tobias Raymond.