USC Head Coach Lincoln Riley Talks After Fall Practice No. 1 (8/5)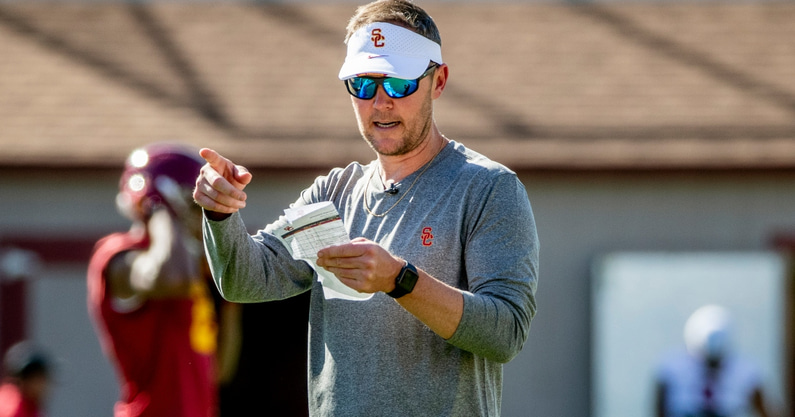 USC head football coach Lincoln Riley met with the media after Fall Practice No. 1 on Friday.
Riley talked about the expectations, what the Trojans are building on from Spring, some key additions this Summer, players he hopes emerge during Fall Camp and much more.
Erik McKinney published an article on Five Position Battles to Watch this Fall. On Friday morning Riley talked about nearly all of the players McKinney wrote about.
Weakside Linebacker
Ralen Goforth returns for his fourth season with the Trojans and will be looking to start for the third year. He brings 105 career tackles and 13 starts into the 2022 season. Goforth turned in a solid spring and position coach Brian Odom said he and middle linebacker Shane Lee separated themselves at those two spots.
Goforth has to be considered the leader at this spot heading into fall, but he's going to get a significant battle both from Raesjon Davis and Eric Gentry for snaps this season.
After an underwhelming true freshman season, Davis found himself this offseason and showed notable improvement this spring. If that continued through the summer and keeps going into the fall, the former big-time recruit has all the tools necessary to become a major contributor as soon as this season.
And Gentry's arrival this summer might make this a true three-way battle. The 6-foot-6, 200-pounder turned in a tremendous true freshman season at Arizona State. He finished with 45 tackles, including five for loss. The frame might seem odd for an interior linebacker, but it helps him get into passing lanes and he's not afraid to step up in the running game. Gentry is a major talent who is likely to see the field in some capacity this season.
Second Cornerback
Colorado transfer Mekhi Blackmon looks to be locked in as a starter at one cornerback spot. Opposite him, however, looks to be pretty wide open.
Oklahoma transfer Latrell McCutchin played some cornerback this spring but also spent time at several safety spots. Washington transfer Jacobe Covington could play cornerback or safety as well. Both could factor into the mix here against a few returners. Joshua Jackson Jr. didn't get a full run at spring ball due to injuries, but he's impressed every time he's taken the field since flipping over from wide receiver early in his USC career. If he's fully healthy, he has to be considered a legitimate option as a starter.
And the second-year duo of Prophet Brown and Ceyair Wright will look to make some noise as well. It would be a bit surprising if true freshman Domani Jackson really pushed for a starting spot, but his speed and athleticism are undeniable.
It'll be interesting to see where defensive coordinator Alex Grinch and cornerbacks coach Donte Williams like the various corners, including Blackmon, Covington and Jackson Jr., as far as field and boundary positions. That could determine the pair that gets the call to start.
Left and Right Offensive Tackle
The interior of the offensive line is likely completely set, with Andrew Vorhees, Brett Neilon and Justin Dedich working at left guard, center and right guard, respectively.
That leaves the two tackle positions open, with three (maybe four) players to fill them.
The wildcard is Virginia transfer Bobby Haskins. Without him, it's easy to pencil in Courtland Ford at left tackle and Jonah Monheim at right tackle. That was the case during spring ball with Haskins sidelined.
However, Haskins is now healthy and looking to start somewhere along the line. The coaches are clearly pleased with what they've seen from him on film and are going to throw him in the mix this fall. Can he unseat Ford at left tackle? Can he make the move to right tackle? He has some experience there, but far less than on the left side. If he plays left tackle, can Ford challenge at right tackle? If it's right tackle, can Monheim push to play guard? There will be some fallout no matter what happens. But both tackle spots will be better because of the competitions.
And don't forget Mason Murphy, a true freshman last year who might just make some noise at tackle sooner rather than later.
Raleek Brown
That's right. It's a positionless Raleek Brown competing against himself.
The true freshman is coming in as a running back, but he'll likely see time in the backfield, in motion and in the slot. It's asking a lot for a first-year player to come in and carve out time against veteran stars such as Travis Dye and Jordan Addison. But Brown is too talented and was too big of a recruit to think he's going to sit and watch from the sidelines this season. How much he contributes and how exactly he goes about doing so will be things to watch this fall.
It wouldn't be surprising if Brown is used similarly to how the Trojans used true freshman Adoree' Jackson on offense when he arrived on campus. Brown might not be as straight-line fast as Jackson, but he's better as a pure runner and offensive threat. 
Brown is by far the most intriguing true freshman arrival this summer. There won't be a running back battle at the top of the depth chart with Dye firmly planted there. But Brown will compete against himself this camp to see how much he can handle and how quickly he'll be able to contribute. A few big plays against Rice would allow the USC coaches to show recruits this isn't simply a transfer destination.
All Wide Receiver Spots Not Manned by Jordan Addison
Addison is going to play as much as he can this season. He's devastating to defenses out of the slot and can play outside as well. Virtually every play in Riley's book has a better chance of succeeding with Addison on the field.
But he's not the only talented wide receiver on the roster. And with a focus on the running game, plus Addison getting his share of passes, the competition for snaps and catches among the other wide receivers is going to be fierce.
Gary Bryant Jr., Tahj Washington, Mario Williams, Terrell Bynum and Brenden Rice all probably feel like they've done enough in their careers to walk into fall camp as presumed starters. Kyle Ford had that next-man-up look about him during spring ball. And both Kyron Ware-Hudson and John Jackson III turned in very strong spring game performances. And none of that includes Michael Jackson III or C.J. Williams, both of whom are probably capable of playing right now.
USC has had some tremendous wide receiver depth charts over the past decade-plus. The recent 2019 group with Michael Pittman Jr., Amon-Ra St. Brown, Tyler Vaughns and Drake London turned out to be pretty good. This group maybe lacks a little bit comparing one-through-four, but the depth this year is outstanding.
Riley said he likes to rotate a healthy number of wide receivers, so maybe staking out a starting spot isn't that critical. But there will be some bragging rights for those who earn them. It's going to take a string of really good practices because consistency will matter. So too will a willingness to block. Ranking the receivers based on the number of catches they'll have this year might be one of the tougher propositions heading into fall camp.
This will be a fun battle to watch. And those who make plays will likely have the opportunity to keep making them.