USC Lands in Top Six for 5-star Receiver Brandon Inniss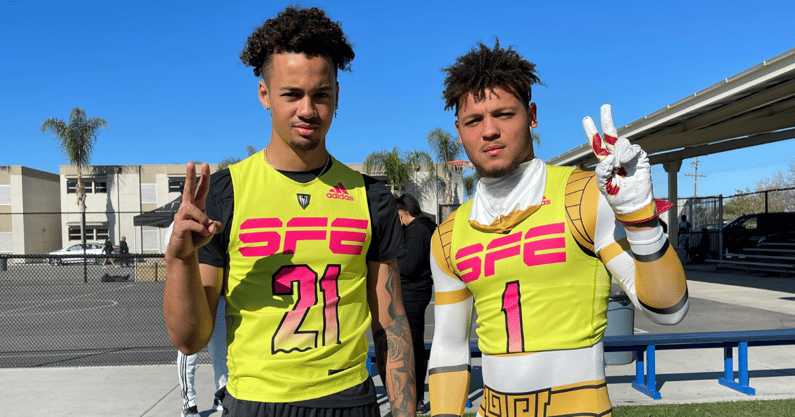 Five-star wide receiver Brandon Inniss announced the first cut in his recruiting process on Wednesday and it's good news for some power programs, including the USC Trojans.
Alabama, LSU, Miami, Ohio State, Texas A&M and USC are the six programs still in the running.
The 6-foot, 190-pound Inniss is the nation's No. 22 overall prospect in the 2023 On3 Consensus. He's also the nation's No. 4 wide receiver. USC already holds commitments from No. 1 wide receiver Zachariah Branch and No. 8 wideout Makai Lemon. Adding Inniss to that pair would give USC the best wide receiver haul in the country, regardless of what other programs do.
USC has an advantage in that Inniss is a one-time commitment to Lincoln Riley and Oklahoma. There is a strong connection between Riley, wide receivers coach Dennis Simmons and Inniss. The question now is whether that bond can pull Inniss all the way across the country.
Inniss was a standout at the recent OT7 passing tournament in Las Vegas. There, he spoke about USC's place in his recruitment and why the Trojans stand out.
Visits for Inniss
Inniss took an official visit to Alabama earlier this month and came away impressed. He'll be at Ohio State this weekend for an official visit.
The Buckeyes are the strong leader for Inniss in the RPM at 70.8%. USC comes in behind Ohio State. This race has been seen as an Ohio State – USC battle for some time and it's likely to remain that way. He will be at USC on an official visit at some point in the future, with a commitment date likely after the season.
Ohio State is probably the most formidable opponent in the country when it comes to recruiting wide receivers at this point. But Riley's offense is an appealing one for pass catchers as well.
Scouting Report
Here is the On3 Scouting Report for Inniss, who is impressive physically and athletically.
"Developed wide receiver who has been on the national radar dating back to middle school. Emerged as a college prospect while playing on varsity as an eighth grader. Has a technically advanced skill set. Has high-level quickness both in his releases and at the top of his routes. Can break off defensive backs with his change of direction. Competitive and embraces matchups with other top prospects. A standout on the camp and 7-on-7 circuit. Tests as a good athlete in the combine setting. Not as productive as some other top receivers as a junior in part due to being forced to play quarterback for part of the season. Has a tendency to let the ball get into his body at times, but has shown more high-point ability as a junior. Fights for yardage after the catch. Has the look of a high-floor prospect who should be set up to contribute early in his college career."