USC opponent preview: Stanford Cardinal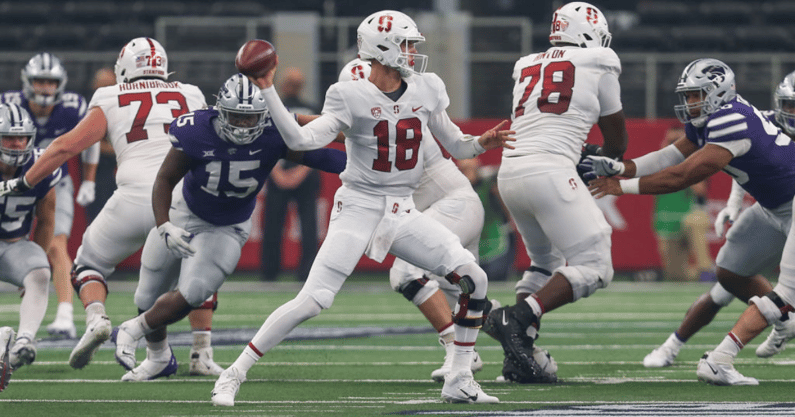 The USC Trojans (1-0) will host the Stanford Cardinal (0-1) Saturday night in the first conference game for both programs. The two programs did not play last season, making that the first time since 1945 and the first season since 1924 the two in-state rivals did not meet.
USC is coming off a 30-7 win against San Jose State, while Stanford fell 24-7 to Kansas State in a neutral-site game.
Stanford Offense
Stanford got very little done on offense against Kansas State this past weekend. The Cardinal rushed for just 39 yards and threw for 194. Only seven teams are averaging fewer than Stanford's 233 yards per game.
Quarterback
#18 Tanner McKee – 6-6, 225, SO
McKee was officially named Stanford's starting quarterback on Tuesday after the Cardinal went into the Kansas State game running two quarterbacks. He performed well against the Wildcats, completely 15 of 18 passes for 118 yards and a late touchdown. He's a game manager and a bit similar to San Jose State quarterback Nick Starkel in that he will look to take care of the ball and ask his supporting cast to make plays.
It will be interesting to see how much head coach David Shaw asks McKee to do. Stanford continues to run a very conservative offense and USC has the ability to bring a lot more than what it showed on tape last week.
Running back
#20 Austin Jones – 5-10, 190, JR
#8 Nathaniel Peat – 5-10, 195, JR
Stanford was held to fewer than 100 rushing yards twice in six games last season and started its 2021 season with just 39 yards on the ground. Austin Jones is the biggest threat out of the backfield, but he only rushed for 25 yards on nine carries against the Wildcats.
Likewise, Nathan Peat was held in check on the ground, with just three yards on three carries. E.J. Smith, son of Emmitt Smith, could be someone to watch as he gets more involved in the offense.
All three backs are capable receivers and will absolutely be used out of the backfield in the passing game. Jones and Smith each caught four passes in the team's first game.
Wide receiver
#6 Elijah Higgins – 6-3, 235, JR
#81 Brycen Tremayne – 6-4, 207, SR
#5 John Humphreys – 6-5, 210, SO
Team captain Michael Wilson will likely not be available until the middle of the season for Stanford, which is a big blow to the group of receivers. The Cardinal always seem to have at least one big target on the outside and this year there are three of them, in Elijah Higgins, Brycen Tremayne and John Humphreys.
The USC cornerbacks getting work against Drake London, Kyle Ford and others in practice should prepare them nicely for this group.
Tremayne led the Cardinal with five receptions for 62 yards and a touchdown. Humphreys had three catches for 53 yards. Stanford will let McKee throw it up down the sideline for their guys to go up after jump balls. This group will be a bigger test for the Trojans than the wide receivers that came to the Coliseum last weekend.
Tight end
#85 Benjamin Yurosek – 6-5, 235, SO
#88 Tucker Fisk – 6-4, 285, GR
Stanford always has good tight ends and this year is no exception. Benjamin Yurosek has stepped into the starting spot and caught three passes for 25 yards in his first career start.
San Jose State brought a good group of tight ends into that game and utilized them against the USC safeties. Stanford is capable of doing the same thing.
Offensive line
LT #75 Walter Rouse – 6-6, 322, JR
LG #63 Barrett Miller – 6-5, 310, JR
C #60 Drake Nugent – 6-2, 296, JR
RG #66 Brandon Bragg – 6-4, 315, JR
RT #78 Myles Hinton – 6-7, 330, SO
There are talented players along the line, but the mystique surrounding the Stanford offensive line is all but gone. Yes, the Cardinal still want to run it and there will be talk all week about how physical the battle at the line of scrimmage will be.
Kansas State sacked Stanford quarterbacks four times and held the Cardinal to fewer than two yards per rush attempt. Center Drake Nugent and right tackle Myles Hinton made their first career starts last week. Left tackle Walter Rouse is the most experienced lineman, but that's with just 18 career starts.
USC is dealing with some injury issues along the defensive line. But with Tuli Tuipulotu, Drake Jackson, Korey Foreman, Hunter Echols and others, the Trojans need to find ways to get to McKee and notch their first sack(s) of the season.
Stanford Defense
Stanford's defense played well enough against Kansas State. Two Wildcat scores came on short fields and the other two touchdowns were the result of just two big plays. But like the running game, this isn't the Stanford defense of the past decade that was helping the Cardinal to Pac-12 Championships.
Stanford allowed 200 rushing yards and 144 passing yards to Kansas State, as well as 7.6 yards per play.
Defensive line
DE #4 Thomas Booker – 6-4, 309, SR
DT #50 Dalyn Wade-Perry – 6-4, 340, GR
DE #23 Ryan Johnson – 6-4, 280, GR
It's an older group, but there isn't much experience. Thomas Booker has started 16 games in his career, but Ryan Johnson's first start came last week and Dalyn Wade-Perry has just one start as well. Tucker Fisk, who plays both tight end and defensive end for the Cardinal. There is not a lot of depth behind the starters. If USC can lean on this group with the offensive line, it could benefit the Trojans greatly in the second half.
Wade-Perry and Fisk each recorded a sack against Kansas State and Stanford did get some pressure on the Wildcat quarterback. This will be another stiff test for the young USC offensive tackles.
Linebacker
OLB #15 Stephen Herron – 6-4, 238, JR
ILB #45 Ricky Miezan – 6-2, 247, SR
ILB #14 Jacob Mangum-Farrar – 6-4, 245, SR
OLB #10 Jordan Fox – 6-3, 233, GR
Jacob Mangum-Farrar is likely to return to the field after missing the opener. The Cardinal will bring pressure from this group and Stephen Herron had one of the team's three sacks against Kansas State.
Ricky Miezan led the team with eight tackles, including seven solo, last week. At one time he was the No. 1-ranked lacrosse recruit in the country and initially committed to North Carolina to play lacrosse and football.
This is a very deep group, with inside linebackers Levani Damuni and Tristan Sinclair capable of getting significant time. Gabe Reid will also play outside linebacker.
Defensive back
CB #17 Kyu Blu Kelly – 6-1, 185, JR
SS #21 Kendall Williamson – 6-1, 205, SR
FS #9 Noah Williams – 6-0, 195, GR
CB #13 Ethan Bonner – 6-1, 191, SR
Kyu Blu Kelly is one to watch and had the team's interception against Kansas State. He should be a familiar name to USC fans, as the son of former Trojan cornerback Brian Kelly.
Stanford will be without its No. 2 cornerback, Salim Turner-Muhammad, for a big chunk of the season. Ethan Bonner has just two career starts and should be tested often by the USC passing attack. Williams, too, does not have much starting experience, with just two.
Kansas State's passing attack is not going to stress many secondaries this season, so Stanford should be seeing a major upgrade in talent at the quarterback and receiver positions this week. This is a matchup USC's receivers have to win.
Stanford Special Teams
Kicker
#43 Joshua Karty – 6-3, 205, SO
Karty's first kick of his college career came last week as an extra point. His only kickoff attempt against Kansas State went out of bounds. But he's a talent. He was the No. 1-ranked kicker in the 2020 recruiting class and set his high school record with a 52-yard field goal.
Punter
#23 Ryan Sanborn – 6-3, 200, JR
Ryan Sanborn averaged 39.7 yards on six punts in the opener, with a touchback, two fair catches, two inside the 20 and one that traveled more than 50 yards. The two returns for Kansas state netted just nine yards.
Returner
KR #8 Nathaniel Peat – 5-10, 195, JR
PR #25 Bryce Farrell – 5-11, 180, SO
Peat's lone kick return last week netted 21 yards. Stanford was one of the better kickoff return teams in the country last season and Peat averaged nearly 25 yards per return.
Stanford did not return a punt against Kansas State. Bryce Farrell's two returns in 2020 went for six yards.
USC did not allow a kickoff or punt return against San Jose State last week.