USC Pulls a Jersey Number Out of Retirement for Jordan Addison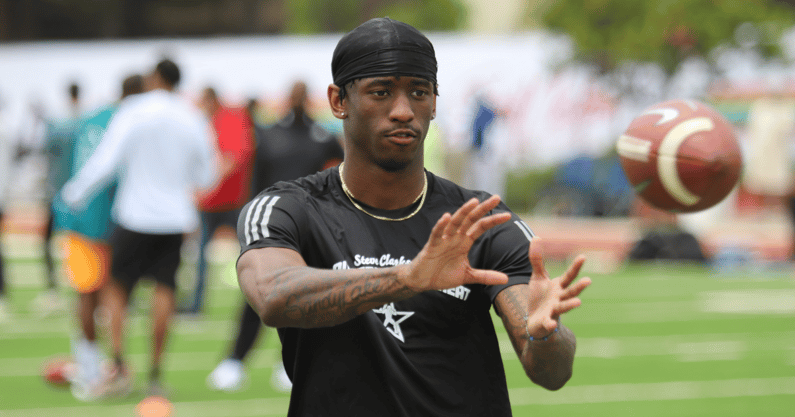 The USC Trojans have never put last names on the backs of their football jerseys. But still, some numbers are synonymous with certain players. That's especially true when it comes to USC's seven Heisman Trophy winners. Those are the only jerseys retired by USC and the names and corresponding numbers are easy to rattle off for longtime Trojan fans.
Carson Palmer and No. 3
Matt Leinart and No. 11
Charles White and No. 12
Mike Garrett and No. 20
O.J. Simspon and No. 32
Marcus Allen and No. 33
Reggie Bush's No. 5 isn't officially retired, but no Trojan has worn it since he stopped playing. And arguably no number in college football over the past 20 years is more tied to a specific player.
But one of those numbers appears to be coming out of retirement, according to Keely Eure USC Director of Creative Content and Football Team Reporter.
New USC wide receiver Jordan Addison told Eure at USC's Salute to Troy event Saturday evening that the school brought No. 3 out of retirement for him to wear.
A follow-up tweet from Eure stated that USC Director of Athletics Mike Bohn said Palmer was involved in the decision and was on board with Addison wearing the number.
Addison was a huge addition to the USC roster this offseason. The 5-foot-11, 160-pound receiver is the reigning Biletnikoff Award winner as college football's best wide receiver. He caught 100 passes for 1,593 yards and 17 touchdowns last season. Addison added another score on the ground and averaged 15.4 yards per punt return.
He'll step in as the No. 1 receiver for USC and should be poised for a huge 2022 season, which will likely be his final year at this level.
Addison wore jersey No. 3 at Pittsburgh. The question of what number he would wear at USC has been there since he announced his commitment.
First Time Since 2003
It has been a while, but USC has pulled a number out of retirement before.
Darnell Bing was an elite prospect at Long Beach Poly High School in the class of 2002. During his recruiting process, Bing sought out permission from Garrett to wear No. 20 at USC.
Bing recorded eight interceptions and was a Thorpe Award finalist in 2005. The Oakland Raiders selected Bing in the fourth round of the 2006 NFL Draft.
Bing was a major recruiting win and part of the Fab Five at Poly. Three other Jackrabbits joined Bing at USC, in offensive tackle Winston Justice, running back Hershel Dennis and defensive lineman Manuel Wright. Tight end Marcedes Lewis was the fifth member of the group of top-100 recruits and found his way to UCLA.