USC Rush End Romello Height Likely Out For The Season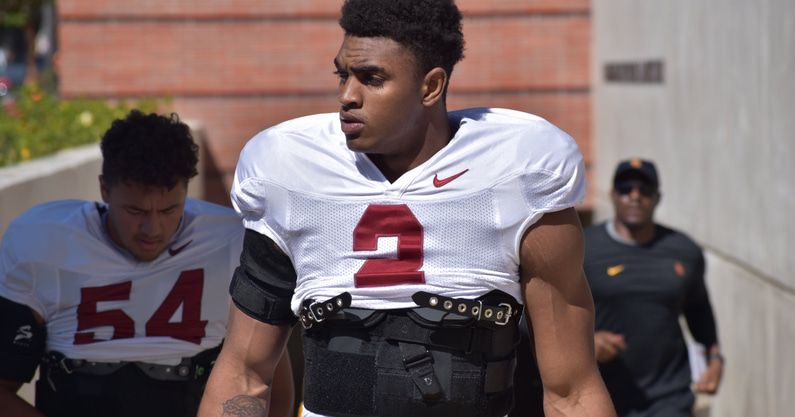 USC rush end Romello Height will likely miss the rest of the 2022 college football season, according to head coach Lincoln Riley.
Height suffered a shoulder injury early against Stanford on Sept. 10. He did not return to that game and did not play in USC's most recent game against Fresno State.
"Romello had a procedure done this week," Riley said. "We'll see how that progresses. It's going to be a long-term recovery and likely will miss the season."
After the injury against Stanford, Riley said Romello had been dealing with "a lingering shoulder issue" due to events on the practice field and in the game. Riley said the multiple issues "kind of made it tough to get any momentum in terms of recovery."
The 6-foot-3, 230-pound rush end came to USC as a transfer from Auburn this offseason and became an immediate starter for the Trojans. He started the first game against Rice but was ejected late in the first half due to targeting. The injury that knocked him out of the Stanford game occurred in the first quarter.
Height should still have three years of eligibility remaining at USC after using his redshirt year this season. He's listed as a redshirt sophomore, but the 2020 year won't be counted against his eligibility. He played in nine games last season and will be eligible to play in three more seasons.
Replacing Romello Height at Rush End
USC has already played extensively without Height due to him not playing past halftime in either game he was healthy. The Trojans will likely turn first to Solomon Byrd, who recorded four tackles, a sack, forced fumble and fumble recovery after starting against Fresno State last weekend.
Former five-star prospect Korey Foreman is also in the mix at rush end. Former inside linebacker Julien Simon made the move to rush end this offseason and provides depth there as well.
"I feel fine," Riley said of the depth at the position. "We've talked a lot about Solomon stepping up. Korey's improving, does a lot of really good things and I think will get more consistent. And we've worked hard to develop some depth. Having some of those guys out at times has allowed us to shuffle the lineup. And we've got some different skill sets on that defense that we can make work. And also, that's where having a creative defensive staff is important. Because sometimes when you lose guys, you have to think outside the box. So we'll continue to evaluate the roster, get guys in the best position. If we have to adjust, we'll adjust."